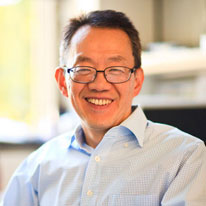 Morgan Sheng
Vice President:, Neuroscience

POSTDOC MENTOR
"As a neuroscientist with a medical background, I am inspired to understand how the brain works from the level of molecule to cognitive behavior, and to tackle serious brain diseases based on understanding of biological mechanisms."
5


years at Genentech

9


publications (2010-12)
I started at Genentech in September 2008. Prior to that, I spent 14 years as a faculty member in the Boston area - first at Massachusetts General Hospital/Harvard Medical School and then at Massachusetts Institute of Technology (MIT), where I was Professor of Neuroscience. Before I got into research I was a practicing physician in London, U.K. So I have seen human disease from two sides - as a scientist investigating basic mechanisms and as a medical doctor treating patients.
I came to Genentech because I believe this company is best equipped to translate our increasing knowledge of the basic causes of disease into effective new treatments for serious brain disorders. I am energized by the people at Genentech, who have the right combination of know-how, creativity and motivation to make a difference for patients.
Featured Publication
Caspase-3 activation via mitochondria is required for long-term depression and AMPA receptor internalization in hippocampal neurons.
Cell 2010; (in press).
Li Z, Jo J, Jia J-M, Lo S-C, Whitcomb DJ, Jiao S, Cho K, Sheng M.
My Focus

At Genentech we are committed to building a world-class Neuroscience Research program that will discover new drugs to treat major diseases of the nervous system. Not only are neurological and psychiatric conditions common and debilitating, but for many of them, there is no satisfactory treatment, a case in point being Alzheimer's disease. To meet these unmet needs, a current focus area of research is neurodegenerative disorders.

Much of my research is focused on brain "synapses," the tiny structures by which cells in the brain (neurons) contact and communicate with each other. Groups of neurons link together via synapses to form a functional "circuit." An emerging realization is that many diseases of the brain result from defective development or aberrant function of synapses, leading to circuit malfunction. For instance, Alzheimer's disease is characterized by severe loss of synapses in the brain as well as death of neurons. I believe that if we can understand the molecules that control the number, structure and function of synapses, we should be able to discover novel ways to treat many important neuropsychiatric illnesses.

Publications

NMDA receptors in nervous system diseases

Neuropharmacology, 2013, ISSN: 0028-3908 View on PubMed

Specific Trans-synaptic interaction with inhibitory interneuronal neurexin underlies differential ability of neuroligins to induce functional inhibitory synapses

Journal of Neuroscience, 2013, ISSN: 0270-6474 View on PubMed

Neuroscience: Strength in numbers

Nature, 2013, ISSN: 0028-0836 View on PubMed

GluN2B Antagonism Affects Interneurons and Leads to Immediate and Persistent Changes in Synaptic Plasticity, Oscillations and Behavior

Neuropsychopharmacology, 2013, ISSN: 0006-3223 View on PubMed

Caspase-3 in the central nervous system: Beyond apoptosis

Trends in Neurosciences, 2012, ISSN: 0166-2236 View on PubMed

Three-dimensional imaging of solvent-cleared organs using 3DISCO

Nature Protocols, 2012, ISSN: 1750-2799 View on PubMed

Childhood disorders of the synapse: Challenges and opportunities

Science Translational Medicine, 2012, ISSN: 1946-6234 View on PubMed

Caspase-3 Activation via Mitochondria is Required for Long-Term Depression and AMPA Receptor Internalization.

Cell, 2010, ISSN: 0092-8674

Autophosphorylated CaMKIIα Acts as a Scaffold to Recruit Proteasomes to Dendritic Spines.

Cell, 2010, ISSN: 0092-8674

Education

Massachusetts Institute of Technology (MIT), Menicon Professor – 2008
University of California, San Francisco, Neuroscience, Postdoctoral Fellow – 1994
Harvard University, Molecular Genetics, Ph.D. – 1990
General Medicine London, U.K., Internship and Residency – 1986
London University, U.K., Guys Hospital Medical School, Medicine, M.B.B.S. – 1982
University of Oxford, U.K., Corpus Christi College, Physiology, – 1979