South San Francisco, California
Our Bay Area roots trace back to Genentech's founding in 1976.
What began as a rented building with just two staff members has grown into a major campus with multiple buildings that house an advanced research center, manufacturing operations and various business functions. The South San Francisco campus continues to serve as Genentech's corporate headquarters and is also the headquarters for Roche's pharmaceutical operations in the United States.
Campus Map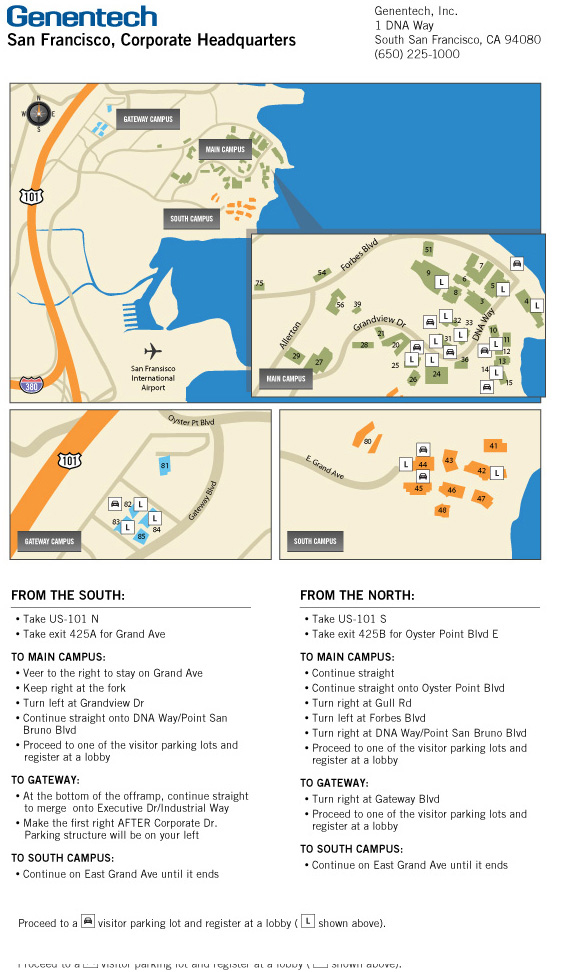 Parking
Please park in the visitor parking lots and register in one of the lobby buildings.
Public Transportation
Genentech provides shuttle transportation service to and from the Glen Park BART and Millbrae BART/Caltrain stations for employees, contractors and visitors. For more information about shuttle schedules, or if you need assistance planning your trip, please call the gRide Hotline at (650) 225-5000, or call (650) 225-1000 and ask for Employee Transportation.