The Resilience Effect
As a company grounded in science, the first thing we do when looking to address an issue is study the data to see what it tells us. A growing body of research indicates that persistent childhood adversity – abuse, neglect, violence, racism, and other forms of trauma – can lead to higher rates of cancer, stroke, heart disease, Alzheimer's, and depression later in life. With this new science, we have an opportunity to help proactively prevent illnesses and make a significant difference in promoting health equity.
That's why we created The Resilience Effect, our philanthropic initiative focused on protecting the health and well-being of Bay Area children and families. Since 2016, we have invested more than $20M to advance the healthcare field's understanding of early exposure to toxic stress, develop new models that bridge pediatrics with community resources, and shift the policy landscape. Our goal is to positively impact 100,000 low-income children and families affected by adversity across the Bay Area by 2022, with a focus on children under the age of five and their caregivers.
Healing Children and Families
The consequences of adversity can last a lifetime, but they don't have to. By intervening early, we as a society may be able to both prevent the harmful trajectory of childhood adversity and reverse the negative health effects. Children and families can heal if support systems are in place – at home, in the community, at school, and in the doctor's office.
The Resilience Effect supports the organizations working to address childhood adversity through grants, skills-based volunteering, community partnerships, and cross-sector collaboration.
"The Resilience Effect is Genentech's commitment to tackling a huge issue in public health – one that is unsung and under-appreciated. It's an audacious goal to say we can prevent kids in our own backyard from developing the same diseases we come to work to find treatments for every day. But we like audacious goals."
–Kristin Campbell Reed
Senior Director, Corporate and Employee Giving
Current Grants and Programs
Our $20 million investment in The Resilience Effect is focused on five key areas, each supporting a range of organizations working closely with families, communities, and pediatric providers across the Bay Area.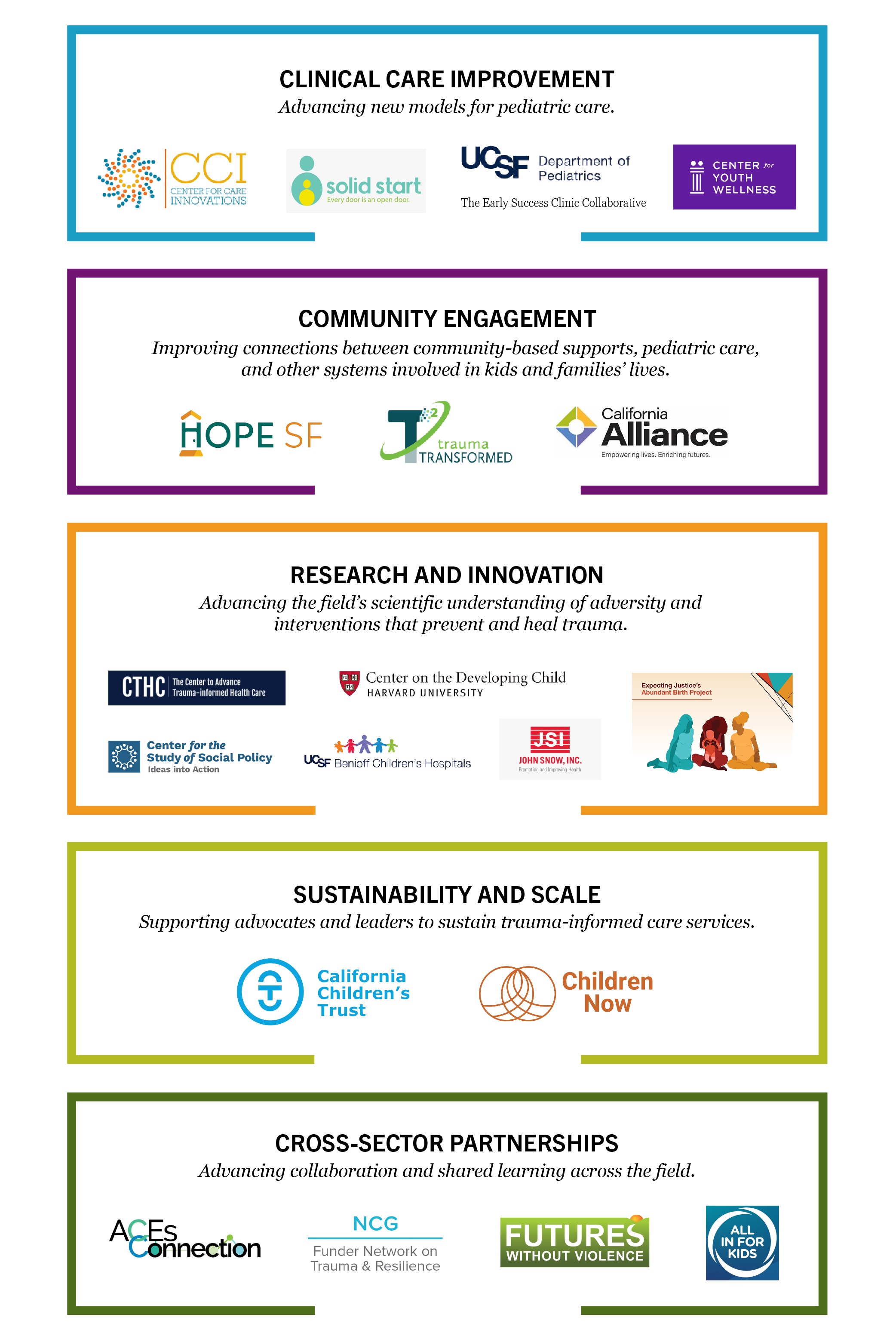 Resilient Beginnings Network
Building on the successful implementation of the Resilient Beginnings Collaborative, the Center for Care Innovations is launching the Resilient Beginnings Network (RBN) to advance pediatric models for trauma-informed care. Through RBN, 15 Bay Area clinics will receive $120,000 in grant funding and technical assistance to:
Create a trauma-informed and healing-centered clinic and organizational environment.
Support for staff well-being.
Promote resilience, wellness, and protective factors to prevent the physical and mental illnesses linked to adverse childhood experiences (ACEs).
Test, implement, and spread clinical practices.
Build and strengthen community relationships so coordination efforts meet community, patient, and family needs.
Whole Family Wellness with the University of California, San Francisco (UCSF) and ACEs Aware
Trauma is often multigenerational and effective interventions to prevent or heal from trauma-related physical or mental illness necessitate a whole-family approach. Today, health system fragmentation and other barriers impede whole family approaches to care.
Growing awareness about the impact of trauma on health disparities led California to start reimbursing providers to screen patients in the Medi-Cal system for ACEs. However, little is known about how screening for ACEs can support a whole family approach to care; how to incorporate the strengths and resiliency of children, families, and communities into a response to ACEs; or how to fund and sustain such an approach.
To respond to this pressing need, Genentech is supporting UCSF to conduct a three-year research project to develop, implement and test a Whole Family Wellness model of primary care. Findings will provide critical guidance to statewide and national efforts to address trauma and achieve health equity for children and families.
How can I get involved?
Sign up above for program and grantmaking updates. Currently, we are not accepting unsolicited proposals. Learn more about our other corporate giving priorities here: funding.gene.com.