Clinical Trial Information & Access to Investigational Medicines
At Genentech, our focus is on enrolling patients in clinical trials to obtain the data required for review and approval by regulatory authorities, including the U.S. Food and Drug Administration (FDA).
Approval by regulatory authorities around the globe is the only way to make medicines broadly available to patients by prescription by a qualified healthcare provider. Therefore, our focus is in the best interest of the majority of patients with a serious or immediately life-threatening disease who require treatment.
We recognize that some patients with serious or immediately life-threatening diseases may not be eligible for any clinical trials and may not have other options. In rare circumstances, Genentech may provide patients with access to unapproved or investigational medicines outside the clinical trials process.
Types of Access
Patients may gain access to unapproved or investigational medicines through clinical trials, expanded access programs (EAPs), or compassionate use (CU) before they are approved by regulatory authorities.
Clinical trials are research studies that are designed to determine if a medicine is safe and effective for patients. The FDA and medical experts agree that the best way for patients to obtain access to medicines before they are approved in the United States is through participation in a clinical trial.
To find out if a clinical trial exists for a specific medicine for a particular disease, visit clinicaltrials.gov. For questions about Genentech trials, contact our Trial Information Support Line at 888-662-6728.
Expanded Access Programs (EAPs)
EAPs allow a limited group of patients, who meet specific criteria, to have access to a specific investigational medicine. Expanded access programs are studies managed by the company and follow a specific protocol, which is developed in consultation with the FDA.
To find open expanded access programs, search "expanded access programs" on clinicaltrials.gov.
Learn more about our criteria for opening EAPs.
How Patients Gain Access to Medicines Before They Are FDA-Approved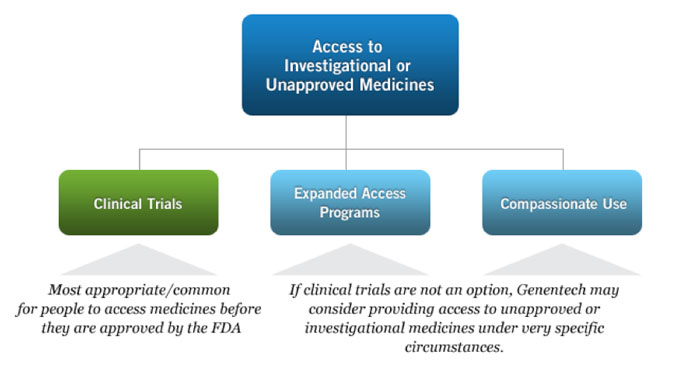 How to Request Access
Expanded Access Programs
If an expanded access program is open, and if you meet the protocol inclusion criteria, you should work with your doctor to enter that protocol.
Compassionate Use
If you are seeking access to an investigational medicine via CU, follow these steps:
Review the criteria for consideration of access
Call our Compassionate Use Information Line at (844) 287-3783 (CU-REQUEST) to provide preliminary information and discuss the potential options, including eligibility for any ongoing clinical trials. This call can be made by the patient, doctor or caregiver.
Have the patient's qualified treating doctor make a formal request.
The request for access to a Genentech investigational medicine can only be considered if the patient's qualified treating doctor makes a formal request and is committed to, and supportive of, the requested treatment. We anticipate that it will take no longer than 3 business days to acknowledge receipt of the request.
How Decisions Are Made
Genentech is committed to a fair and impartial evaluation of each request for access to our medicines. Therefore, all decisions are based solely on clinical circumstances and are guided by the principles outlined above.
Whenever possible, patients will be referred to ongoing clinical trials as the primary way to access investigational medicines.
Decisions regarding potential access to investigational or unapproved medicines can only be made, in certain circumstances, after in-depth discussions between Genentech's clinical teams and the patient's qualified treating doctor acting on his or her behalf.
FDA Guidance
As described by the FDA, EAPs and CU are only available for specific patients with no other available treatment options, including clinical trials, and are not without risks.
These programs only apply to medicines not yet approved by the FDA. A doctor must decide whether the potential benefit outweighs the risk of receiving an investigational or unapproved medicine, based on the individual patient's medical history.
Additionally, the FDA requires Institutional Review Board (IRB) (ethics committee that approves and monitors clinical trials involving humans) at the patient's treating hospital or clinic to review and approve the use of the medicine before a company can provide it.