Can Do Day is an annual event held on September 22 by Can Do Multiple Sclerosis (MS) that celebrates people with MS and all they can do to live passionately and love life. This year, our employees joined hundreds of people in making "Can Do" pledges. We've featured a few of those pledges here, along with the story behind the pledge made by Greg Orlick, one of our employees who also has MS.
---
Seventeen years ago, MS looked very different to me than it does now. I wanted to deal with the disease on my terms. I didn't even tell my family about my diagnosis right away.
Then I met John. He was probably twice my age. He'd been a star baseball player at the University of Virginia and a prominent attorney. He stopped practicing law when he got MS, and he was using a motorized wheelchair when I met him. But John was still going, using his experience to advocate for MS patients and people with disabilities at the state and federal levels. He leveraged his disability to do great things.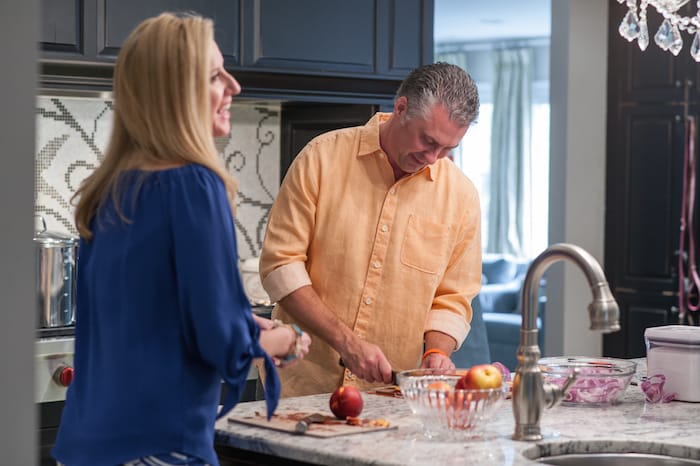 I think about John every time I talk to someone newly diagnosed with MS. I wonder how John's life might have been different if he'd been able to access some of the medicines I've been able to access. And I realize that those diagnosed today will also see the disease differently, because they will have access to even better and more transformative therapies than me.
MS isn't the end – it just changes how you approach life. I've made it my purpose to help others deal with the disease. Just the other day, two Genentech colleagues asked me how to best support loved ones who had just been diagnosed. It turns out it's often easier to talk to a stranger about MS – and patients often feel like they only want to talk to someone else who has it.
I didn't start cooking until 10 years ago. My mom was in shock when I started. But now, I have a full chef's kitchen! Cooking is the only creative thing that I do. Earlier this year, I heard a talk by a professional chef who battled her own MS by cooking Italian feasts each week for a year. That inspired me! My wife, Sonya, and I are so grateful to all of the people who donate to our MS fundraising team, so we're committing this year to thank all of our donors by hosting small dinners. We'll pay back their generosity through food, wine and friendship.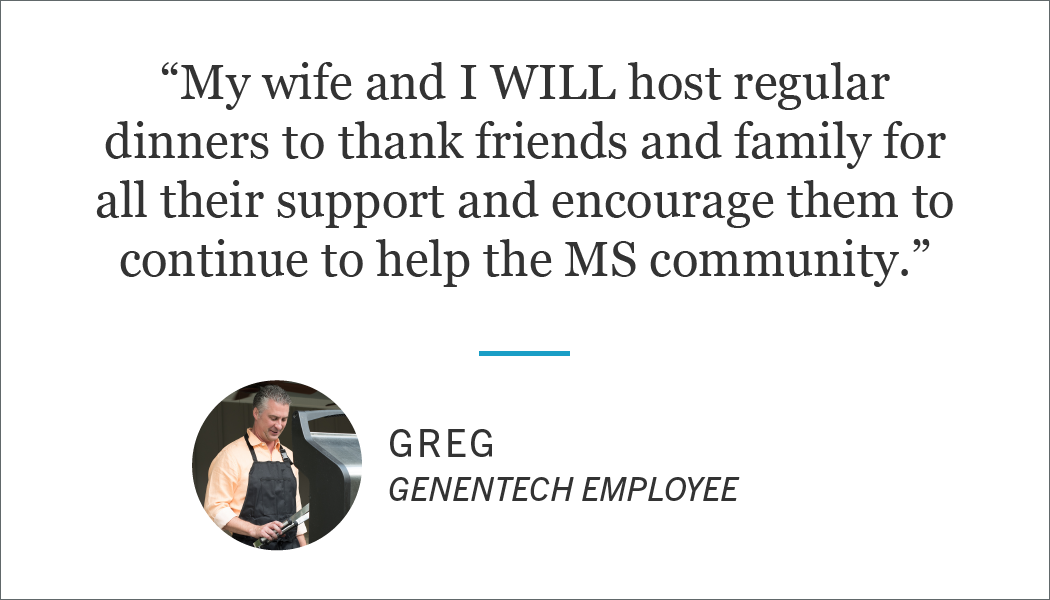 I made my Can Do Day pledge in honor of John, my friends and family and all the people I've met who have MS. And I'm proud that so many of my colleagues – and my company – are standing in solidarity with me and others with this disease.
---
Genentech employees joined Greg to rally behind the MS community and submit their own Can Do Day pledges. Here are a few: