Rheumatology Patient Stories
---
Living with a chronic disease can be confusing and frustrating. There are daily struggles, a variety of treatments, side effects, flare-ups, and impacts on families. Below, read the stories of people living with rheumatic diseases.
---
Brandon
Granulomatosis with Polyangiitis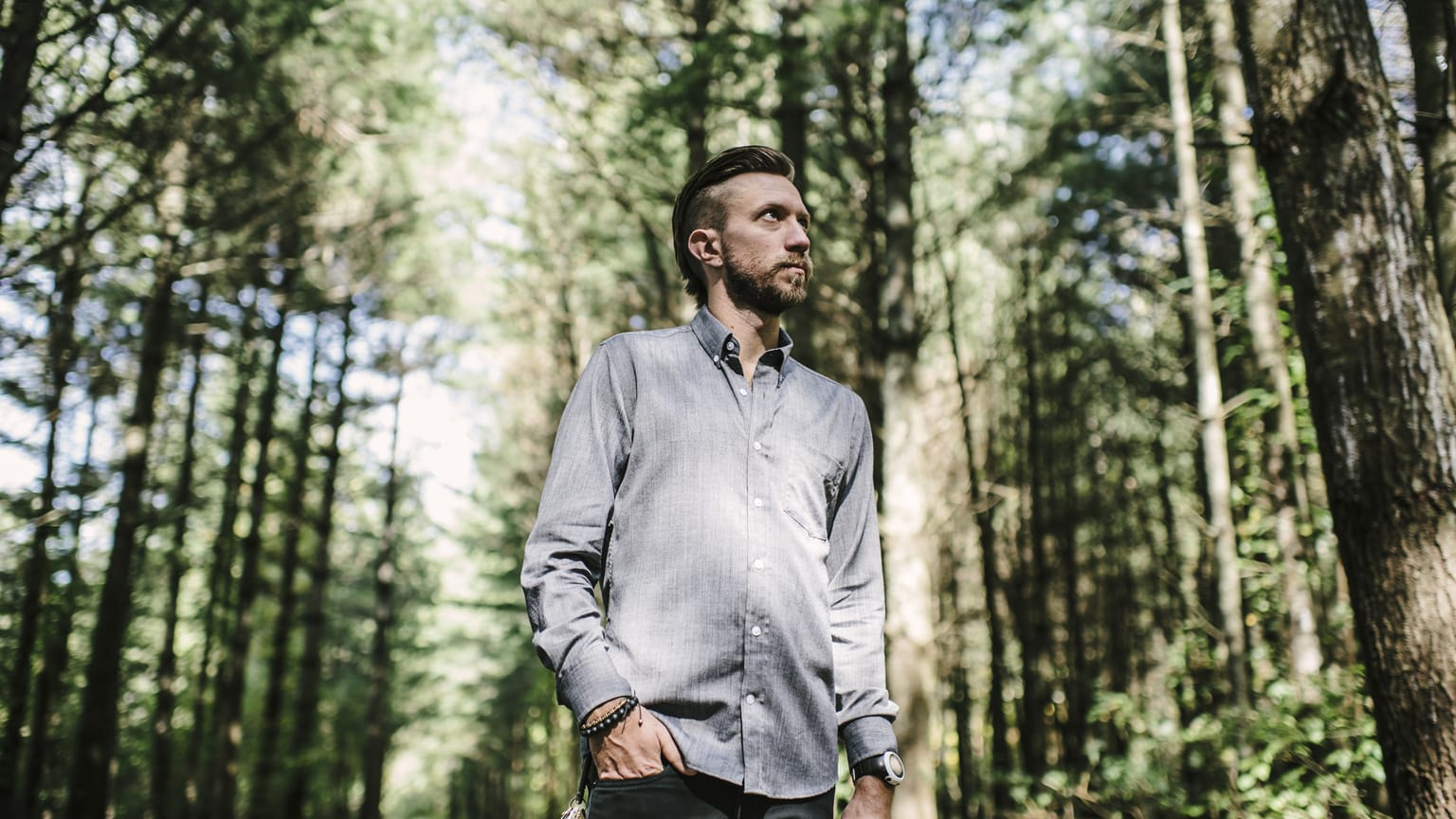 Running was Brandon Hudgin's passion. He trained and competed most of his life, but that changed in 2008, when Brandon began to suffer from sinus issues and became chronically sick. A nationally-ranked college runner at the time, he could no longer keep up with his teammates at practice or his competition at meets.
Brandon underwent surgery for a deviated septum, but his sinus issues worsened. His sinuses were swollen and covered in sores. He experienced hearing loss in his left ear, he had granulomas in his lungs and kidneys, his kidneys started to fail, and he temporarily suffered from Bell's palsy, which caused half of his face to go numb. Brandon's doctors tried several different methods of treatment, but his health continued to suffer.
Finally, Brandon's rheumatologist diagnosed him with granulomatosis with polyangiitis (GPA), a rare type of blood vessel inflammation (called vasculitis) that most often affects the sinuses, lungs, and kidneys. GPA is a potentially serious disease that can reduce blood supply to vital organs and, if left untreated, can lead to kidney failure and lung complications. Because GPA is so rare, it can be difficult to diagnose initially.
Like many patients with rare diseases, he lost some friends who did not understand what he was going through. "Once the weeds were cleared out, I saw the power of my true friends and family," says Brandon. "Building a support network is the most important thing that a rare disease patient can do."
Despite all of the hurdles presented by his health problems, Brandon is determined not to let his disease define him. He works full-time as a coach. He created a training program to help people who are looking to better themselves, and he volunteers with the Vasculitis Foundation (VF).
In early 2016, Brandon and VF launched VF Team Brandon as part of the Victory Over Vasculitis Campaign with the goal to inspire people to do their personal best. "For some that may mean getting out of bed and walking around the house once, for others that may mean running 10 miles, or lifting 300 pounds," says Brandon. He inspired over 300 team members through weekly exercise and awareness challenges, and in May 2017, he received the National Organization for Rare Disorders' 2017 Rare Impact Award for his efforts.
Not one to rest, Brandon continues to inspire. He maintains his relationship with VF and has just published a book about his struggles with GPA, depression, and anxiety. As he explains it, "Not a day goes by where I don't have some sort of interaction with patients around the globe. Where there are people, I'm willing to go and share."
---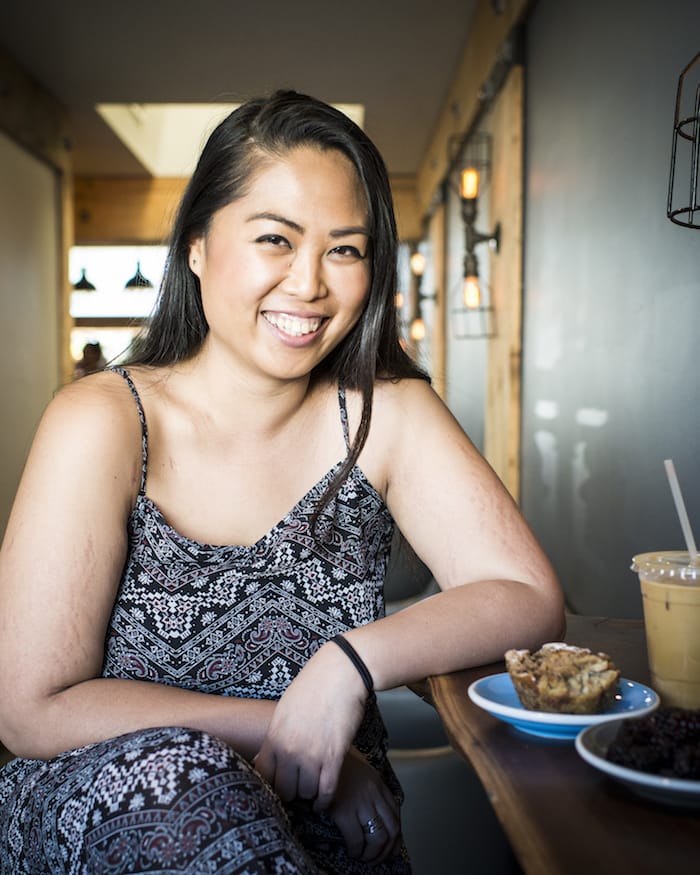 In 2006, Valerie was a vibrant freshman at the University of California, Santa Barbara, taking classes, working at the children's center, joining several clubs, going to plays and concerts, and hanging out with friends. Then, she began feeling tired and had a persistent high fever. When her symptoms were at their worst, she could not walk down her hallway without feeling depleted. Then her urine changed to a dark brown, almost copper color, with white foam. She called her mother, a registered nurse, who told her to come home immediately. She was admitted to the hospital, and a kidney biopsy confirmed her doctors' suspicions—she had lupus nephritis.
Lupus is a chronic autoimmune disease that is more prevalent in women. Lupus nephritis is a severe and potentially life-threatening manifestation of lupus resulting from kidney inflammation. Swelling around the eyes, legs, ankles, or fingers is often the first noticeable symptom. Severe cases can result in kidney failure. Approximately 60 percent of lupus patients will develop clinically relevant lupus nephritis, which is more likely to present severely in Asian Americans, African-Americans, and Latinos.1
Valerie's immune system was "attacking everything," she says. She visited multiple doctors, entered clinical trials, and tried various treatments. After a couple years, her kidneys failed and she had to be on dialysis four days a week, six hours a day for several months.
For Valerie, the feeling of constant fatigue was one of the biggest challenges of her disease. Many of Valerie's friends didn't comprehend the intensity of her exhaustion and pain. "Lupus has a reputation of being an unseen illness. You can't do something, but you aren't outwardly showing symptoms," she says. "It is hard to balance being a young person and battling lupus. I was 21 on dialysis – everyone wants you to drink and go out, and I thought – no, I want to live."
Following dialysis and participation in a clinical trial, Valerie began to recover, and her doctors adjusted her medications. By 2012, she was in remission, had graduated college with a Bachelor's in Gerontology, and headed north to the San Francisco Bay Area. Now, Valerie works full-time as a health center coordinator at a skilled nursing facility, while also working toward her Masters in Long-Term Care Administration.
Despite going through six years of pain and confusion, she considers herself lucky, since so many lupus patients don't get an accurate diagnosis for a long time. "To know that early on was incredibly beneficial because my survival depended on it," says Valerie. "I am so grateful. There is light at the end of the tunnel."
1 Ramesh Saxena, Tina Mahaian and Chandra Mohan,"Lupus Nephritis: Current Update," Arthritis Research & Therapy, 2011, 13:240. doi:10.1186/ar3378
---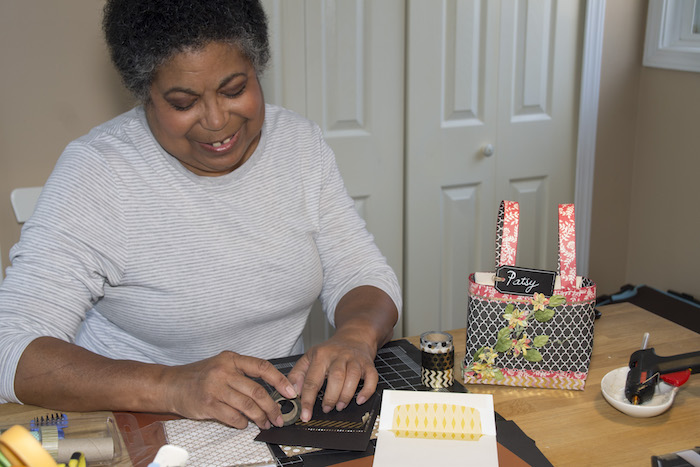 Sam is an upbeat, multi-tasker. She is a single mother, an avid paper crafter, teacher, and a researcher at the University of Michigan at Dearborn. But two years ago, she began to experience pain in the back of her neck. She was given a prescription for ibuprofen, but the pain did not go away.
Another doctor gave her a shot that was supposed to relieve the pain for two weeks, but the relief lasted only two hours. "I had never been really ill in my life. I thought I was a hypochondriac because then I started having temporomandibular joint disorder," says Sam. "It was also difficult to pull a t-shirt over my head." Eventually, Sam had to cancel teaching and back away from paper crafting.
Her regular doctor was on vacation, so she saw a second internist who diagnosed her with polymyalgia. She went home and immediately began researching the condition. She realized that she might actually have giant cell arteritis (GCA). A temporal biopsy confirmed her hunch. As an African-American, she does not fit the typical profile, and she is grateful for the almost-correct diagnosis and for her own research and advocating.
GCA is an inflammation of blood vessels, most often in the scalp and head, particularly around the temples. A persistent headache is a common symptom. (GCA can overlap with polymyalgia rheumatica.) GCA occurs only in older adults. Women, particularly women of Scandinavian descent, are 2-3 times more likely to have it than men. If not treated promptly, it can lead to loss of vision, stroke or death.
Because there is not much awareness about GCA and because Sam is so positive, many of her friends were unaware about her level of pain. "The only person who really understood is a friend who is a retired pediatrician," she says. "Now I have an elevator speech about GCA and two friends who go with me to my doctor's office."
She is now in treatment, but the side effects have been debilitating. She developed an ulcer in her mouth and an issue with her internal sugar regulation that became pre-diabetes. Nonetheless, she knows she is one of the lucky ones. She could have lost her sight permanently. "I remember to appreciate the birds singing in the morning and the smaller things in life," says Sam. "Now I also have a greater appreciation for pain my brother experienced most of his life. He died at the age of 50 and had rheumatoid arthritis since he was seven years old."
And as her pain and symptoms subside, she is returning to her passions, preparing to teach once again and making greeting cards and purses for friends.
---
Phyllis
Rheumatoid Arthritis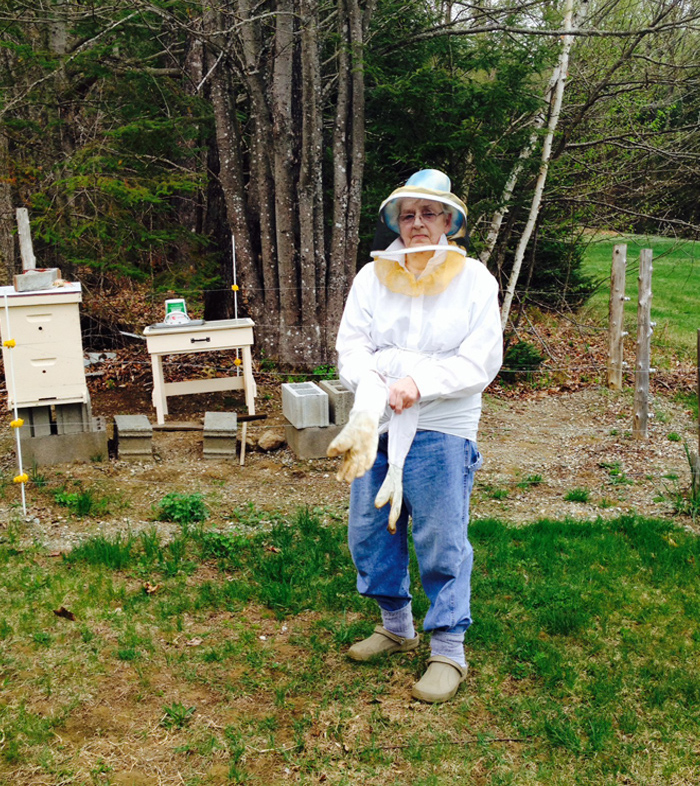 Beekeeping is a delicate mix of attention and allowing the bees to be bees. It requires a certain fearlessness, dedication, and nimbleness as you slowly move boxes to check on the queen and her hive and extract honey from combs. It is not a hobby most people with rheumatoid arthritis (RA) would take up, but then again, most people aren't Phyllis. Phyllis, a 74-year-old farmer's daughter and great grandmother of four whose passions include crochet, painting, beading, gardening, and of course, beekeeping.
RA is an autoimmune disorder that affects your body's tissues, typically the small joints in hands and feet. Beyond the painful swelling, RA can lead to irreversible damage to cartilage, tendons, and bones, and it can impact other organs, including the skin, eyes, and lungs.
In 2001, Phyllis was working as a record keeper for 16 dairy farmers, testing milk, noting births and medical issues. "It was very interesting," says Phyllis, who grew up on a 275-acre farm. "It was almost like going home." She started noticing pain in her hands when she was carrying heavy meters to measure milk samples. Unclear what was happening, her pain progressed until it was unmanageable and she lost all strength in her hands. When her husband had to help carry her meters, she had to stop working. That was when she sought more help. "I knew something was wrong when I had to take time off work," she says. "I never took time off."
She first went to her local health clinic; they referred her to a rheumatologist who diagnosed her with RA. Her initial treatment didn't seem to provide any lasting relief. Her symptoms continued to worsen. She was unable to open car doors or walk up and down stairs. For three painful years, she and her doctor tried various medications to manage her symptoms, but nothing worked for more than a few months before the symptoms and the discomfort would return.
Then Phyllis and her rheumatologist found a therapeutic regimen that worked for her. She was able to go back to work and to her many interests like beekeeping and gardening. "I like working," she says. "I like the satisfaction of getting something done." On top of everything else, she is now fostering and bottle-feeding a baby piglet and looking into new bees for the keeping.
---
Waylon
Systemic Juvenile Idiopathic Arthritis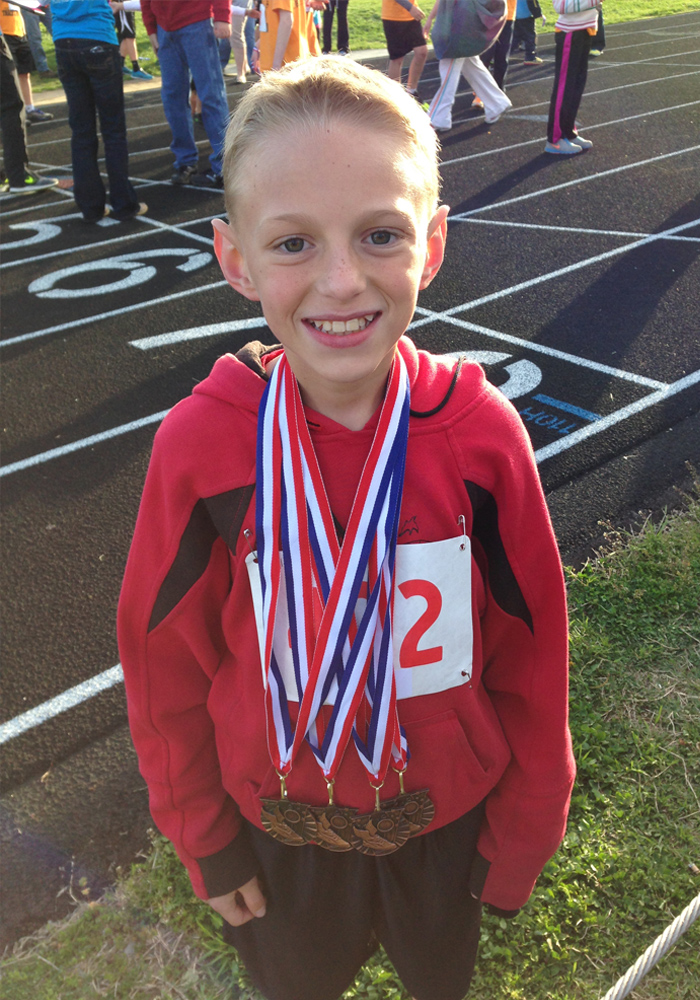 Waylon, 11, is an active boy who loves basketball and the St. Louis Cardinals, rides bikes with his older brother, wants to be a graphic designer someday, and has systemic juvenile idiopathic arthritis (SJIA).
Waylon was two when he fell getting out of a car. He was unable to stand, and his parents noticed his knee was swollen. They took him to the hospital, and after weeks of tests and more hospital visits following a fever and a rash, Waylon and his family were told that he had SJIA. SJIA is a rare, debilitating autoimmune disease that causes inflammation of the joints that can spread to organs. For Waylon's mother, Jessica, the diagnosis was a relief. Still, she wondered, "How am I going to help my little boy?"
With treatment, Waylon's systems improved. However, when Waylon was three, his arthritis flared up. He hurt all day for months before a medical treatment could be found. When he woke, his parents had a heating pad ready, and at preschool, his teachers would give him paper towels with warm water. His parents explored essential oils and chiropractors. "I was willing to try anything because I had seen him in so much pain," says Jessica.
Remarkably, Waylon was not a gloomy child. Although he remembers hurting a lot during this period, when he was about four, he was unable to think of anything bad that had happened to him when asked his Sunday school teacher asked the class to say good and bad things in their lives.
Finally, his doctors found a treatment that worked. Although she works in the marketing department of a local hospital, Jessica had never given a shot to someone. Luckily, she has been able to rely on the support of her family and co-workers. Her boss is a registered nurse who taught her how to give a shot, and he, his wife, and Jessica's sister-in-law—all registered nurses—offered to administer shots when she wasn't able to.
Now his doctor is tapering off his medication, and Waylon is in "medical remission" with no signs of the disease.
---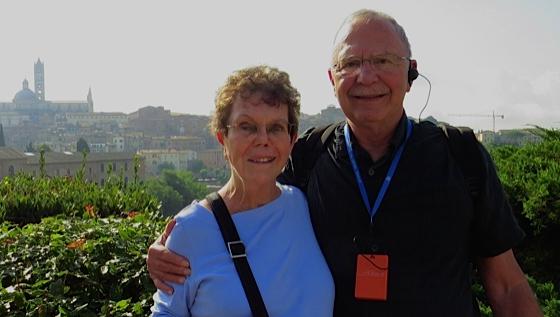 Dianne Shaw and her husband, John are making the most out of their retirement. After returning home following a tour of Italy to celebrate their 45th wedding anniversary, they barely had time to unpack before driving off to a folk music festival in the Blue Ridge Mountains.
Dianne retired in 2013 after nearly 30 years directing communications for a cancer center. Now, she travels frequently, dances weekly, is active as a patient advocate on a national level and enjoys writing about science when she has time to take on assignments.
Every Friday night, Dianne and John contra dance (a type of folk dance) with about 200 other people. They also travel to contra dance festivals twice a year, sometimes internationally.
In contrast, in the years prior to her diagnosis with a rare blood vessel disease, granulomatosis with polyangiitis (GPA), in 1995 and in her first eight years of treatment, Dianne felt like she was on "a roller coaster ride."
For a long time the doctors couldn't figure out what was wrong with her. What began with a serious case of bronchitis led to an open lung biopsy and treatment for a lung infection. Dianne's health continued to worsen until she was hospitalized with a massive pulmonary hemorrhage. Doctors ordered a kidney biopsy, which confirmed that she had GPA.
GPA so damaged the structure of Dianne's nose that she required two reconstructive surgeries to restore airflow. She has lost a salivary gland, her sense of smell and her ability to hear in one ear. In all, she has had 40 surgeries, most in the area of her upper respiratory system.
Eventually, Dianne's doctors found a treatment plan that helps her manage her disease.
Through it all, Dianne maintained her demanding full-time job and stayed active in organizations that are dear to her heart. She still volunteers for the Vasculitis Foundation, serving as its president in 2006 when it transitioned from its original focus on GPA to become the voice for patients suffering all forms of vasculitis.
From her years of working at the cancer center says that, "what I have is bad, but it could be a lot worse. I constantly think how lucky I am."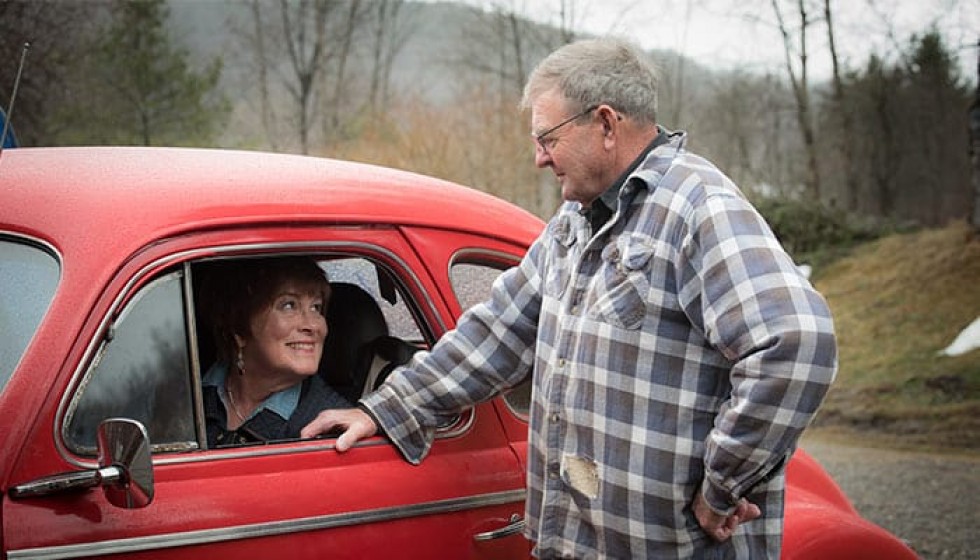 Sharon Hickey never thought she could help someone in Uganda from her home in rural Pennsylvania. She is an avid community volunteer with an adventurous streak. And when she's not trying to save the world, you can find her running around the house with a shovel or a paintbrush completing another project.
But back in 1994, she was sick and she didn't understand why. Her glands were swollen, she had multiple canker sores, she was exhausted all the time, she had a spot on her forehead, and swallowing was so painful that it hurt her ears. When she reached into her throat and found blood on her finger, she knew something was seriously wrong. A biopsy confirmed she had pemphigus vulgaris (PV).
PV is the most common type of a group of rare autoimmune disorders collectively called pemphigus. Symptoms include a progressive blistering of the skin and/or mucous membranes. PV is caused by autoantibodies interfering with proteins that bind cells together in the upper layer of skin, leading to blistering. It is painful, disfiguring, and potentially fatal. An estimated three of every 100,000 people are diagnosed with PV.
When Sharon was diagnosed with PV in 1995, most people were unaware of autoimmune diseases other than HIV/AIDS. She was scared to share what she was going through with anyone other than her husband. In the initial months after her diagnosis, her main source of information about PV was from medical books at her local bookstore. She and her husband Jim were scared because every case of PV that they read about was terminal. They didn't know how to come to terms with their new reality.
A few months later, someone gave her the contact information for someone at the International Pemphigus and Pemphigoid Foundation (IPPF), who helped Sharon find a great doctor and the support she needed. Initially, she started taking steroids, but there were no visible improvements. After changing doctors, her steroid doses were doubled, and Sharon went into remission. She felt so much better that, following retirement and with her symptoms under control, she began volunteering with IPPF as a peer health coach. In this role, she helped other people by providing education and encouragement in their first weeks following diagnosis and assisting them in learning how to live with PV. Sharon would tell them, "One day you will wake up and PV will not be the first thing you think of. On that day, we'll both be winners."