Every medicine has an origin story. Precious few count an awkward lunch as a turning point in their development.
The year was 1994 and the man who would be Genentech's chief financial officer and executive vice president (from 2005 to 2009) had yet to become either. Still relatively new at the company and working in Business Development, David Ebersman was invited one day to a series of technology-related talks at Stanford University. Afternoon came and the attendees split off into different tables for a brown bag lunch. Ebersman (now co-founder and CEO of Lyra Health) found himself eating with a group of people who all seemed to work together, and were instantly talking amongst themselves. All but one, anyway.
"I was sitting there silently eating my salad. And the only other person also silently eating was the guy next to me – he didn't know these people, either. So we started chatting. It was Ron."
Ron Levy, M.D., was then an assistant professor of medicine at Stanford and a world-renowned lymphoma expert. He was also co-founder of a small company called IDEC Pharmaceuticals (now Biogen), which since 1985 had been exploring an idea then considered radical: the use of antibodies to treat low-grade or follicular lymphoma, which are slow-growing lymphomas. Over the course of the conversation with Ebersman, Levy discussed his belief in the idea of harnessing the immune system to fight those types of lymphoma.
Levy was researching a fascinating molecule called C2B8, a monoclonal antibody. To his mind it represented an entirely new approach to treating low-grade or follicular lymphoma. Ebersman recalled looking into the molecule previously.
"Right," he said. "I believe we passed on this."
Levy turned to him.
"I think it's worth another look," he said.
---
Antibodies & Antigens
Monoclonal antibodies are man-made copies of proteins that the body's immune system creates to fight off bacteria and viruses. Each antibody is unique and binds to a specific protein called an antigen. In this case, the C2B8 antibody targets and attaches to the CD20 protein found on the surface of certain blood cells called B-cells. Once attached to the CD20 protein, C2B8 is thought to work by helping the immune system fight the cancer cells and also by fighting cancer cells on its own. C2B8 can also harm healthy cells in the body.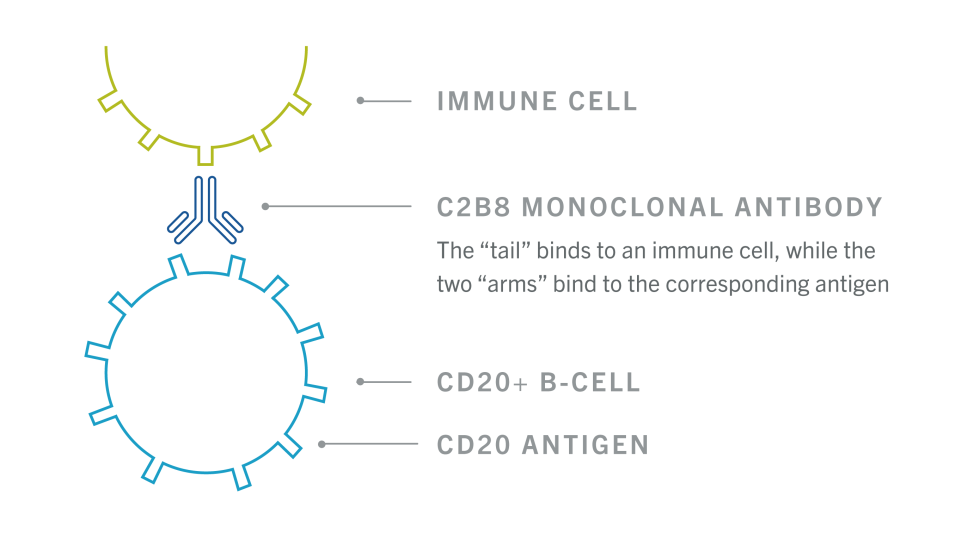 ---
Though using antibodies presented safety concerns, the potential benefit made them worth further study. Ebersman was intrigued. A week later he and some colleagues, including vice president of clinical development, John Curd, paid a visit to Levy at his office, where he gave them their first glimpse of the data from his trials.
"That was a moment that I'll never forget," Ebersman says, recalling his first glimpse of the data and how patients had responded to the treatment. The team went back to Genentech set on spreading their enthusiasm.
Finding Common Cause
As Ebersman and Levy knew all too well, the backdrop for their conversations was a sobering one. In 1994 there were an estimated 45,000 new cases of non-Hodgkin's lymphoma in the United States.1 In 2016 the American Cancer Society anticipates that number will be just over 72,000.2 One in five will be follicular lymphomas, which account for roughly 70 percent of all low-grade lymphomas.3
But inconceivable as it seems in retrospect, getting C2B8 to market had proven next to impossible for IDEC. As Ebersman put it, "investor enthusiasm for biotech waxes and wanes. Nobody was investing in cancer in those years. Investors had given up on these drugs."
"All the analyses showed that this was a ridiculously small market," says David Maloney, M.D., Ph.D., now a professor of medicine at the University of Washington and member of the Fred Hutchinson Cancer Research Center. At the time, as a fellow in oncology at Stanford, he served as primary investigator on IDEC's studies. "People could not imagine that this would be a marketable drug. They'd been turned down by everybody."
As a result, the company behind this treatment – one that had the potential to change the way low-grade or follicular lymphoma could be treated – found itself without sufficient funding to move forward. Put simply, IDEC needed a partner.
As it happened, that lunch at Stanford couldn't have been more fortuitous. In Genentech, Ebersman says, IDEC had intersected with an organization that valued science, one where then-CEO Arthur Levinson still read the scientific literature – a rarity among managers.
"Genentech was a really data-driven place," Ebersman says. "What wins arguments is data, and what Dr. Levy promised and delivered was data – convincing evidence [about] this molecule. You don't see that every day."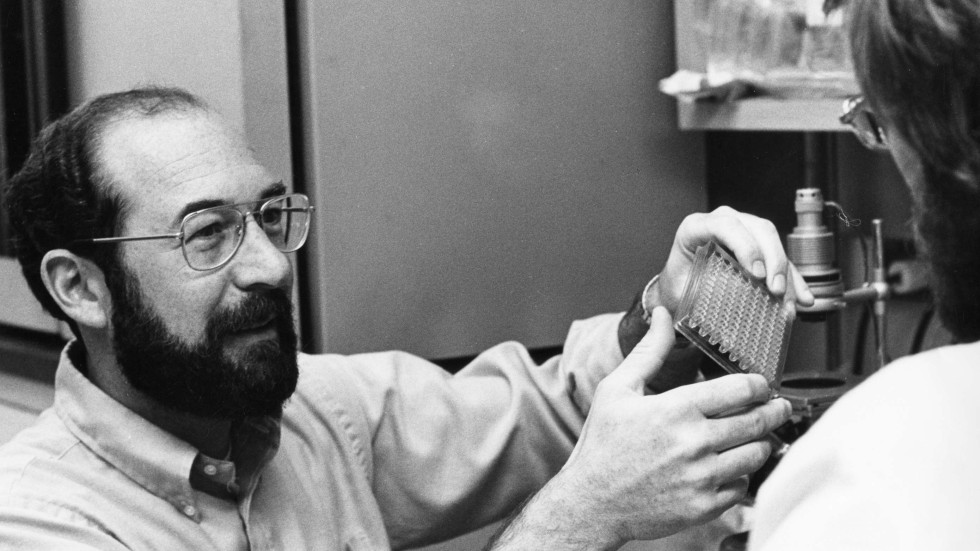 Dr. Ron Levy in the lab. Photo courtesy of Stanford University, News and Publication Services, Records (SC0122).
Interest spread quickly at Genentech. Talk of collaboration began to circulate. But there were still doubts about embarking on such a risky venture. Monoclonal antibody technology was unproven and there was little confidence in the scientific community that this new type of technology would ultimately work in clinical trials. Even if it could, was Genentech the right company to help take the medicine forward? Nobody had ever manufactured these complex molecules on a large scale. While Genentech might be a familiar name in the oncology world now, at the time it didn't even have an oncologist on staff.
It would've been easy to shy away from an all-new area of focus, but exactly the opposite happened. Ebersman credits the determination and passion of people like Curd, who were excited by the data and the prospect of bringing a completely new type of treatment to patients with low-grade or follicular lymphoma. It was these internal champions who were able to convince senior leadership at the company to take a chance on a new way to treat cancer.
And so it was that just months after Ebersman and Levy met, Genentech and IDEC agreed to join forces for the clinical development and commercialization of C2B8. It was a deal that would recast the future of each company.
A New Way to Treat Cancer
In November of 1997 the Food and Drug Administration granted approval for Rituxan® (rituximab) Indication and Important Safety Information as a treatment for low-grade or follicular CD20-positive non-Hodgkin's lymphoma as a single-agent therapy in people whose disease recurred or did not respond to initial treatment. It was the first new treatment for non-Hodgkin's lymphoma in a decade, and the first-ever approval of a monoclonal antibody for the treatment of cancer. Rituxan carries Boxed Warnings for infusion reactions, severe skin and mouth reactions, hepatitis B virus (HBV) reactivation and progressive multifocal leukoencephalopathy (PML). Indication and Important Safety Information The medicine was on its way to patients the following month.
"Having launched several chemotherapy drugs, I thought I knew what to expect," Susan Ferrone, a senior clinical oncology specialist at Genentech, recalls about that first year. "But [the experience with] Rituxan was very different."
Once the medicine received approval, Ferrone's job was to educate physicians and nurses about it and about monoclonal antibody therapy.
"Our phones were ringing off the hook," she says of the physicians' interest. "They didn't learn about [Rituxan] in medical school."
The partnership between IDEC and Genentech didn't only succeed in producing a new cancer therapy. It had showed in a broader sense what was possible from such a collaboration.
"It was a wonderful example of how companies can work together," Ebersman says. Indeed, one of Genentech's signal successes here was recognizing the achievement of another organization. Another crucial element: avoiding the common pitfall of excessive risk aversion.
"Every product you could ever look at has ten warts and it's very easy to focus [only] on the warts," Ebersman adds. "But you've got to be willing to take some risks."
Ferrone, for her part, still feels deep gratitude that those risks were taken.
"I'm very passionate about it," she says. "It has been an honor and privilege to launch Rituxan, to bring new data to physicians, and to witness the impact it's had on patients."
Among those who were there from the start, celebrating the success of the medicine means celebrating the serendipity that occasionally threads its way into years of hard work.
Without the early research, Levy reflects, without the patient participation in the trials, without that lunch at Stanford, it's anyone's guess as to where Rituxan would be today.
What it Treats
RITUXAN® (Rituximab) is indicated for the treatment of:
Low-grade or follicular CD20-positive non-Hodgkin's lymphoma as a single-agent therapy in patients whose disease recurred or did not respond to initial treatment
Follicular CD20-positive non-Hodgkin's lymphoma as an initial treatment with chemotherapy, and in patients whose initial treatment was successful, as a single- agent follow-up therapy
Low-grade CD20-positive non-Hodgkin's lymphoma as a single-agent follow-up therapy for patients who did not progress on initial treatment with CVP chemotherapy
CD20-positive diffuse large B-cell non-Hodgkin's lymphoma as an initial treatment in combination with CHOP chemotherapy
CD20-positive chronic lymphocytic leukemia in combination with FC chemotherapy as an initial treatment or as a treatment after disease has recurred
People with serious infections should not receive RITUXAN.
It is not known if RITUXAN is safe or effective in children.
Important Safety Information
What is the most important information I should know about RITUXAN?
Tell your doctor right away about any side effect you experience. RITUXAN can cause serious side effects that can lead to death, including:
Infusion Reactions: may occur during or within 24 hours of your infusion. Your doctor should give you medicines before your treatment. Symptoms can include hives, rash, itching, facial or oral swelling, sudden cough, shortness of breath, difficulty breathing, weakness, dizziness, feeling faint, racing heart, or chest pain
Severe Skin and Mouth Reactions: symptoms can include painful sores, ulcers, or blisters on your skin, lips or mouth; peeling skin; rash; or pustules
Hepatitis B Virus (HBV) Reactivation: may cause serious liver problems including liver failure and death. If you have had hepatitis B or are a carrier of HBV, receiving RITUXAN could cause the virus to become an active infection again. You should not receive RITUXAN if you have active HBV liver disease. Your doctor will do blood tests to check for HBV infection prior to treatment and will monitor you during and for several months following your treatment
Progressive Multifocal Leukoencephalopathy (PML): a rare, serious brain infection that can lead to severe disability and death and for which there is no known prevention, treatment, or cure. Symptoms can include difficulty thinking, loss of balance, changes in speech or walking, weakness on one side of your body, or blurred or lost vision
What are the additional possible serious side effects of RITUXAN?
Tell your doctor right away about any side effect you experience. RITUXAN can cause serious side effects that can lead to death, including:
Tumor Lysis Syndrome (TLS): may cause kidney failure and the need for dialysis treatment, abnormal heart rhythm, and can lead to death. Your doctor may give you medicines before your treatment to help prevent TLS
Serious Infections: can happen during and after treatment and can lead to death.
These infections may be bacterial, fungal, or viral. Symptoms can include fever; cold or flu symptoms; earache or headache; pain during urination; white patches in the mouth or throat; cuts or scrapes that are red, warm, swollen, or painful
Heart Problems: symptoms can include chest pain and irregular heartbeats that may require treatment. Your doctor may need to stop your treatment
Kidney Problems: your doctor should do blood tests to check how well your kidneys are working
Stomach and Serious Bowel Problems: can include blockage or tears in the bowel that can lead to death. Stomach area pain during treatment can be a symptom
Low Blood Cell Counts: your blood cell counts may be monitored during treatment
The most common side effects of RITUXAN are infusion reactions, chills, infections, body aches, tiredness, and low white blood cells.
Tell your doctor if you are pregnant, plan to become pregnant, or are breastfeeding. It is not known if RITUXAN may harm your unborn baby or pass into your breast milk. Women should use birth control while using RITUXAN and for 12 months after treatment.
Tell your doctor about any side effect that bothers you or that does not go away. These are not all of the possible side effects of RITUXAN. For more information, ask your doctor or pharmacist.
You may report side effects to the FDA at (800) FDA-1088 or www.fda.gov/medwatch. You may also report side effects to Genentech at (888) 835- 2555.
Please see the RITUXAN full Prescribing Information, including the Medication Guide, for additional Important Safety Information.