25th Anniversary of First Product Approval
October 18th, 2010
October 18, 2010 is the 25th anniversary of Genentech's first product approval.
Twenty-five years ago, on October 18, 1985, Genentech received approval from the U.S. Food and Drug Administration (FDA) to market its first product, a growth hormone for children with growth hormone deficiency. It was the first recombinant biotech drug to be manufactured and marketed by a biotechnology company.
Read the Approval Press Release
October 18, 1985
---
The Path to the First Biotech Drug on the Market
In the early 1970s, biochemist Herb Boyer and geneticist Stanley Cohen pioneered a new scientific field called recombinant DNA technology. Upon learning about the technology, venture capitalist Bob Swanson placed a call to Boyer and requested a meeting. By the meeting's conclusion, Genentech was born, and Boyer and Swanson went on to found the company in 1976. Although Swanson and Boyer faced skepticism from both the academic and business communities, they forged ahead with their idea to develop a new generation of therapeutics created from genetically engineered copies of naturally occurring molecules important in human health and disease. Within a few short years, Genentech scientists proved it was possible to make medicines by splicing genes into fast-growing bacteria that produced therapeutic proteins.
"I got an idea for [the commercialization of recombinant DNA technology] when my oldest son was tested for growth hormone. He was on the lower end of the growth curve, and the pediatrician wanted to test his growth hormone levels…It turned out he had normal levels of growth hormone. The pediatrician said that he felt he would grow to an acceptable size based on that, and even though he was in a lower percentile, it was nothing to get too worried about. I didn't even know that kids were treated with growth hormone to treat dwarfism. I think at the time I may have even told my wife, 'You know, we could make human growth hormone; all we have to do is isolate the gene.'"

-- Herbert W. Boyer, Ph.D., Co-Founder of Genentech
Today Genentech continues to use genetic engineering techniques and advanced technologies to develop medicines that address significant unmet needs and provide clinical benefits to millions of patients with serious or life-threatening illnesses worldwide.
Executive Quotes
Hal Barron, M.D., Executive Vice President, Global Development and Chief Medical Office

"Before 1985, treating children with growth hormone deficiency carried significant risk as a result of pooling human growth hormone from cadaver pituitary glands. Our ability to make a medicine by combining different genetic information from cells, marked the beginning of not only a new treatment for children with growth hormone deficiency, but the beginning of making biologic medicines for cancer, autoimmune diseases, and other areas where there are no or limited treatment options. Today, our employees still explore new science to make medicines that a make real difference for people with serious illness."

Richard Scheller, Ph.D., Executive Vice President, Genentech Research & Early Development

"When Genentech scientists cloned recombinant growth hormone in 1979, it marked just one of a series of 'firsts' to come out of Genentech Research. The work that ultimately led to Protropin is emblematic of what we have tried to do here since the company's founding: translate innovative science into cutting-edge medicines for people with serious diseases. Since the approval of Protropin 25 years ago, our emphasis on basic research combined with an applied focus on medical needs has led to many more firsts, among them the first therapeutic antibody approved for treating cancer, the first anti-angiogenesis therapy approved for treating cancer, the first humanized therapeutic antibody for the treatment of asthma, and the first treatment to improve vision in patients with wet age-related macular degeneration. With a robust early development pipeline, we are well positioned to carry on this legacy of firsts into the future."

Timothy L. Moore, Sr Vice President, Global Head, Pharmaceutical Technical Operations

"In the early eighties, Genentech employees pioneered the development of modern manufacturing technologies used in the biotechnology industry and then worked to scale up the processes by which our first product Protropin could be manufactured, recovered and purified in quantities sufficient for clinical trials and markets. Building on that expertise, we have expanded manufacturing from one South San Francisco site to an integrated network of state-of-the art production facilities that provide important medicines to patients across the globe. We are proud that today the combined organization of Genentech and Roche is a world leader in biologics manufacturing, with more FDA-approved manufacturing capacity for the production of biotech medicines than any other company in the world."
Genentech Then & Now
October 18, 1985
Number of employees: 893
Number of locations: 1
Patents Issued: 10
Publications by Genentech scientists: 133
October 18, 2010
Number of employees: ~13,000
Number of locations: 4 key sites + other locations
Patents Issued: ~7,400 current, non-expired patents worldwide and ~6,250 patent applications pending worldwide
Publications by Genentech scientists: 352 (so far in 2010)
Protropin Approval
As Genentech prepared to begin production of Protropin for clinical trials, we discovered we needed a manufacturing license from the State of California; in order to obtain the license, we needed a registered pharmacist on staff. For less than one week, five employees crammed for the state pharmacist license exam (we hoped at least one would pass and the company could receive its manufacturing license). All five passed.

While it was Regulatory Affairs' responsibility to file the Investigational New Drug (IND) Application for Protropin, they accepted arms and legs of molecular biologists, protein chemists, QA/QC staff, and the CEO. Virtually the whole company could be seen at odd hours photocopying, paginating and compiling Genentech's first IND. The application for Protropin was compiled into twelve 300-page volumes.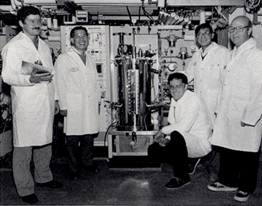 Genentech employees had to develop and then scale up the processes by which Protropin could be manufactured, recovered and purified in quantities sufficient for clinical trials and marketing. For commercial production approval, five FDA auditors spent several days inspecting facilities, procedures, systems and equipment. They made surprisingly few comments considering Genentech's manufacturing plant was new and Protopin growth hormone was the first commercial product to come out of the facility.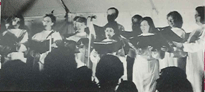 Genentech's Hallelujah Chorus heralded the FDA approval of Protropin growth hormone. In an atmosphere of great celebration, Genentech entered a new era as a biotechnology company marketing its own product.
Genentech's Protropin® (somatrem for injection), the first product to be manufactured and marketed by a biotech company, ceased production in 2004 as demand shifted toward its successor, Nutropin® [somatropin (rDNA origin) for injection]. View indications, safety and package insert for Nutropin.