Our Approach
In 2009, Genentech became a member of the Roche group and the headquarters for Roche pharmaceutical operations in the United States. In 2018, Roche Partnering and Genentech Partnering merged into one global team that provides comprehensive business development and alliance management support for Roche and Genentech. Genentech maintains its own independent Research & Early Development group (gRED), allowing scientists to work freely, think and address problems in unique ways, and enhance innovation.
At Roche and Genentech, we are leveraging our unique company structure and culture to build deep and long-lasting connections with our partners to translate pioneering science into breakthroughs for patients.
Three facts that make us a unique pharma partner:
We are uniquely positioned to lead the next generation of healthcare - As the only company combining pharma, diagnostics solutions, as well as cutting-edge tech and data capabilities under one roof, we are uniquely positioned to improve patients' lives by better diagnosing, treating and ultimately preventing devastating diseases.
Innovation is in our lifeblood - We have a long history of driving some of the biggest breakthroughs in science and medicine - reshaping treatment paradigms to help people with devastating and difficult-to-treat diseases. Our world-class scientific talent, spread globally across the Roche Group's autonomous R&D units, is pursuing innovation in diverse ways.
Collaboration is in our DNA and we embrace a distinctive approach to partnering - We strongly believe in the fundamental value of partnerships and team up with trail blazing partners to discover and develop truly revolutionizing treatments. We are eager to build lasting and fully symbiotic partnerships where both parties can bring in their strengths and benefit from each other in the most optimal way to deliver new solutions for patients.
Read more stories directly from our partners
Where We Are
120 of our colleagues around the globe are building the bridge between brilliant ideas coming from within Genentech and Roche and those coming from the world around us. Our global footprint with offices in South San Francisco, Basel, Boston, Cambridge, Shanghai and Tokyo offers speed, flexibility and accessibility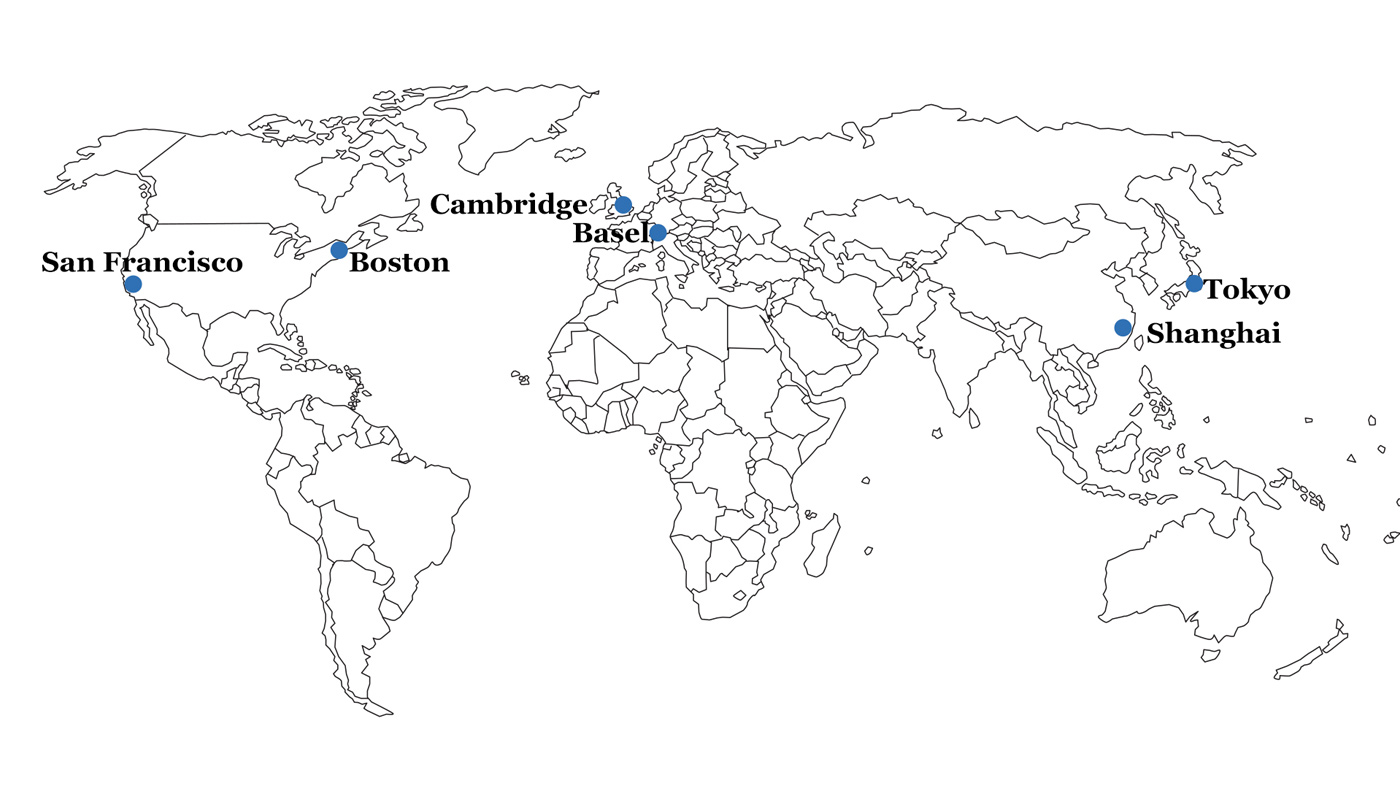 Our partnering process
We use an efficient four-step process to manage lasting partnerships from the first conversations to a long-term collaboration. At each step we can modify and tailor the relationship and create the structure for collaboration together, ensuring it meets both parties' needs and creates a win-win situation for all involved. We bring in our best scientists and commercial experts early on to create deep and lasting partnerships that go beyond the initial deal. And we tap into the broad range of capabilities the Roche Group has to offer that can help patients from prevention, to diagnosis through treatment.
Partnering with Roche and Genentech is not your typical corporate experience. Our success in bringing breakthrough treatments to patients today is the result of pioneering partnerships that are built on trust, flexibility, shared values and a passion for advancing science to make a lasting contribution for people's health.