A Patient, an Academic and a Leader
2013 will be my 34th time attending ASCO. That means I've spent almost five months of my life at the meeting; as a patient, an academic, and now as Genentech's global head of oncology.
May 15th, 2013 - Each year as I look forward to the scientific aspects of the conference, I am compelled to reflect on how cancer has changed in my lifetime, and on my personal relationship with this terrible disease that has led me to where I am today.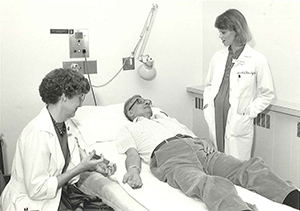 I had just started medical school at the University of Iowa when my father died from cancer. Of course I was devastated. But I was also angry. Angry that his life was cut short, angry that so little was known about how to treat cancer. I decided this was the topic to which I would devote my life.
After medical school and residency, I made my way to Stanford in California. I completed a fellowship in medical oncology and was privileged to join the faculty. During these years, doctors had gotten better at treating this disease.
I still remember the first time I attended ASCO - then just a small meeting where presentations on chemotherapy ruled the day - and thinking, it's not enough!
By 1990, we actually turned the tide and the rate of people dying from cancer began to lower. It was a small victory, but a victory nonetheless. Still, in reality, these statistics didn't mean much to my patients, or to me.
In the late 1990s, as our understanding of the biology of cancer improved, we saw the dawn of the era of "targeted therapies." These medicines were designed to target the specific characteristics of cancer cells and were very different from chemotherapy. I had the privilege to be involved in the early clinical experience with one of these first targeted medicines and to design several clinical trials, together with my cooperative group colleagues, that eventually helped revolutionize the care of certain types of blood cancers. It was a very exciting time.
That moment I had watched with empathy so many times as a doctor - the moment when a person learns their life will forever be changed, wonders how much more life there really will be, and more than anything just wants to know what we are going to do right now to stop this - was now happening to me.
But during this time, my struggle with cancer once again became personal - I became a patient.
Not long after the 1996 ASCO meeting, I could no longer ignore the nagging pain in my breast. I consulted several doctors who found nothing wrong, but I persisted. And when a biopsy was finally done, I had the answer I had feared: Cancer.
By the time the next ASCO meeting rolled around, everything had changed. I had gone through surgery and chemotherapy, sleepless nights and exhausted days, but still seeing patients. That year, I was right there speaking as a discussant at the ASCO Plenary Session. But my blond hair was gone – I sported a red wig and a new outlook.
My diagnosis also taught me what my years of clinical training and experience simply never could have. I myself now knew how completely cancer affects someone, even after the treatments are over. When my colleagues gave me the honor of leading ASCO as president in 2005-2006, I made the issues of quality of life and survivorship key parts of my platform.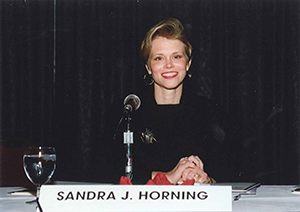 I encouraged the community to focus not just on research aimed at curing cancer, but also on ways to improve the quality of life for people undergoing treatment. By this time, I had gained additional perspective as a caregiver during my mother's two cancer diagnoses and treatments. During my ASCO presidency, we spearheaded an initiative to encourage oncologists to write "survivorship prescriptions." I wanted to make sure that people who did survive were treated just as seriously after cancer as they were during it.
This work was extremely gratifying, and I will be forever in awe of all those I worked alongside in academia and ASCO to make strides in improving cancer care. Most of all I will be grateful to my patients whose stories, friendships and memories I will always cherish. But I came to realize that my final showdown with cancer would come in a different role.
We live and breathe the fight against cancer every day, and approach this meeting with great hope and determination.
So, shortly after the ASCO 2009 meeting, I left academia and joined Genentech. I decided the most impactful thing I could do would be to join a team that was pioneering tomorrow's breakthrough treatments.
In the years since joining Genentech, I've been proud to attend the annual ASCO meeting as a representative of the more than 12,000 employees who come to work every day to make things better for people with serious diseases, like cancer. This year is no different. We'll be presenting data on 10 different investigational medicines, some of which will hopefully give those diagnosed with cancer a path forward that wasn't there yesterday.
Genentech is more than just a drug maker, and for us, ASCO is about more than just presenting data.
So check back here on www.gene.com/asco in the coming weeks and throughout the meeting for our thoughts on all aspects of the disease, from new avenues of research to health policy.
- Sandra
Sandra Horning is responsible for leading the medical and scientific strategies for the global clinical development portfolio in oncology and leading and managing the global team of oncology clinical scientists. Since Dr. Horning joined Genentech/Roche in late 2009, four cancer medicines have received marketing approvals and several medicines have received additional indications. Dr. Horning is an internationally recognized oncologist who has made significant contributions to the classification, understanding and treatment of lymphoma. She is a tenured Emeritus Professor of Medicine (Oncology) at Stanford University School of Medicine and joined Roche/Genentech after more than 25 years as a practicing oncologist, investigator and professor at Stanford University. Dr. Horning has also held many significant leadership roles within the oncology community, most notably as President of ASCO in 2005-2006.