Immunotherapy: 100 Years New
Scientists first considered the prospect of harnessing the body's own immune system to fight cancer more than 100 years ago. Today, new research from Genentech and elsewhere, along with recent FDA approvals, reflect the promise of cancer immunotherapy to provide a long-lasting benefit not often achieved with other treatment approaches. Immunotherapies will undoubtedly be a hot topic at ASCO.
May 15th, 2013 - This year, we'll see new data that could help us better understand the potential of immunotherapies across several different types of cancer. At ASCO, there will be more than 30 abstracts on immunotherapies. Let's review the potential promise and pitfalls of cancer immunotherapy and how they may change the fight against cancer.
Our Immune System and Cancer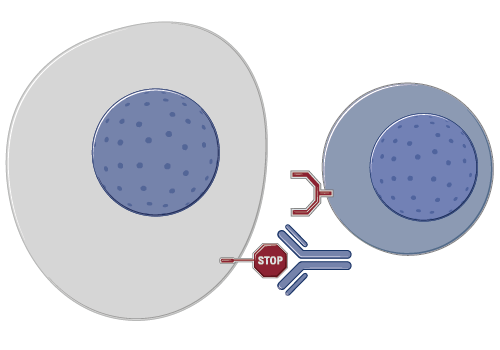 Our immune system detects and destroys things that shouldn't be in our bodies
We tend to think of the immune system as the body's defense force against invaders – the viruses and bacteria that make us sick. This is the reason why it has evolved over time to protect us.
It detects and destroys anything that shouldn't be in our bodies – including normal cells that have become cancerous – by recognizing the often subtle changes that can make a normal cell "foreign." The immune system works to eliminate these cancer cells before they develop into tumors.
The Potential of Immunotherapy
Some cancer cells evade detection
The immune system also has a memory. After a virus or bacteria that isn't supposed to be there enters our body, it is identified and eliminated, a process that is repeated every time the body encounters this same foreign invader.
Applying the power of the immune system to cancer could potentially lead to long-term durable responses with immunotherapies.
Why Aren't Immunotherapies Already a Mainstay of Cancer Treatment?
A "vaccine only" approach has not worked well
Historically, one of the most significant limitations to the development of immunotherapies has been the sole reliance on vaccination approaches. While efforts to generate vaccines against cancer may someday work, it now seems their effects may be limited without simultaneously targeting the "stop signs" produced by cancer cells.
Preventing our immune system from attacking our bodies
Next, there has been the risk of inadvertently causing the immune system to attack normal cells in the body. This is called autoimmunity. Although scientists are starting to strike the right balance, this potential safety risk means it's critically important to choose immunotherapy drug targets wisely and identify who is most likely to benefit.
How do we know whether an immunotherapy is working?
The question for doctors and patients becomes, "How long do we wait to find out where this is going?"
Because immunotherapies work by causing immune cells to infiltrate a tumor so they can destroy it, they often make a tumor appear to get bigger before it gets smaller. Since there are more cells around the tumor, it looks bigger on the X-ray or CT scans that doctors use to track how a treatment works.
A routine scan cannot tell the difference between cells from the tumor and cells from the immune system. A doctor may interpret a growing tumor as a signal that a therapy is not working when, in the case of immunotherapies, it may be doing exactly what it is supposed to be doing.
Doctors and scientists have tried to account for this issue by developing new clinical trial measures, known as endpoints, that are specific to immunotherapies. Nevertheless, for some people taking an immunotherapy, an increase in tumor size could be a sign that the medicine is working. For others, it will mean the opposite.
Paving the Way Forward with Biomarkers
Eliminating uncertainty about who will or will not respond to an immunotherapy is exactly why we've committed to discovering biomarkers and developing diagnostics alongside our medicines, including the investigational immunotherapy that we'll be presenting data on at ASCO. Our goal is to identify ahead of time who may respond to a medicine or whose disease will simply mimic a response.
Developing meaningful and accurate diagnostic tests is one way to reduce uncertainty and give doctors and patients more confidence that an immunotherapy may work.
Another way is to evaluate immunotherapies in combination with other targeted medicines that affect how tumors grow and spread. Smart combinations could potentially help bolster the immune response to cancer and also provide another way to combat the disease.
The science is still early, but we hold hope that immunotherapy could turn out to be a game changer for cancer treatment. We believe research into this field may help us turn advanced cancer into a chronic rather than deadly disease by enabling the immune system to continuously monitor against the re-appearance of "foreign" cancer cells. In some cases, there may be the potential to completely eliminate a tumor, which of course is the ultimate goal of cancer treatments.
Ira Mellman received his A.B. degree from Oberlin College and his Ph.D. degree in genetics from Yale University School of Medicine. He was a postdoctoral fellow and later Assistant Professor at The Rockefeller University, working with the late Ralph M. Steinman, the 2011 Nobel Prize winner in Physiology or Medicine. Dr. Mellman joined the faculty of the Yale University School of Medicine in 1981 as an Assistant Professor in the Department of Cell Biology, which was then headed by Nobel Laureate Dr. George E. Palade, whom he eventually succeeded as chair. Dr. Mellman has also been a Member of the Ludwig Institute for Cancer Research and also served as Scientific Director of the Yale Comprehensive Cancer Center. The recipient of many honors, named lectures, and awards, Dr. Mellman is a member of the US National Academy of Sciences, a fellow of the American Academy of Arts & Sciences, and an elected foreign member of the European Molecular Biology Organization (EMBO). He also served as Editor-in-Chief of the Journal of Cell Biology and as a member of the editorial boards of Cell, The JCB, The Journal of Experimental Medicine, and EMBO Journal. Dr. Mellman is the founder of CGI Pharmaceuticals, Inc. (now owned by Gilead) and Athersys, Inc., and an advisor to research institutes and foundations around the world.
Dr. Mellman began at Genentech in 2007, assuming the position of Vice President of Research Oncology. Placed in charge of the largest therapeutic area in Genentech's research organization, Dr. Mellman is responsible for leading all aspects of oncology research and advancing both antibody and small molecule drug candidates into the clinic. The development of immunotherapeutic approaches to cancer is now a key feature of Genentech's activities. Dr. Mellman also serves as Professor of Biochemistry & Biophysics at the University of California, San Francisco.