No Longer a Skin Deep Conversation
---
It's 2014, and we're talking about advanced skin cancer in terms of personalized medicines, targeted combinations and immunotherapies. What we shouldn't forget is that as little as five years ago there were no approved targeted medicines for skin cancer, especially in metastatic melanoma, the deadliest form of the disease.
At the ASCO meeting this week, we will be talking about the latest scientific breakthroughs in metastatic melanoma. But the more important conversation is the one that has evolved between a person diagnosed with this disease and his or her doctor about treatment options.
In the early 1960s, there wasn't a medicine specifically for metastatic melanoma, so doctors had to remove the tumor with surgery. Forty years later, there were two types of medicines for metastatic melanoma, including chemotherapy, but there was still a need for more options. By the early 2000's, some of the advances seen in other cancers were being realized in skin cancer. There are now personalized medicines, immunotherapies, chemotherapy and more than 100 clinical trials of investigational medicines being conducted.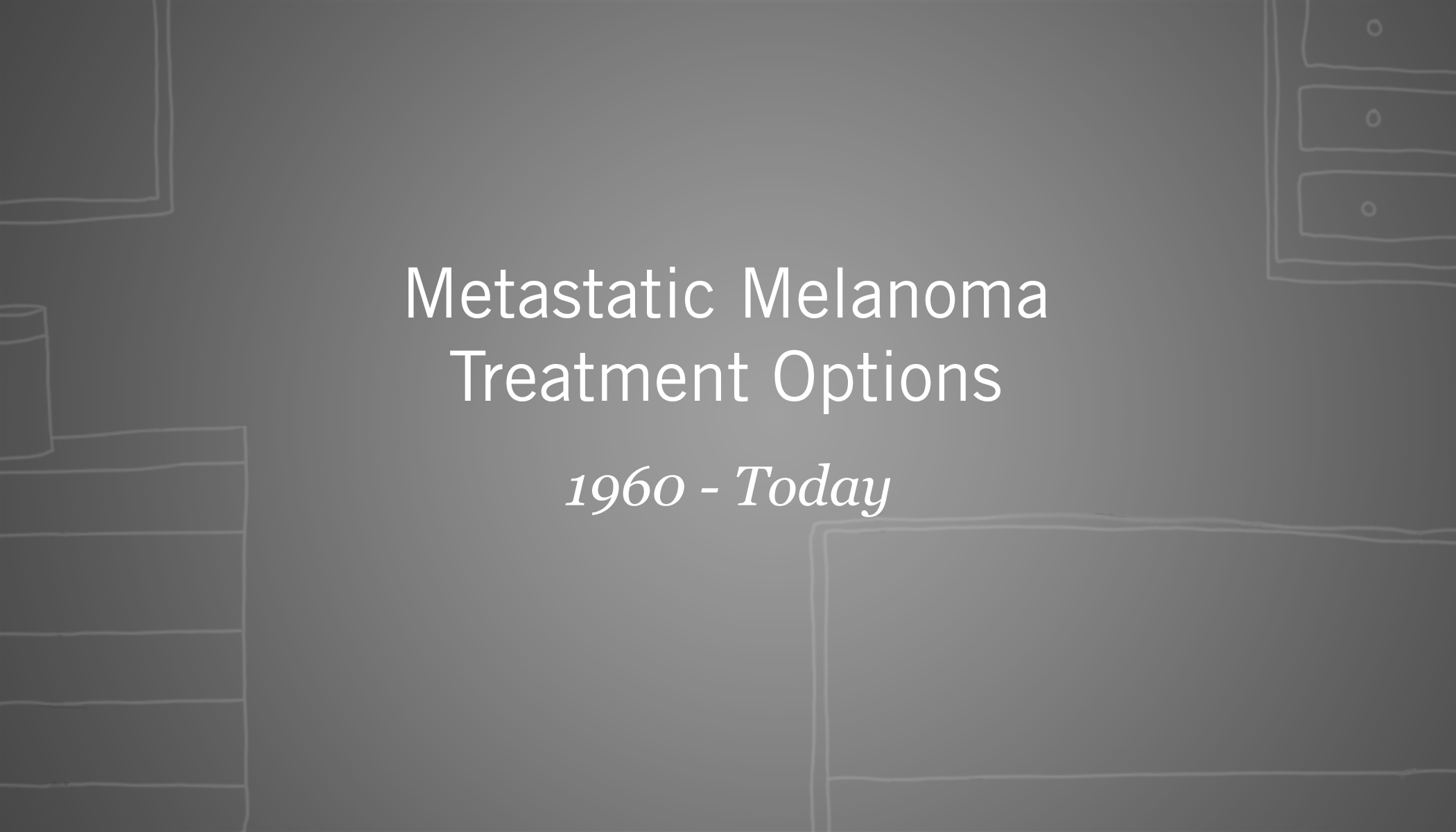 Within the past five years, advanced melanoma has gone from a disease with limited options and poor prognosis to one where there are now multiple options. We've begun to shift the way the disease is thought about and treated, and improve upon how long people could live with the disease. But more options are still needed and there is much we can do.
Fortunately, scientific breakthroughs are quickly translating into new treatment advances for cancer. While this is good news for those affected by and those who treat this terrible disease, it also raises important questions – and some of the most pressing questions today are being tackled in skin cancer. These range from combining immunotherapies with personalized medicines, to sequencing treatments, to designing clinical trials that can produce data quickly enough to keep pace with the rapidly changing treatment environment.
---
Metastatic melanoma is still a potentially deadly disease, but the outlook has gotten better in the last five years than in the past 50.
---
I predict we'll continue to see diseases like advanced melanoma be a "proving ground" for cutting-edge treatment approaches across oncology. Imagine if, in the next five years, we are able to determine the exact regimen of medicines that will treat an individual's tumor, making medicine truly "personalized".
What do you think we'll see in the next five years? Tweet your prediction with the hashtag #Next50 to join the conversation.
Biography

Jennifer Low, M.D., Ph.D, is currently a Senior Group Medical Director in Product Development Oncology and a Development Review Committee Chair, providing strategic direction and overseeing clinical development of oncology pipeline medicines. Jennifer joined Genentech at the end of 2006, leading development of a skin cancer medicine from its first-in-human study through U.S. FDA approval.

Prior to joining Genentech, she was a Senior Investigator in the Investigational Drug Branch of the Cancer Therapy Evaluation Program at the National Cancer Institute (NCI). She was also a senior staff physician in the Medical Oncology Branch of the Center of Cancer Research, NCI, where she was an attending in the breast cancer clinics at NIH and the National Naval Medical Center. She completed her undergraduate degree from Caltech, medical and doctoral degrees from Georgetown and trained in internal medicine at UC Davis and medical oncology at the NCI.