Investigational medicines begin as ideas—transforming them into realities can be a daunting task. No matter the size or technical capabilities of a company, producing medicines is a long and often challenging journey that requires the right people and the determination to succeed.
Our partnering team understands that success in drug discovery and development is defined by a common drive to succeed in our business and scientific goals—and to ultimately, bring new treatments to patients. We also know that to accomplish this, flexibility and the capacity to adapt at a moment's notice are essential. That's why we have a dedicated team of alliance managers who work directly with our partners as soon as a deal is signed.
Partnerships in biotechnology are filled with unexpected challenges, and alliance managers work to anticipate and solve them as they arise. It's an essential part of collaborating that adds value to each of our partnerships. To enlighten us on this unique role in biotech partnering, we had a candid conversation with Patrick Bigot, Vice President and Head of Alliance Management at Genentech.
TELL US ABOUT YOURSELF AND HOW YOU CAME TO WORK AT GENENTECh.
Patrick Bigot: I'm an engineer and former naval officer who also has a business background. My career started outside of biotechnology in the petrochemical industry doing process design and chemical engineering. I eventually got into business development in biotech and worked on a variety of deals from manufacturing and drug delivery deals, to product licensing deals, to mergers and company spin-offs. There I gained experience creating agreements and managing the deals I had negotiated.
When I heard that Genentech was creating an alliance management group, I was thrilled. This was a company I really looked up to as being a leader in the industry. I felt like my background and skills could complement the scientific expertise at Genentech to help create a world-class alliance management team. Since joining ten years ago, I have been doing alliance management in one form or another in a wide variety of collaborations.
WHAT IS THE ROLE OF ALLIANCE MANAGEMENT?
Patrick Bigot: Our partnering team is divided into two groups – business development and alliance management. The business development team is responsible for finding the technologies and collaborators with whom we most want to partner. Alliance management's responsibility begins once a deal is signed. It's a logical progression of managing the business relationship that we strive to make as seamless as possible for our collaborators.
Each partner is assigned an alliance manager who works closely on business planning and financial forecasting, managing contractual obligations and providing strategic insight for things like deal restructuring. We work as the business liaison for our collaborators to facilitate anything that might help accelerate achievement of our mutual business and research goals.
WHAT TYPES OF SOLUTIONS DO ALLIANCE MANAGERS PROVIDE TO PARTNERS?
Patrick Bigot: One of our biggest roles is dealing with changes that may arise during the course of a partnership. In a complex research environment, you do a series of experiments and before you know it, you're moving off in a different direction because that's where the science is taking you.
For example, let's say we're jointly funding a research and development program and either the partner or we want to study the drug candidate in a different area. We might explore whether it makes sense to carve out an exception to the current agreement so the interested party can explore this new avenue of research. In that case, we'd probably negotiate to amend the financial terms of the agreement to reflect that change. An alliance manager would work with both sides, and with legal and finance representatives, to make it possible to conduct the study. When we make amendments to existing deals like this, it really comes down to what's right for that specific program.
IT SOUNDS LIKE THERE ARE A LOT OF MOVING PARTS FOR ANY GIVEN DEAL. HOW DO YOU NAVIGATE SUCH DYNAMIC RELATIONSHIPS?
Patrick Bigot: Having flexibility is one of the keys to a successful partnership. Whenever there's a decision to be made or an issue to be addressed, the initial approach that I take, and that I expect other alliance managers to take, is to think about doing what's right for the situation at hand and don't just automatically follow the contract. The environment may be very different than it was at the time the deal was signed.
It's easy to stay constrained by the terms of the original contract. But it's important that we keep an open mind about the possibility of amending the agreement to make sure that we and our partner continue to pursue what we think is the best approach for the overall program goals.
WHAT SPECIFIC GENENTECH COLLABORATION STANDS OUT TO YOU?
Patrick Bigot: There are so many that come to mind … but a deal that stands out is a collaboration that we had with ImmunoGen during the development of Kadcyla® (ado-tastuzumab emtansine) Indication and Important Safety Information. We were working with them on an innovation called antibody drug conjugates (ADCs) that married our monoclonal antibody for a specific type of breast cancer [Herceptin® (trastuzumab) Indication and Important Safety Information] with technology developed by ImmunoGen that allows the antibody to be chemically connected to chemotherapy.
Soon after the first approval of Herceptin, our team wondered if they could harness the benefits of a targeted medicine to somehow help reduce the collateral damage to healthy cells caused by chemotherapy. The ADC concept was an idea that scientists had been considering for decades but very few had been able to pull it off.1,2
We worked together closely in the research stages to try and understand how to conjugate the antibody to the chemo. As we advanced the program beyond research, ImmunoGen contributed to developing the manufacturing process for Kadcyla as well.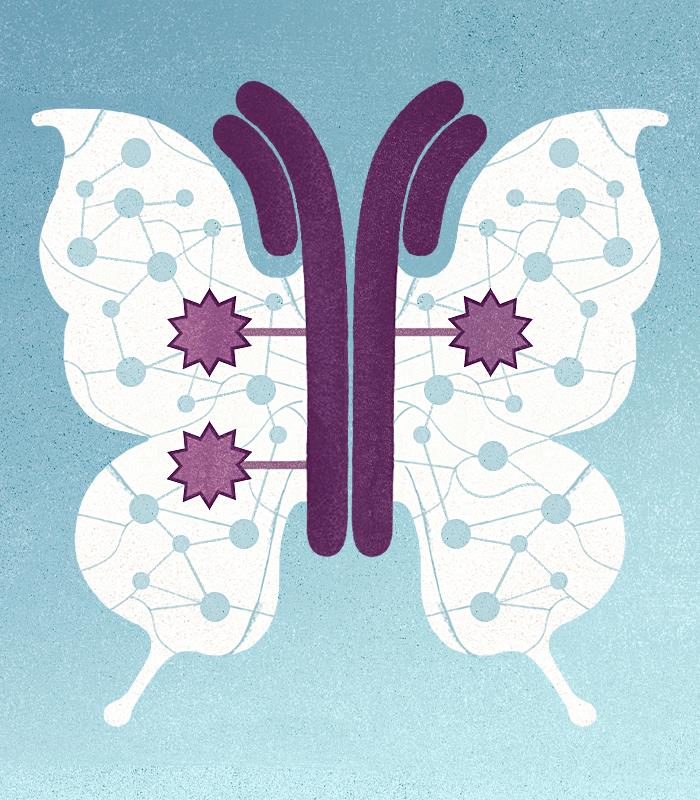 WHY DO YOU THINK RELATIONSHIP-BUILDING IS SO IMPORTANT IN A COLLABORATION?
Patrick Bigot: Fundamentally, I think it boils down to establishing trust. We can't always predict the nature of the decisions or issues that we're going to face together with our partners. So when we find ourselves in a challenging situation, where we have to make a difficult strategic decision, we can navigate it much more effectively if each partner truly believes it is being treated fairly.
Establishing a good personal relationship with our partners elevates the business relationship to something that's much more than just a transaction. It's really gratifying to see world-class science meet genuine appreciation for each other's contributions. That's where the magic happens in a collaboration. That trust can be the foundation by which we create game-changing medical innovations and make a positive impact for both our partners and our patients.
What it Treats
Who is KADCYLA for?
KADCYLA is approved to treat HER2-positive breast cancer that has spread to other parts of the body (metastatic breast cancer) after prior treatment with trastuzumab (Herceptin) and a taxane. Prior treatment could have been for the initial treatment of breast cancer or for the treatment of cancer that had spread to other parts of the body.
Important Safety Information
What is the most important safety information I should know about KADCYLA?
KADCYLA is not the same medicine as trastuzumab (Herceptin).
Liver problems
KADCYLA may cause severe liver problems that can be life-threatening. Symptoms of liver problems may include vomiting, nausea, eating disorder (anorexia), yellowing of the skin (jaundice), stomach pain, dark urine, or itching
Heart problems
KADCYLA may cause heart problems, including those without symptoms (such as reduced heart function) and those with symptoms (such as congestive heart failure). Symptoms may include swelling of the ankles or legs, shortness of breath, cough, rapid weight gain of greater than 5 lb in less than 24 hours, dizziness or loss of consciousness, or irregular heartbeat
Pregnancy
Receiving KADCYLA during pregnancy can result in the death of an unborn baby and birth defects. Birth control should be used while you receive KADCYLA and for 7 months after your last dose of KADCYLA
If you are exposed to KADCYLA during pregnancy or become pregnant within 7 months of your last dose of KADCYLA, contact your healthcare provider right away; you are also encouraged to enroll in the MotHER Pregnancy Registry by calling 1-800-690-6720 or visiting http://www.motherpregnancyregistry.com/
You are also encouraged to report exposure to KADCYLA during pregnancy, or if you become pregnant within 7 months of your last dose to Genentech by calling 1-888-835-2555
If you are a mother who is breastfeeding, you should talk with your doctor about either stopping breastfeeding or stopping KADCYLA
Contact your doctor right away if you experience symptoms associated with these side effects.
What are the additional possible serious side effects of KADCYLA?
Lung problems
KADCYLA may cause lung problems, including inflammation of the lung tissue, which can be life- threatening. Signs of lung problems may include trouble breathing, cough, tiredness, and fluid in the lungs
Infusion-related reactions
Symptoms of an infusion-related reaction may include one or more of the following: the skin getting hot or red (flushing), chills, fever, trouble breathing, low blood pressure, wheezing, tightening of the muscles in the chest around the airways, or a fast heartbeat. Your doctor will monitor you for infusion-related reactions
Serious bleeding
KADCYLA can cause life-threatening bleeding. Taking KADCYLA with other medications used to thin your blood (antiplatelet) or prevent blood clots (anticoagulation) can increase your risk of bleeding. Your doctor should provide additional monitoring if you are taking one of these other drugs while on KADCYLA. Life-threatening bleeding may also happen with KADCYLA, even when blood thinners are not also being taken
Low platelet count
Low platelet count may happen during treatment with KADCYLA. Platelets help your blood to clot. Signs of low platelets may include easy bruising, bleeding, and prolonged bleeding from cuts. In mild cases there may not be any symptoms
Nerve damage
Symptoms may include numbness and tingling, burning or sharp pain, sensitivity to touch, lack of coordination, muscle weakness, or loss of muscle function
Skin reactions around the infusion site
KADCYLA may leak from the vein or needle and cause reactions such as redness, tenderness, skin irritation, or pain or swelling at the infusion site. If this happens, it is more likely to happen within 24 hours of the infusion
How will my doctor know if KADCYLA is right for me?
You must have a HER2 test to determine if your cancer is HER2-positive before taking KADCYLA, because benefit has been shown only in patients whose tumors are HER2-positive.
What are the most common side effects of KADCYLA?
The most common side effects seen in people taking KADCYLA are:
Tiredness
Nausea
Pain that affects the bones, muscles, ligaments, and tendons
Bleeding
Low platelet count
Headache
Liver problems
Constipation
Nosebleeds
You are encouraged to report side effects to Genentech and the FDA. You may contact Genentech by calling 1-888-835-2555. You may contact the FDA by visiting www.fda.gov/medwatch or calling 1-800-FDA-1088.
Please click here for Kadcyla full Prescribing Information, including Most Important Safety Information, for additional Important Safety Information.
What it Treats
Adjuvant Breast Cancer
Herceptin is approved for the treatment of early-stage breast cancer that is Human Epidermal growth factor Receptor 2-positive (HER2+) and has spread into the lymph nodes, or is HER2-positive and has not spread into the lymph nodes. If it has not spread into the lymph nodes, the cancer needs to be estrogen receptor/progesterone receptor (ER/PR)-negative or have one high-risk feature.* Herceptin can be used in several different ways:
As part of a treatment course including the chemotherapy drugs doxorubicin, cyclophosphamide, and either paclitaxel or docetaxel. This treatment course is known as "AC→TH"
With the chemotherapy drugs docetaxel and carboplatin. This treatment course is known as "TCH"
Alone after treatment with multiple other therapies, including an anthracycline (doxorubicin) based therapy (a type of chemotherapy)
Patients are selected for therapy based on an FDA-approved test for Herceptin
*High-risk is defined as ER/PR-positive with one of the following features: tumor size >2 cm, age
Metastatic Breast Cancer
Herceptin has 2 approved uses in metastatic breast cancer:
Herceptin in combination with the chemotherapy drug paclitaxel is approved for the first line treatment of Human Epidermal growth factor Receptor 2-positive (HER2+) metastatic breast cancer
Herceptin alone is approved for the treatment of HER2-positive breast cancer in patients who have received one or more chemotherapy courses for metastatic disease
Patients are selected for therapy based on an FDA-approved test for Herceptin
Gastric Cancer
Herceptin is approved, in combination with chemotherapy (cisplatin and either capecitabine or 5-fluorouracil), for the treatment of HER2-positive metastatic cancer of the stomach or gastroesophageal junction (where the esophagus meets the stomach) in patients who have not received prior treatment for their metastatic disease.
Patients are selected for therapy based on an FDA-approved test for Herceptin.
Important Safety Information
Possible Serious Side Effects With HERCEPTIN
Not all people have serious side effects, but side effects with HERCEPTIN therapy are common.
Although some people may have a life-threatening side effect, most do not.
Your doctor will stop treatment if any serious side effects occur.
HERCEPTIN is not for everyone. Be sure to contact your doctor if you are experiencing any of the following:
HEART PROBLEMS
These include heart problems—such as congestive heart failure or reduced heart function—with or without symptoms. The risk for and seriousness of these heart problems were highest in people who received both HERCEPTIN and a certain type of chemotherapy (anthracycline). In a study of adjuvant (early) breast cancer, one patient died of significantly weakened heart muscle. Your doctor will check for signs of heart problems before, during, and after treatment with HERCEPTIN.
INFUSION REACTIONS, including:
Fever and chills
Feeling sick to your stomach (nausea)
Throwing up (vomiting)
Pain (in some cases at tumor sites)
Headache
Dizziness
Shortness of breath
These signs usually happen within 24 hours after receiving HERCEPTIN.
Be sure to contact your doctor if you:
Are a woman who could become pregnant, or may be pregnant
HERCEPTIN may result in the death of an unborn baby or birth defects. Contraception should be used while receiving HERCEPTIN and for 7 months after your last dose of HERCEPTIN. If you are or become pregnant while receiving HERCEPTIN or within 7 months after your last dose of HERCEPTIN, you should immediately report HERCEPTIN exposure to Genentech at 1-888-835-2555.
Have any signs of SEVERE LUNG PROBLEMS, including:
Severe shortness of breath
Fluid in or around the lungs
Weakening of the valve between the heart and the lungs
Not enough oxygen in the body
Swelling of the lungs
Scarring of the lungs
Your doctor may check for signs of severe lung problems when he or she examines you.
Have LOW WHITE BLOOD CELL COUNTS
Low white blood cell counts can be life threatening. Low white blood cell counts were seen more often in patients receiving HERCEPTIN plus chemotherapy than in patients receiving chemotherapy alone.
Your doctor may check for signs of low white blood cell counts when he or she examines you.
Side Effects Seen Most Often With HERCEPTIN
Some patients receiving HERCEPTIN for breast cancer had the following side effects:
Fever
Feeling sick to your stomach (nausea)
Throwing up (vomiting)
Infusion reactions
Diarrhea
Infections
Increased cough
Headache
Feeling tired
Shortness of breath
Rash
Low white and red blood cell counts
Muscle pain
Some patients receiving HERCEPTIN for metastatic stomach cancer had the following side effects:
Low white blood cell counts
Diarrhea
Feeling tired
Low red blood cell counts
Swelling of the mouth lining
Weight loss
Upper respiratory tract infections
Fever
Low platelet counts
Swelling of the mucous membranes
Swelling of the nose and throat
Change in taste
You should contact your doctor immediately if you have any of the side effects listed above.
You are encouraged to report side effects to Genentech and the FDA. You may report side effects to the FDA at 1–800–FDA–1088 or http://www.fda.gov/medwatch.
You may also report side effects to Genentech at 1–888–835–2555.
Please see additional select Important Safety Information throughout, and the accompanying full Prescribing Information, including Boxed WARNINGS.
  References

1 Carter PJ, Senter PD. Antibody-drug conjugates for cancer therapy. Cancer Journal 2008;14(3):154-169..

2 Zolot RS, Basu S, Million RP. Antibody-drug conjugates. Nature Reviews Drug Discovery 2013;12:259-260.