In 2008, Debra Melton followed her doctor's orders and got a mammogram. She wasn't worried. Breast cancer didn't run in her family. Then she got a call at work from her doctor.
"It was very upsetting," says Melton. "I was not expecting to hear that I had breast cancer at all."
At first, she was surprised, then angry.
"I had a lot of things going on in my life at that time," recalls the Memphis, Tenn., resident. "I kind of got an attitude about it. I was not going to let cancer interrupt anything that I had already planned in my life. I was going to beat this. It was not going to beat me."
The days ahead would be difficult for the 35-year-old who was diagnosed with Stage 1 breast cancer. But after several months of chemotherapy and six weeks of radiation, Melton came out on the other side as a survivor.
Unfortunately, she knows some women who didn't.
"I know some people who were around the same age I was that went through breast cancer, and they did not survive," says Melton. "It is a little hard sometimes to think about the people who did not make it because their breast cancer was at a more advanced stage than when I found mine."
But it wasn't just a coincidence that some of the women Melton knew did not survive.
In Memphis, African-American women with breast cancer are more than twice as likely to die of the disease as Caucasian women.
A 2013 New York Times article reported on an Avon Foundation for Women study that found although similar disparities exist in cities across the nation, the Southern city had the biggest disparity gap.1 The article pointed to a number of factors that contributed to the gap including poverty, mistrust of the medical community, lack of insurance and being diagnosed at later stages.
"In Memphis, African-American women with breast cancer are more than twice as likely to die of the disease as Caucasian women."
When Genentech's Chief Executive Officer Ian Clark picked-up this article and read the startling statistics, he knew his company had to do something. He organized a team to figure out how to best make an impact—the first step towards building what would come to be known as the Memphis Breast Cancer Consortium.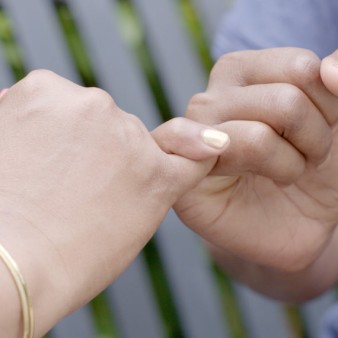 A Community Coming Together
Learn more about the formation of the Memphis Breast Cancer Consortium.
The consortium's first initiative was Sister Pact, an awareness campaign that encouraged African-American women to "make a pact" with a friend or family member to talk to their doctor about getting regular mammograms. The campaign was executed through multiple media channels and utilized the consortium members' trusted relationships and resources to help spread the message.
"It has been a structured, consistent, multifaceted campaign with a very simple message: getting women to work together and help each other go get an early mammogram," says Renee Frazier, executive director of Common Health Table Alliance and head of the consortium's steering committee. "It's impactful."
It's working for Melton. The campaign has encouraged her to make pacts with others including her daughter Alexis who, at 21, is starting to talk to her friends about breast self-exams.
"We found that with Sister Pact we took the fear out of getting a mammogram, and what we wanted women to do was celebrate [their] health," says Katrina Kimble, who works for the Church Health Center, a Memphis-based member of the consortium. "It's just about sharing the message that you need to get a mammogram, and if you're afraid, I'll go with you. I'll support you. I'll encourage you."
Kimble and her team also work with faith-based organizations to make them aware of the resources available through Sister Pact. They've participated in church health fairs, women's ministry conferences and the National Prayer Breakfast. Many of the women she's met didn't know they needed to have regular screenings.
"It's just about sharing the message that you need to get a mammogram, and if you're afraid, I'll go with you. I'll support you. I'll encourage you."
"We just want to save the lives of these women," says Kimble. "We're just losing too many of our mothers and sisters and daughters and friends to this awful disease."
Radio personality Bev Johnson learned about the campaign when her radio station did a remote broadcast during the Sister Pact launch event last August and knew she was overdue for a mammogram. "I had not had one in two years," says Johnson. "I'd been putting it off not because I didn't want to go, but I'm so busy."
With the Sister Pact billboards around town serving as a constant reminder, Johnson finally took the time to sign up to get her mammogram. "I said 'Look, I'm going to do this. I've got to stop putting this off.'"
Johnson also made a Sister Pact with her female co-workers. "We are here talking about this campaign, doing these live broadcasts, we have to remember to [get mammograms] ourselves," says Johnson. She has also encouraged her listeners, many of whom also say they're too busy, to get mammograms.
Time isn't the only factor keeping women in Memphis from getting mammograms; cost is also a concern. A number of women, particularly those without insurance, have said they could not afford to get a mammogram. "I tell them don't worry about the cost … there's always help available," says Johnson.
Part of the Sister Pact initiative focused on collating local resources. The website, www.SisterPact.com, houses a comprehensive online directory of breast health services including more than 70 local and national resources for access to free or low-cost mammograms, transportation options and financial assistance.
Frazier wishes the resources provided through Sister Pact had been available when her grandmother was diagnosed with breast cancer 40 years ago. "She was a strong lady," she remembers. "We were trying to figure out how to get her help and support. There was no phone number to call. Peer support groups didn't exist when my grandmother got it."
While they're still collecting data on how the campaign has impacted screening rates in the target demographic, the consortium is working hard to create a sustainable model for Sister Pact and brainstorming new initiatives to address the breast cancer disparity issue.
"The local commitment from the consortium members has made all the difference," says Frazier. "We're never going to lose the focus on breast cancer health. We're not going to lose sight of Sister Pact."
"Early detection is actually the key to survival, and that's exactly what Sister Pact is trying to do, get people to stay on top of their health," says Melton. "You don't have to let cancer ruin your life by any means. It is not a death sentence."