See If You Qualify
People can have trouble getting their medicines for many reasons. The Genentech Patient Foundation helps people in need, whether they have insurance or not.
Find Out if We Can Help
Does your insurance coverage and income match one of these situations?
Uninsured patients with incomes under $150,000
Insured patients without coverage for a Genentech medicine with incomes under $150,000
Insured patients with coverage for a Genentech medicine:

With unaffordable out-of-pocket costs
Who have used all forms of available financial assistance
With household size and income within certain guidelines (see below)
Income Range For Insured Patients With Coverage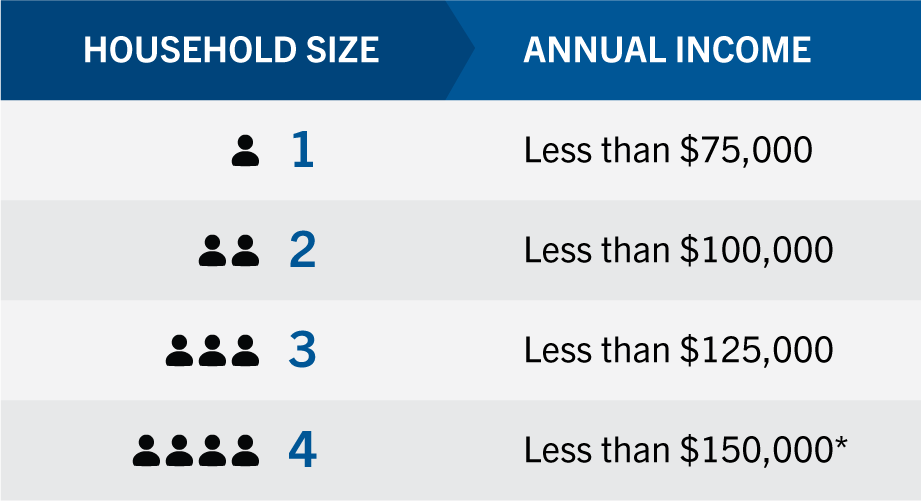 *For households larger than 4 people, add $25,000 for each extra person. There is no maximum number of people you may add.
Have you been prescribed a participating Genentech medicine?
Participating Genentech Medicines
ACTEMRA® (tocilizumab)
ACTIVASE® (alteplase)
ALECENSA® (alectinib)
AVASTIN® (bevacizumab)
CATHFLO ACTIVASE® (alteplase)
COTELLIC® (cobimetinib)
ERIVEDGE® (vismodegib)
ESBRIET® (pirfenidone)
GAZYVA® (obinutuzumab)
HEMLIBRA® (emicizumab-kxwh)
HERCEPTIN® (trastuzumab)
HERCEPTIN HYLECTA® (trastuzumab and hyaluronidase-oysk)
KADCYLA® (ado-trastuzumab emtansine)
LUCENTIS® (ranibizumab injection)
OCREVUS® (ocrelizumab)
PERJETA® (pertuzumab)
PULMOZYME® (dornase alfa) Inhalation Solution
RITUXAN® (rituximab)
RITUXAN HYCELA® (rituximab/hyaluronidase human)
TARCEVA® (erlotinib)
TECENTRIQ® (atezolizumab)
TNKASE® (tenecteplase)
VENCLEXTA® (venetoclax)
XOLAIR® (omalizumab) for subcutaneous use
ZELBORAF® (vemurafenib)
If you do not see your medicine listed, please contact our Patient Resource Center at 1 (877) GENENTECH (436-3683) for more information.
If one of these situations applies to you, you may qualify for support from the Genentech Patient Foundation. Please complete the Enrollment Form to apply.
If one of these situations does not apply to you, help may still be available. Genentech Access Solutions can help you understand insurance coverage and other assistance options.