Breakthrough Designation Explained
People with life-threatening diseases often need new medicines. The FDA has responded with a new initiative called "breakthrough therapy designation" that is intended to streamline and speed up the approval of new medicines for serious disease. Here's a guide to understanding breakthrough designation and how it fits in with other initiatives.
June 1st, 2013- Delivering new treatments to patients is always a delicate balance. Move too quickly and you can't collect adequate data to show a new medicine should be approved. Move too slowly and you leave patients with serious diseases waiting for new options.
There are several potential ways to speed up the process of drug development and review (see the infographic below). These programs are the result of decades of policy changes, and they show the incredible power of passionate people coming together to demand action.
HIV and a Failed Cancer Medicine Changed Everything
The original catalyst to speed things up was public outrage over the AIDS epidemic in the 1980's. Thousands of people were becoming infected with HIV, and with no treatment available, it was literally a death sentence. Then came AZT - the first effective treatment against HIV. AZT was originally developed as a medicine for cancer but turned out to be ineffective for that use. However, everything changed when scientists discovered striking results against certain types of viruses.
The manufacturer of AZT partnered with FDA to deploy an unprecedented combination of forces to push the medicine's development forward quickly. And it worked. The journey from IND filing to approval – a process that can last a decade or more – took only two years.
In the wake of AZT, it was clear that life-threatening diseases called for special consideration. Policies had to change. As a result, three new programs were created in five years: Fast Track, Priority Review, and Accelerated Approval. These were all designed to reduce the time it took to get a new medicine for an unmet need, or that represented a significant advance over other therapies, to patients. You can read more about the various programs at the FDA website.
Breakthrough Designation, Another Tragedy-Turned-Triumph
When Ellen Sigal's sister died of breast cancer, she took action. Ellen founded Friends of Cancer Research, served on boards at the National Institutes of Health and the Patient Centered Outcomes Research Institute and became an outspoken patient advocate. In 2011-2012, she and other advocates helped pushed forward the "Advancing Breakthrough Therapies for Patients Act" which was signed into law in July 2012. The bill, in part, resulted in a change to FDA's legal authority that allowed them to grant the breakthrough therapy designation for a drug intended to treat a serious or life-threatening disease with evidence showing that the drug may provide a substantial improvement over current options.
So far there have been approximately 15 breakthrough designations confirmed and that number will likely rise as additional designations are sought. Currently, half of them are for cancer medicines being studied in diseases like adult leukemias and lymphomas, and advanced breast and lung cancers.
Like AIDS 30 years ago, the public health threat posed by cancer is a major catalyst for change today. Driven by patients and passionate advocates, drug makers and regulators continue to work together to help people get better, faster.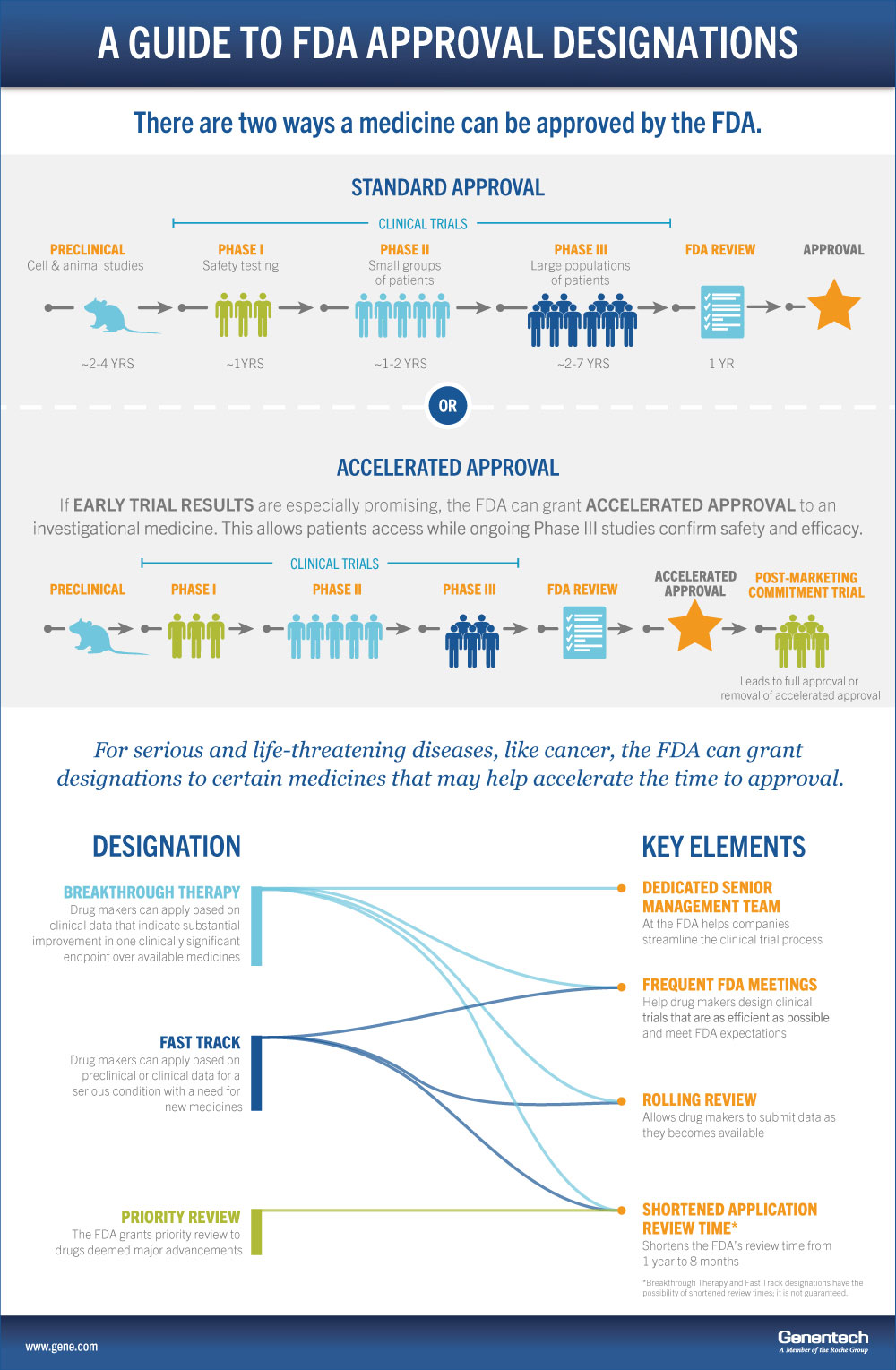 Michelle Rohrer received her PhD in Nutrition Science with a minor in Physiological Biochemistry from the University of California, Davis. She joined Genentech as a post-doctoral fellow in 1993 and later became a Clinical Scientist in Genentech's Development organization. In 1999, Michelle joined Genentech's Regulatory organization holding positions of increasing responsibility, including head of the both the Commercial and Clinical Regulatory groups with responsibilities overseeing the development and commercial regulatory strategies for Genentech's entire product portfolio. In the now merged Genentech Roche organization, Michelle is Vice President of US Regulatory Affairs. In this capacity, Michelle oversees Genentech Roche's regulatory development strategies, commercial aspects and policy efforts in the US. In addition, Michelle is also the South San Francisco Site Head for Roche's Global Product Development organization.