Building Towards a Sustainable Future
Genentech participated alongside several of the Bay Area's top companies in an effort to lower our energy, water, and waste by 20%.
April 22, 2015 –There are plenty of labs on our South San Francisco campus, but we thought it could be interesting to turn the campus itself into a different kind of lab, focusing on sustainability. To that effect, Genentech participated in the US Green Building Council's Best Buildings Challenge.
We worked towards a goal set at the Clinton Global Initiative in June of 2012 to reduce energy, water, and landfill waste per employee by 20% in 2 years. The challenge was taken on in five buildings at our South San Francisco campus. The Challenge has now ended and we'll be announcing our great results soon.
Tackling the Challenge
Participating buildings were outfitted with smart dashboards that track our energy, water, and waste performance and help to engage employees. We piloted two state-of-the-art lighting control systems in two of our buildings and compared the energy savings. By redesigning our landscaping with drought resistant plants and implementing more effective irrigation systems, we worked to reduce our water use especially in light of the current drought in California. One brave group of volunteers even sorted through trash from the landfill dumpster in order to help optimize plastic recycling efforts in the labs.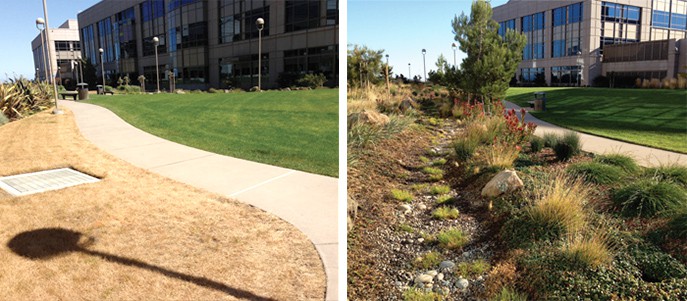 Progress doesn't happen in isolation, and during the Challenge period, we met quarterly with other participants — including Google and Adobe — to share ideas and learn from each other's experiences.
Starting Small; Spreading the Word
Sometimes the smallest changes — like expanding the number of recycling bins and installing smart power strips so employees can track their workstation energy usage — have the biggest impact. One of our larger projects optimized the HVAC system in one of our buildings, which resulted in the largest single water and energy reduction on campus.
We broadcasted our participation in the Best Buildings Challenge through our traditional internal channels, but couldn't be sure people were getting the message so we implemented a low-tech solution: Broadcast in the one place everyone visits at least once a day - the bathroom.
By placing magnetic signs in bathroom stalls with up-to-date information about our efforts and ways people can participate, we increased the program's visibility and we continue to use this method to communicate about our broader sustainability program.
We want to enable people to do the right thing. The idea is to help employees lead a greener life at work without sacrificing time or convenience. - Katie Excoffier, Sustainability Manager
We saw significant reductions in energy and water use as well as in the amount of waste sent to the landfill thanks to our participation in the Challenge but these are just the latest steps in a broader journey. This program was an opportunity to test ideas that can ultimately be adopted on a larger scale across our campus and beyond. Together with our partners in the Best Buildings Challenge, we're leading the charge for a happier, healthier, and more sustainable future. The Challenge is coming to a close in June, so stay tuned for more detailed results on our efforts to make life on our SSF campus more sustainable.