Evolving Phase I: The Path Forward
Driven by recent scientific advances, data from Phase I trials are becoming increasingly powerful. And regulators are taking note.

Michelle Rohrer, Ph.D.
Vice President, U.S. Regulatory Affairs, Genentech
p>
April 4, 2014
- Historically, excitement about Phase I clinical trials largely came from early-stage researchers and academics, like the attendees of AACR. However, this excitement may now be spreading beyond this population. In recent years, we've seen a remarkable transformation in the way Phase I trials are conducted and the types of data that can emerge. And the implications are potentially massive.
My colleague Stuart Lutzker in Genentech Research and Early Development (gRED) discusses the forces driving this evolution and the ways we must adapt here. I'd like to explore what these changes mean from a regulatory perspective.
After all, without regulatory involvement, even the most promising new medicines won't be approved to reach the people who need them.
Challenging the status quo
The results of "traditional" Phase I trials are incredibly valuable, as they focus on the initial safety profile of an investigational medicine and how it behaves in the body. However, these data from small and heterogeneous populations rarely provide the evidence of efficacy or safety necessary for regulatory decisions. Rather, they provide clues that inform Phase II studies in slightly larger, more selective populations.
Now, researchers across the field of oncology are starting to break historic boundaries and challenge the status quo of what we can learn from Phase I studies. We're designing new medicines tailored to the biology of cancer that may show "signals" of efficacy earlier than ever before. And the tools of "personalized" medicine are allowing us to test new medicines in the select populations most likely to benefit. These advances are fundamentally changing the way we design clinical trials.
As a result, exceptional Phase I data now have the potential to support the jump to Phase III or even a path to approval – ideas that would have been almost unimaginable even a decade ago.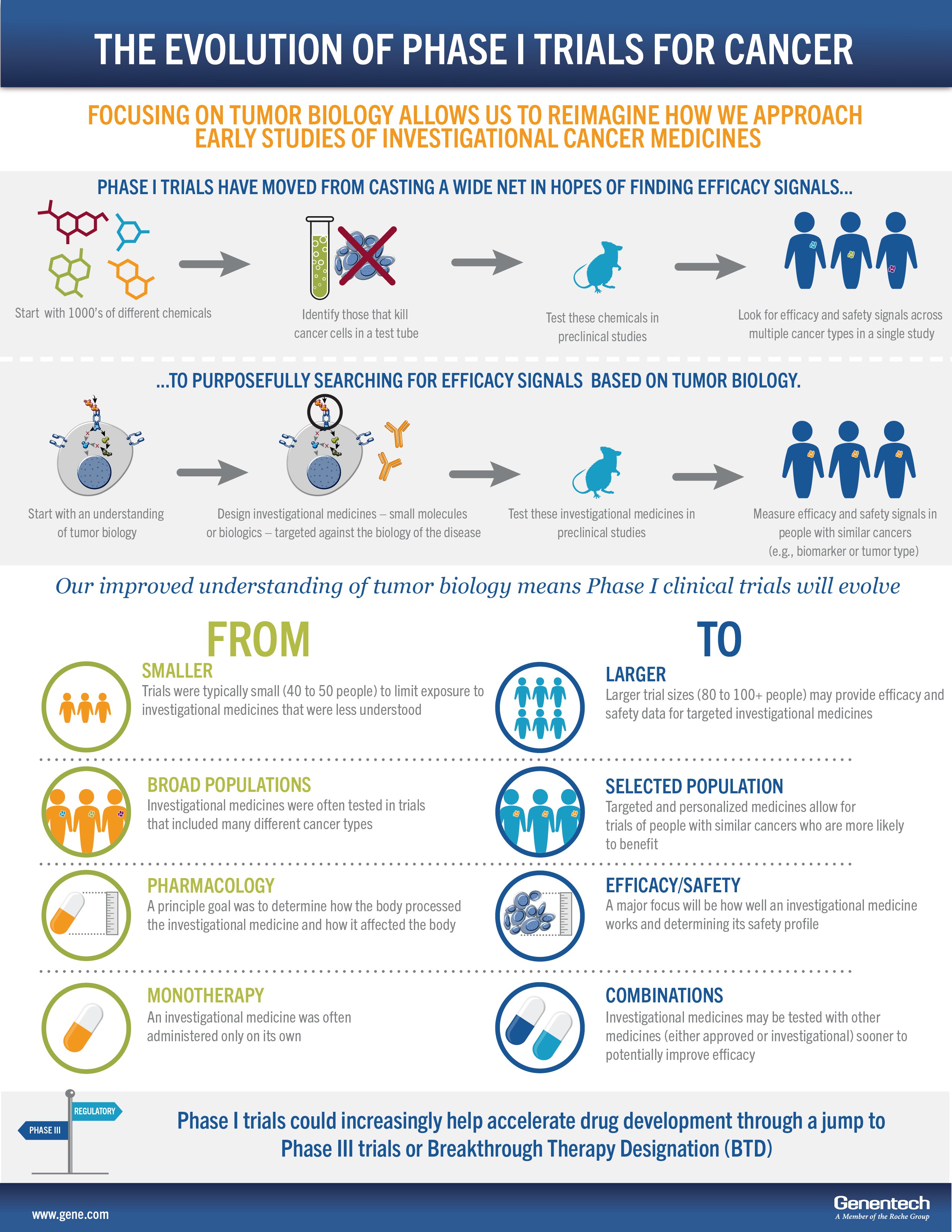 Change is happening now
This isn't just something theoretical that could happen in the future. It's starting to happen already. The best illustration of the impact of these changes was the creation of the U.S. Food and Drug Administration's (FDA's) Breakthrough Therapy Designation (BTD) in 2012. As I've discussed before, this program was created to expedite the development and review of important new medicines for life-threatening conditions with unmet needs.
BTD is an official recognition of two key facts. First and most obviously, people with diseases like cancer urgently need new treatment options. But just as important is the fact that we now have the ability to recognize the potential of investigational medicines much earlier in development.
A similar process happened for Phase II trials with the creation of Accelerated Approval in 1992. With BTD, regulatory authorities have acknowledged the unprecedented potential of Phase I trials today.
All of this underscores a central question: if we have sufficient risk-benefit information to support the approval of a medicine, does it even matter what Phase the data came from?
In fact, some FDA officials are discussing the possibility of approving medicines based on exceptional data from a single Phase I trial.
Pursuing balance and weighing the evidence
To change regulations in a meaningful way, communication and cooperation are essential. For example, a key component of BTD is ongoing conversations between the FDA and drug sponsors during the earliest stages of development. Through this enhanced dialogue, regulators and sponsors can appropriately balance the conversation around any remaining uncertainty, weighing compelling scientific evidence in a way that gets new medicines to patients as quickly as possible.
Ongoing open dialogue should include everyone from doctors and scientists to patients and advocates. When it comes to cancer, the stakes for Phase I trials are high. By listening and working together, we ensure that whatever path we follow, we're doing it right.
Michelle Rohrer received her PhD in Nutrition Science with a minor in Physiological Biochemistry from the University of California, Davis. She joined Genentech as a post-doctoral fellow in 1993 and later became a Clinical Scientist in Genentech's Development organization. In 1999, Michelle joined Genentech's Regulatory organization holding positions of increasing responsibility, including head of the both the Commercial and Clinical Regulatory groups with responsibilities overseeing the development and commercial regulatory strategies for Genentech's entire product portfolio. In the now merged Genentech Roche organization, Michelle is Vice President of US Regulatory Affairs. In this capacity, Michelle oversees Genentech Roche's regulatory development strategies, commercial aspects and policy efforts in the US. In addition, Michelle is also the South San Francisco Site Head for Roche's Global Product Development organization.