"I liked to blow things up."
Greg Cosma seems to be cut from a different cloth than most scientists, so his response to the question, "What got you interested in science?" doesn't come as much of a surprise.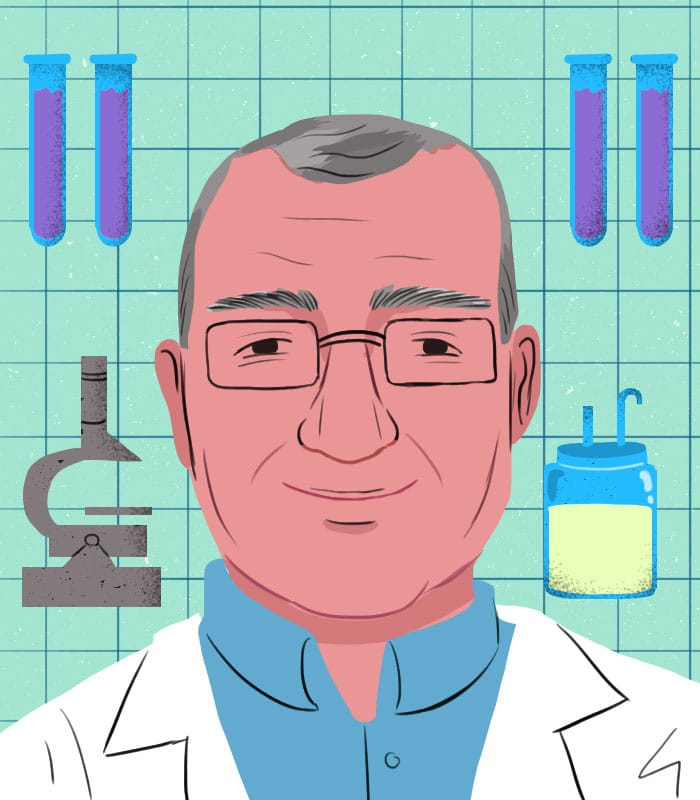 He answered the question with a mischievous, ear-to-ear grin—likely the same look he had as a 9-year old just before setting the family garage on fire in a bout of homemade experimentation.
"I'd bought some iron and zinc shavings at the local hardware store. I was just curious, so I set a match to them. And before I knew it, my dad's workbench in the garage was starting to go up in flames," Greg says with a nostalgic look in his eyes.
Fortunately, his mother was around, and they were able to put the fire out quickly, leaving nothing but a few scorch marks. But that small explosion left a huge impression on Greg. "It made me want to understand why things blow up."
To channel this passion, Greg's dad bought him a junior chemistry set. That touch of parental guidance set him on a path, from the kid who liked to watch stuff explode to his role today as a toxicologist and Global Head of Safety Assessment at Genentech.
A Natural Inclination
During college Greg got a summer internship at Baxter Labs, a pharmaceutical company outside Chicago, where he was introduced to laboratory work. "I thought, 'Wait a minute, this is kind of cool. I like this. It's not classes, it's actually doing stuff in the lab.' I found out that I was really good in the lab and I actually ended up getting several patents as a summer intern there."
Greg enjoyed the experience so much that he applied to graduate school at the University of Kansas, where he earned a Ph.D. in Pharmacology and Toxicology in just three-and-a-half years. "I somehow got through college, and the moment I entered graduate school I knew things would be better. I loved being in the lab full time. I could finally get my scientific juices flowing."
It illustrates something that people quickly learn upon meeting Greg – that behind his easy Midwestern charm is a brilliant scientist who has always been ahead of the curve.
After his graduate and post-doctoral work Greg served as a faculty member at both the New York University Medical Center and the Colorado State University veterinary school for a combined eight years. But during his time in academia, he always had a nagging feeling that he wasn't in the right place.
"For me, it was always about collaborative research. That's what drew me to the pharmaceutical industry, because that's how you achieve success here."
Detective Work
Greg eventually followed his intuition into industry, where he's been ever since. After stops at Pfizer and Bristol-Myers Squibb, Greg joined Genentech in 2010; he's been in charge of drug safety ever since. Throughout all of his career changes, the one constant has been a love for toxicology.
"I love reading crime and mystery novels, and that's kind of what toxicology is like. You're at the scene of a crime. Why did that bad thing happen in the animal model, or in the tissue, or in the cells? What we do in toxicology is run experiments in cells and preclinical models to find the bad stuff about drugs, and make sure that that doesn't happen in people."
The Dream Team
Greg's job at Genentech is a far cry from that formative experience of starting a fire in his parents' garage. Aside from his deep sense of responsibility to drug safety, what he's most proud of is the respect his team garners from the rest of the industry.
"We're seen as a very forward-thinking group, and we occupy many leadership roles in medical societies in our industry. We have a presence, and much of that comes from how much we publish."
In an average year, Greg estimates that his team publishes and presents between 50 and 100 manuscripts and external talks on topics related to safety assessment, which he sees as rare given the perceived stigmas around the subject and intense competition in drug development. "We're different here, we're very open, and in fact, really encourage our scientists to publish."
It's a testament to Greg and his team, and also to the fact that he is a little different. On a recent trip to his childhood home, Greg was reminded of how rambunctiously his scientific journey began.
"There were still some char marks by where my dad had built my first chemistry laboratory. And it was still marked 'Greg's First Lab.'"