Hitting Two Birds With One Stone
---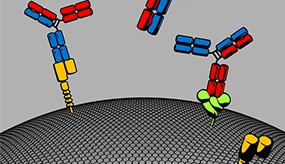 Genentech scientists developed the method, based upon the 'knobs-into-holes' technology, which formed the basis of the generation of early bispecific antibodies and monovalent antibodies.  However, due to the way these antibodies assemble during production, adding a second antibody has been limited to pairing antibodies that share a common light chain.  Genentech scientists came up with the elegant solution of producing each antibody as a 'half-antibody', each using its natural light chain, and then assembling them into a functional bispecific antibody after production in E. coli.  They went on to demonstrate that these half-antibodies could self-assemble after co-fermentation and co-purification, further streamlining manufacturing.   
MET and EGFR are often co-expressed, co-activated, and are frequently implicated in mediating cell survival signals through redundant signaling, which is one mechanism that may lead to drug resistance.   Our scientists showed that the MET/EGFR bispecific antibody they generated could functionally suppress signaling through both MET and EGFR and had the same activity as combining two antibodies in in vitro cell lines and tumor models. 
Read more about these important findings in our Nature Biotechnology publication, "Bispecific antibodies with natural architecture produced by co-culture of bacteria expressing two distinct half-antibodies."