Every major advance in cancer care, from chemotherapies to targeted therapies to immunotherapies, depends on brave people volunteering to participate in clinical trials. Behind the scenes there are also researchers, caregivers, coordinators and sponsors working harmoniously with trial participants toward a common goal: advancing cancer care.
We talked to some of the people who play these key roles in clinical trials and asked them to share their experiences with us.
Jack Whelan, Clinical Trial Participant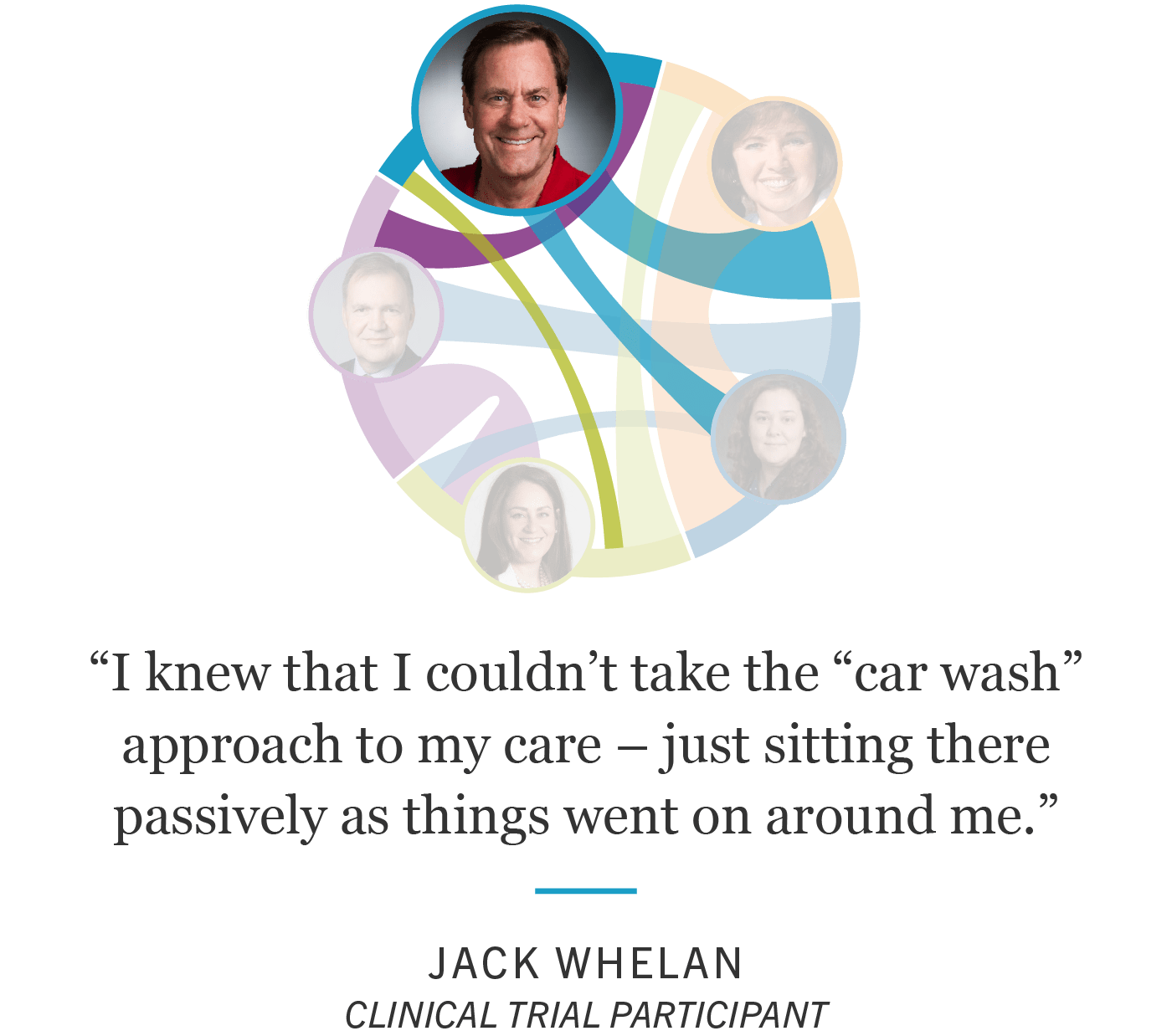 A cancer diagnosis changes your life. My first thought was: "how do I fix this?" In 2006 I was diagnosed with a rare blood cancer called Waldenstrom macroglobulinemia. From the beginning, I knew that I couldn't take the "car wash" approach to my care – just sitting there passively as things went on around me. I knew I wanted to be proactive and understand what was happening with my cancer, as there was no standard of care treatment option available.
Clinical trials can offer the opportunity to receive a potential new treatment, especially when you have a rare disease like mine. For me, it was a beacon of hope when I had exhausted many other options. It was also a chance to help researchers determine how an investigational medicine works, and provide information that could potentially help others. I see it as an important data-gathering exercise to monitor whether I was responding to the clinical trial therapies.
I wouldn't be able to do this alone. I rely on everyone around me, from my team of doctors to my family, especially my wife. She has helped me get through this important and challenging process.
Jan Whelan, Clinical Trial Caregiver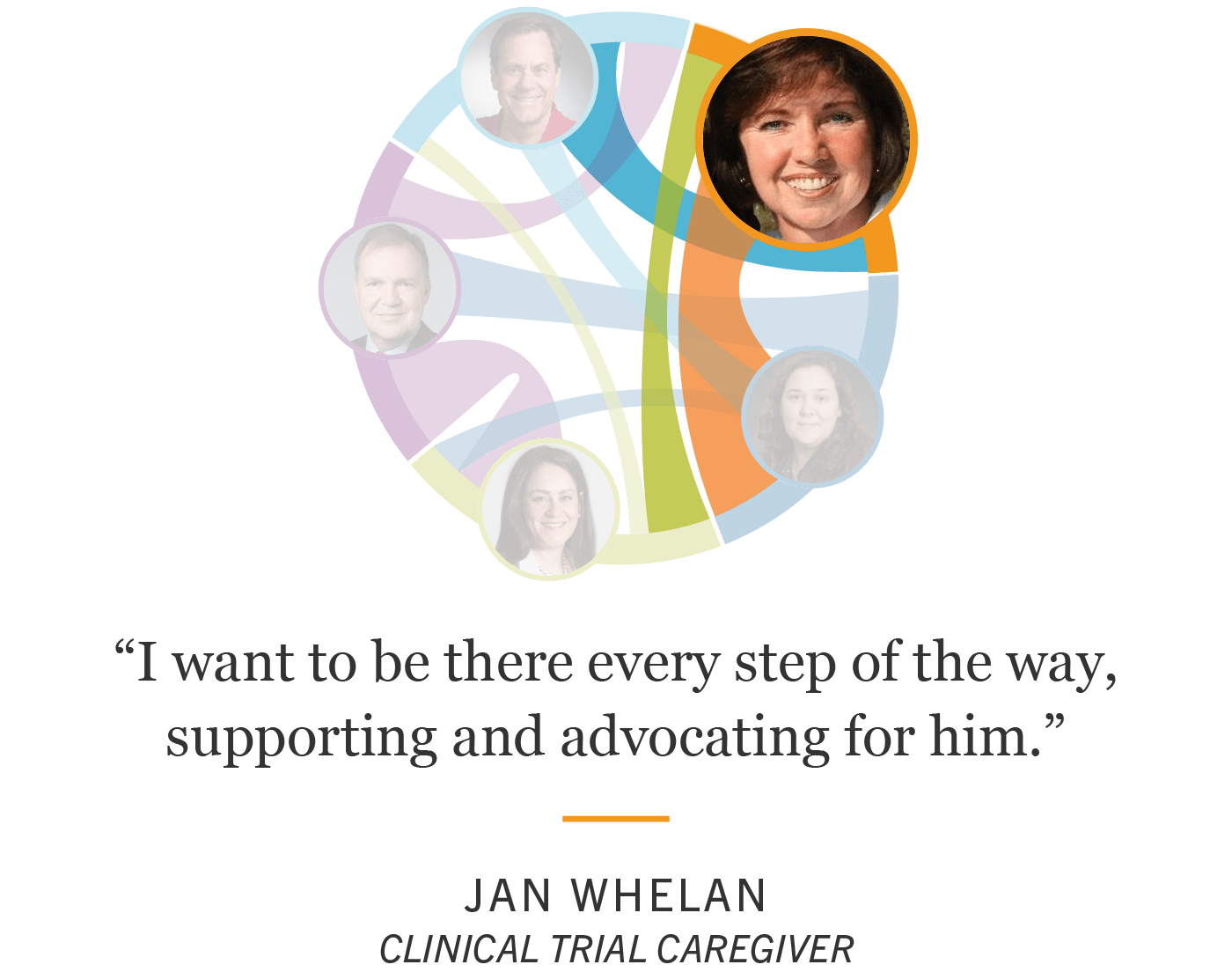 Jack and I have been married for 47 years. We know each other better than anyone else, and that's why it's so important for us to have each other during this process. When each day brings new challenges, encouragement and care from a familiar face can provide much needed stability and solace. Support from a loved one during a clinical trial can go a long way.
Jack likes to say that people often don't hear what the physician is telling them because their brain is busy processing what it means to have cancer. I was with Jack from the very beginning of the diagnosis and I work to make sure Jack's needs are communicated, take notes and ask questions. It's ok if you don't understand everything – I think it's important to just be there for support and an extra set of ears.
I interacted regularly with the clinical trial coordinator to obtain as much information as I could about the trial to help manage his care and make sure that all he had to worry about was getting healthy. Like Jack, I take a proactive approach. I want to be there every step of the way, supporting and advocating for him. Along with our three daughters, I make sure Jack has the best support system possible through it all.
Erin Elias, Clinical Trial Coordinator at Massachusetts General Hospital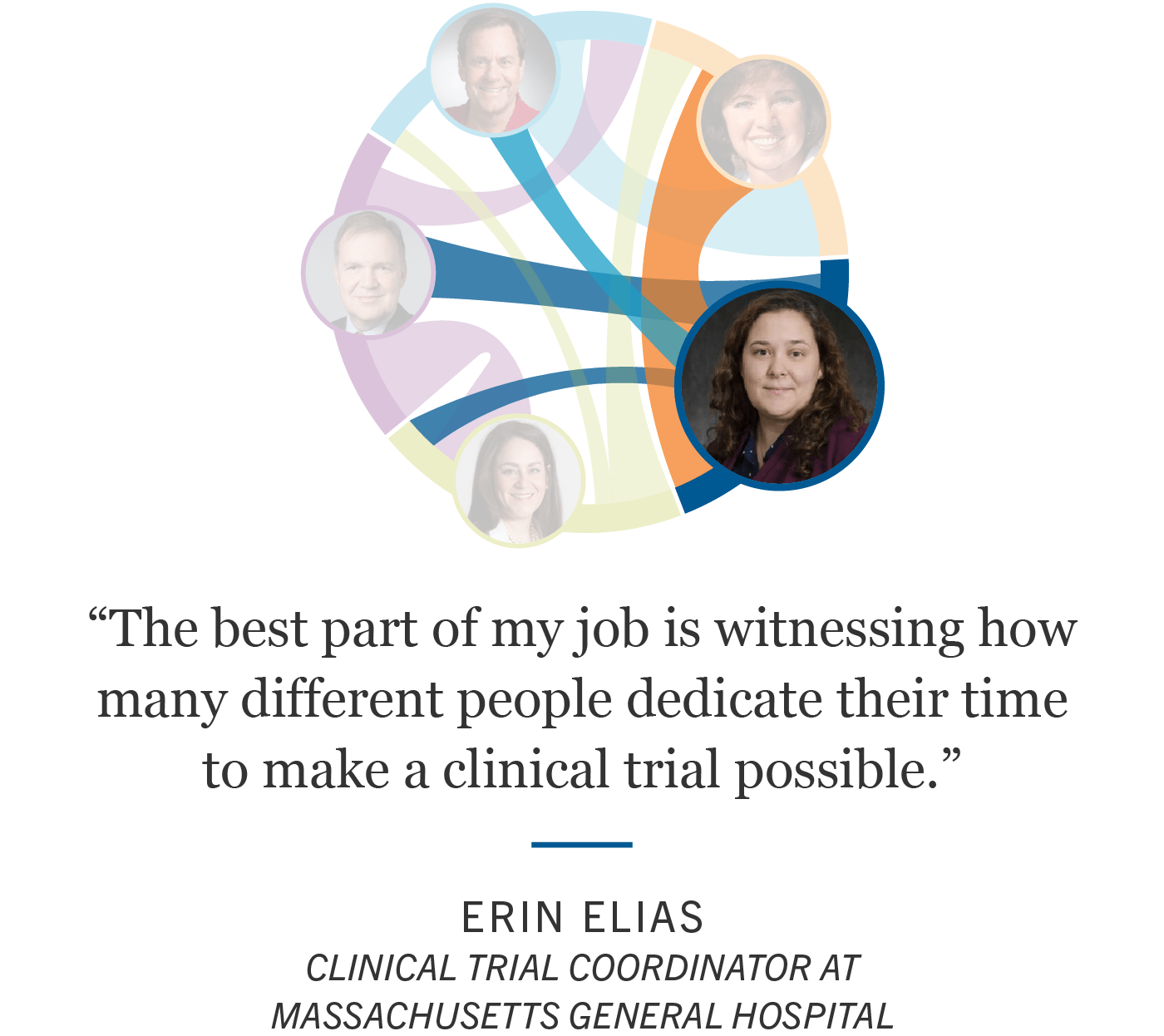 A clinical trial has a lot of moving parts. From patient recruitment all the way to data analysis, many different regulatory and institution procedures are in place to help ensure that a trial runs efficiently, and most importantly, safely. This means I wear a lot of different hats in my role as a clinical trial coordinator. On a typical day you might find me in the clinic interacting with participants or in the office entering data or working with regulatory personnel.
And because a clinical trial is so complex, unanticipated needs and challenges can arise. I collaborate across teams of nurses and doctors to find the right solutions, and I work closely with the clinical trial researcher to ensure everything moves forward as seamlessly as possible.
The best part of my job is witnessing how many different people dedicate their time to make a clinical trial possible. Working at a hospital, I'm reminded every day of the reason we do this work and why this research is so important. Just walking down the halls and interacting with patients, doctors and the rest of the hospital staff gives me an incredible appreciation for the important work we're all doing to advance cancer care.
Sharyn Lewin, MD, Clinical Trial Researcher at Holy Name Medical Center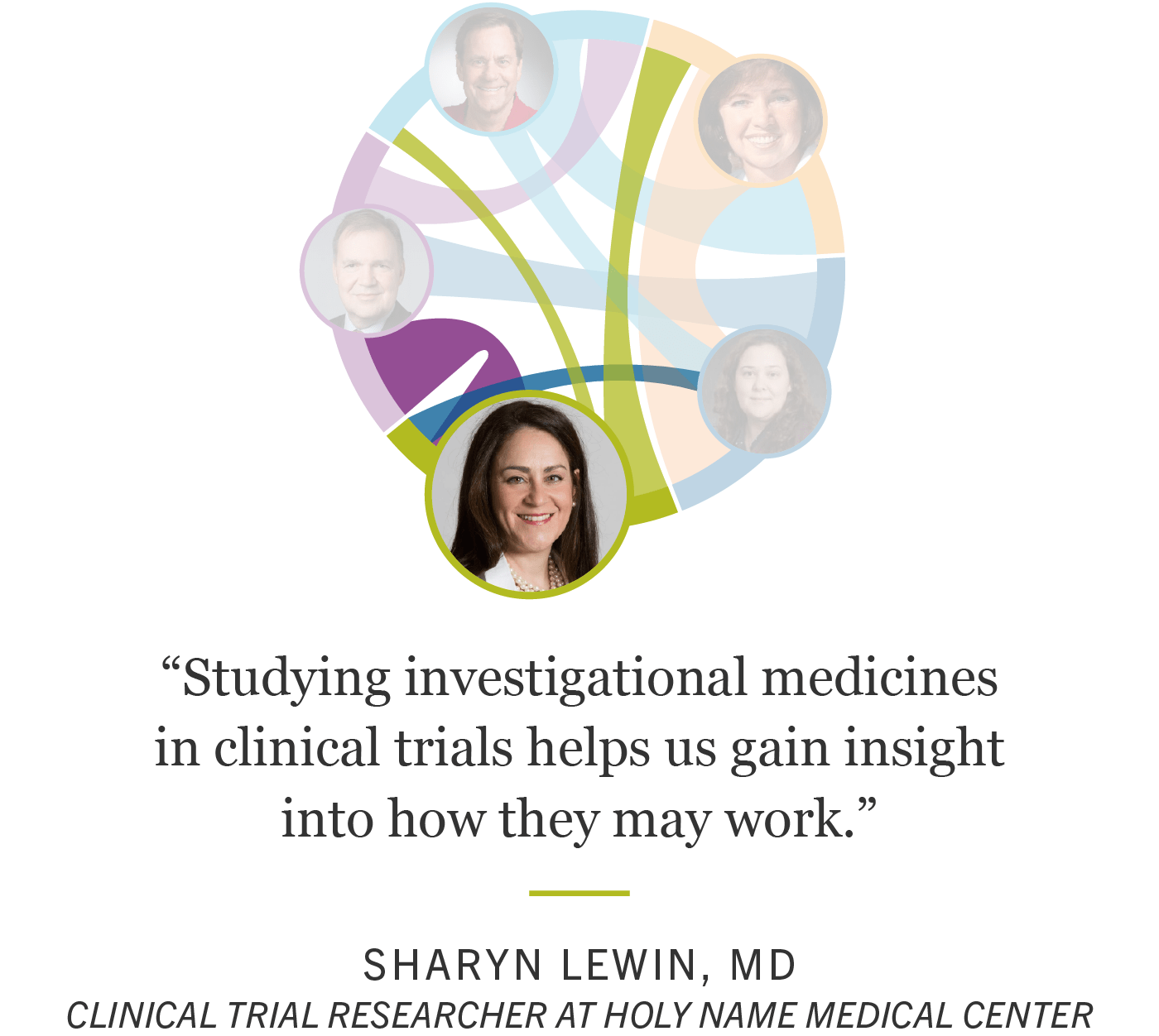 The success of a medicine is ultimately measured by whether it can help people with the disease it is intended to treat. As a clinical trial researcher, my job is to oversee treatment and care for participants to see if the investigational medicine being studied is not only effective, but also safe. Working with the clinical trial sponsor, I report on progress and share insights to build on our growing knowledge of cancer biology. Studying investigational medicines in clinical trials also helps us gain insight into how they may work.
I also seek to educate patients about clinical trials so that they are as aware and informed as possible. By encouraging enrollment for appropriate patients, clinical trials have the potential to bring new medicines and treatments to those who need them. I am also heartened to see the increase of psychological intervention abstracts at the 2017 ASCO meeting, which are helping to address the often overlooked psychosocial aspect of a cancer diagnosis. It's an honor and a privilege to have the chance to help people feel better and cope with what they're going through both physically and emotionally.
Dietmar Berger, MD, PhD, Clinical Trial Sponsor at Genentech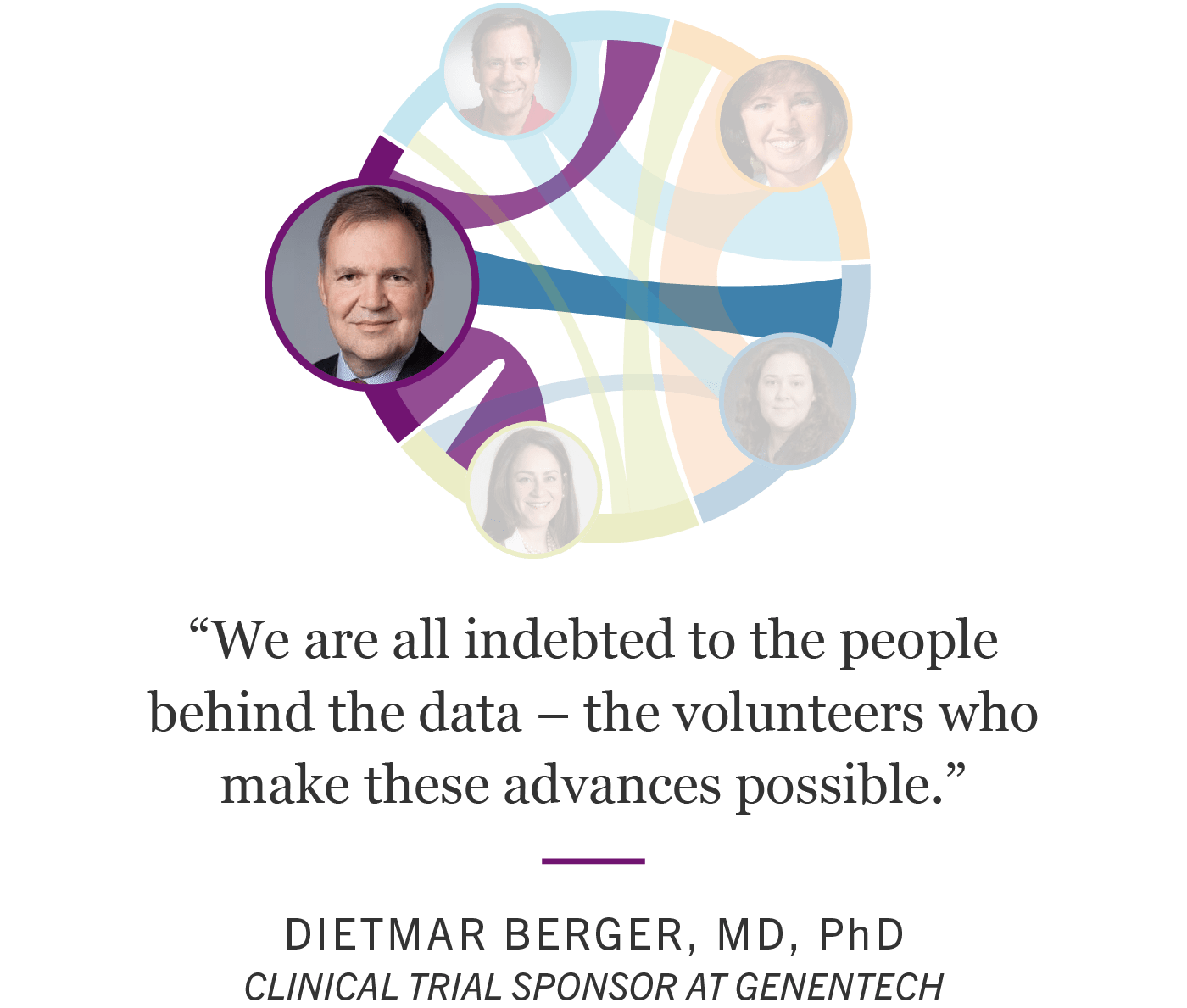 Every cancer medicine starts with an idea, and clinical trials are one tool that helps us turn ideas into potential new medicines that may help people. I strive to accelerate the development of transformative medicines for people with cancer. Part of my job is to ensure that a clinical trial answers the scientific questions that may allow us to get new medicines to patients. I've been involved with many different clinical trials and each time I am amazed at what we can accomplish when a community of people comes together.
As a doctor and a researcher, it's important for me to see how science impacts people's lives. We are all indebted to the people behind the data – the volunteers who make these advances possible.
In the last 25 years, countless people, just like those featured above, have been involved in thousands of trials to drive progress in both treatment and survival. By continuing to work together, we can all play a part in helping make a difference in the lives of those living with cancer.
Genentech, in collaboration with the American Cancer Society (ACS), launched About Clinical Trials (ACT) to help people learn about and access resources about clinical trials. The website, www.LearnAboutClinicalTrials.org, offers guidance for people with cancer on discussing this option with their doctors and loved ones, perspectives from experts in the medical community, as well as stories from people who have participated in previous studies. ACS also has a free and confidential Clinical Trials Matching Service. ACS specialists are available at 1-877-970-7848 with more information to help patients, their families and health care workers find cancer clinical trials most appropriate for a patient's medical and personal situation.