In one of his earliest scientific achievements, Mike Varney* made the short list for a prestigious scholarship in biochemistry as a sophomore at the University of California, Los Angeles (UCLA). He'd reached the interview round, but when asked why he wanted a degree in the subject, he says he blew his chances by telling the truth.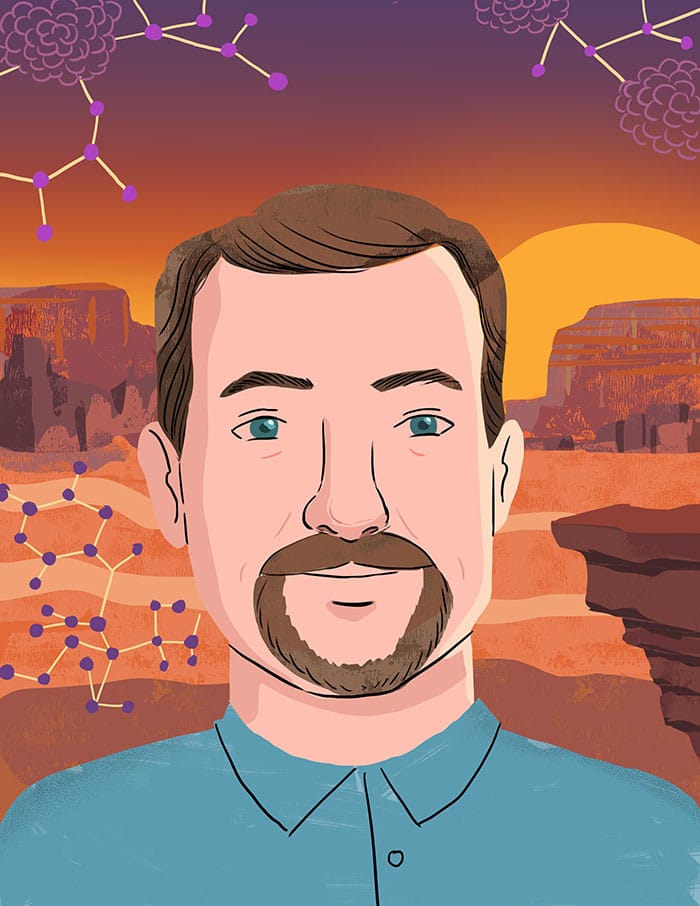 "I knew what they wanted to hear. 'I want to cure cancer, I want to be an astronaut and fly to the moon,' stuff like that. But I had to answer honestly: I said I wanted to know stuff that other people didn't. I'm pretty sure they scratched my name off the list in the middle of the interview."
It may have been the only time that Mike's overwhelming need to know has ever let him down. As head of Genentech Research and Early Development, he's now taken part in a long list of discoveries that have led to multiple groundbreaking medicines.
"I always want to be in no-man's-land – where no one else is. It's the only way to know you're doing something truly game-changing."
Free-Wheeling
Mike's desire to chart his own course began as a teenager in Southern California. By the time he was 15, Mike had bought a car with his own money and had free rein of Diamond Bar, his sleepy hometown just east of Los Angeles. He was carefree and like many high school students, looking for an easy way out of the place he'd known all his life. It just happened that what came easily to Mike was chemistry.
"Some subjects were hard for me to get excited about, but with chemistry, it always just clicked."
After completing an undergraduate degree in chemistry at UCLA, he was accepted to the California Institute of Technology to study organic synthesis. Mike recalls that his education there started rather abruptly. His advisor scratched out a challenging retrosynthetic problem on a pad of yellow paper, peeled it off and handed it to him.
"He says, 'Here's your project. If you've got any questions, ask the postdocs."
Left to find his own way, Mike couldn't have been happier.
"I loved that with experiments, my own independent thoughts and actions were rewarded. To solve big problems, you have no choice but to accept that you don't know what's going to happen. You just have to go do the experiment."
Fingerpuppets
Around the same time, Mike's desire for experimentation manifested itself in another way – music. While sitting around with some friends on a Saturday afternoon, one of them suggested they start a band.
"So we just did it. We put a band together and we rehearsed in these guys' living room for about nine months before we ever did a gig."
Mike played guitar, and recruited an aspiring actress and musical comedy vocalist he knew to sing. She eventually became his wife and bandmate in a series of ensembles over the last 30 years. They still perform together in their current group, The Fingerpuppets.
To Gotham and Back
In the end, however, science held a bigger piece of Mike's heart than music. After receiving his Ph.D. from Caltech, he went on to a postdoc position in bioorganic chemistry at Columbia University in New York. It was a completely new field for him – removed from organic synthesis and placed at the intersection of biology and chemistry. It was also the first time he'd been east of Las Vegas.
Although Mike loved the chaos of New York City, Manhattan felt confining. So after a two-year postdoc, he jumped at the opportunity to work at a small biotech company in San Diego that focused on the use of protein structure in small-molecule drug discovery. This was the perfect place for Mike, not only because it utilized his wide range of skills as a chemist, but because it was an upstart company trying to stake a claim in no-man's-land. As the first biotech company to pursue protein structure-based drug design, it used information about the molecular structure of a target to guide the design of therapeutic molecules.
"Today, the idea seems so obvious. But at that time, in 1987, no one had ever done it before. That experience also taught me that if you're going to do high quality science, you can't be afraid to fail. Most experiments fail. But that's the point. The purpose of experimentation is to investigate, not prove."
By 1997, he was the head of research. He and his team were responsible for the development of medicines and investigational molecules targeting a wide range of diseases, from HIV to lung cancer. He was exactly where he wanted to be, on the cutting edge of research, pioneering a new form of drug discovery.
A Team Sport
But after a series of corporate acquisitions, Mike began searching for a new frontier, somewhere where he could replicate the excitement and innovation of his early start-up days.
"I learned a long time ago that I'm a builder – I need to build things. And at the time, Genentech was building a small-molecule organization from the ground up."
Up to that point Genentech had focused on biologic medicines, and hadn't fully committed to a large-scale small-molecule program. Mike joined as a Vice President to head up the division, bringing his own brand of leadership. He emphasized the value of doing experiments to test ideas, and giving every person the opportunity to contribute.
"In the end, I think building a small-molecule discovery group inside a biotechnology company worked here because of the culture. It's an action-oriented environment and that's what you need in drug discovery. It's a team sport. We need the best ideas, and those can come from anywhere."
Today Mike oversees all aspects of Genentech research, drug discovery, early clinical development and partnering. Determined to preserve and build Genentech's position as an innovator in science and medicine, he still believes firmly in finding no-man's-land, and to never stop experimenting.
"New scientific breakthroughs and medicines don't come from a machine. They come from people working as a team. Our organization is built on teams that are committed to diving into the unknown. I love not knowing what the next innovation here will be."
---
*While Mike Varney was an employee at the time this article was published, he has since retired from Genentech.