Genentech, with over 40 years of successful breakthroughs, is considered to be the founder of the biotechnology industry. Acquired and wholly owned by the Roche Group in March 2009, the combined company is a research-focused healthcare industry leader in biotechnology with strengths in pharmaceuticals and diagnostics.
---
In 2017, 137 million patients were treated with a Roche or Genentech medicine.
---
The Roche Group – including Genentech – is currently the world's largest biotechnology company. It provides medically differentiated therapies in oncology, immunology, infectious diseases, ophthalmology and neuroscience. Roche is also the world leader in oncology, in vitro diagnostics and tissue-based cancer diagnostics, as well as a frontrunner in diabetes monitoring.
Today, the combined biotechnology, pharmaceutical and diagnostic expertise of Genentech and Roche is leading the evolution of personalized healthcare – the future of the industry where transformative medicines are tailored to individual patients – in a way that will redefine how patients are treated in the future.
Founded in 1896 and headquartered in Basel, Switzerland, Roche Group currently employs 93,734 people worldwide. In 2017, Roche Group invested over US$10 billion in R&D and posted sales of US$54.1 billion. Supported by Roche's Swiss heritage and majority family-owned stability, the Group has been able to focus on a long-term growth strategy that has delivered meaningful outcomes for both patients and investors. In line with the Roche Group's strong financial performance, the company has also consistently increased its dividends to shareholders for 31 years in a row.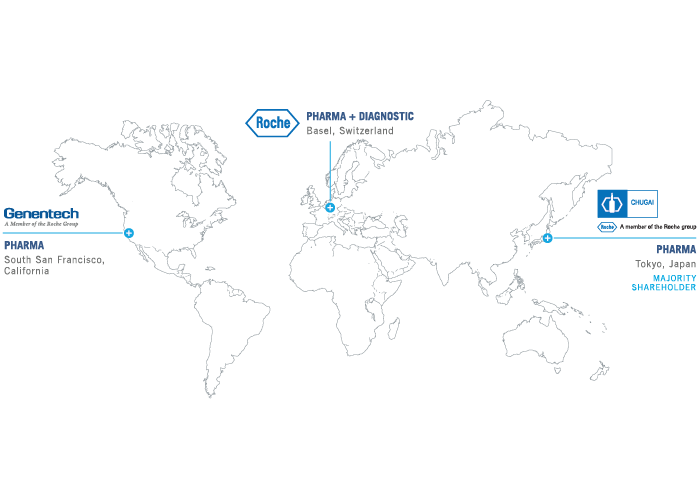 As part of the 2009 merger agreement, Roche and Genentech combined their pharmaceutical operations in the United States, and Genentech's South San Francisco campus now serves as the headquarters for Roche's U.S. pharmaceutical operations. Genentech Research and Early Development continues to embrace the spirit of a "startup" and operates as an independent R&D center within Roche.
Our Strategy: Focused on Differentiated Medicines and Making Personalized Healthcare a Reality
---
The Group is better equipped than any other company to further drive personalized healthcare.
---
The Roche Group maintains its competitive advantage by focusing on developing medically differentiated therapies and diagnostics in areas of high unmet global healthcare need. It also focuses on improving patient health outcomes and generating business success by working with patient communities around the world to expand market access to its innovative therapies.
With the combined global strengths from Roche and Genentech in biotechnology, pharmaceuticals and diagnostics, the Group is better equipped than any other company to further drive personalized healthcare. When genetic differences can be identified, the efficacy and safety of medicines can be improved enormously, potentially leading to better patient outcomes and improved shareholder returns. The combined strengths of the company also provide it with the ability to handle the scale, complexity and the flexibility necessary to operate in a dynamic market environment.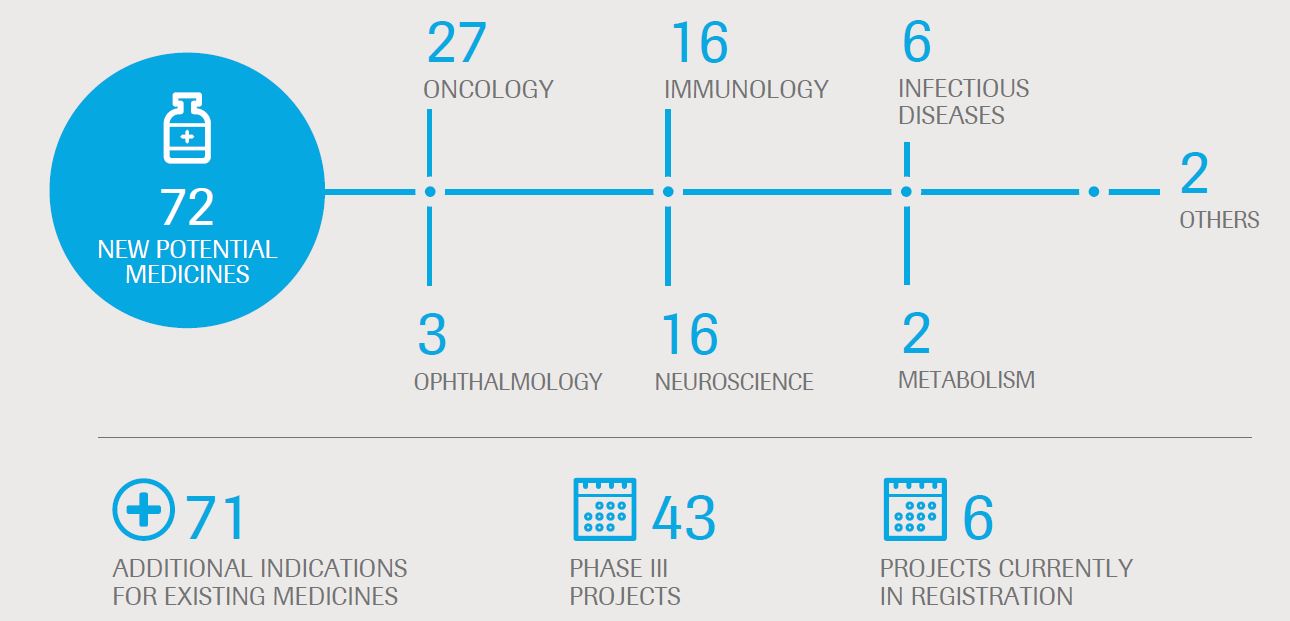 Investing in Innovation
Innovation is in Roche and Genentech's DNA and lifeblood – and advancing DNA technologies is the science the Group is championing to improve patient outcomes. Overall, the Roche Group has one of the strongest pharmaceutical development pipelines in the industry, with biotechnology products accounting for a significant part of all projects. Genentech contributes significantly to the Research and Early Development pipeline efforts for the Group's biotechnology drugs.
In an industry defined by costly barriers of entry, Roche and Genentech rise above competitors by demonstrating an unwavering commitment to innovations that transform medical therapies on a global scale. Currently, the combined Group invests about US$ 10 billion in R&D every year. This is among the highest R&D spends in the world across all industries. Two-thirds of Roche Group's R&D projects also include companion diagnostics, leading the way in personalized healthcare.
U.S. investors interested in investing in the Roche Group can learn more here about Roche's U.S. dollar-denominated American Depositary Receipt or ADR (ADR stock symbol: RHHBY). Roche ADRs can be bought or sold through any U.S. registered broker-dealer. They trade, clear and settle like any U.S. shares and are held in U.S. custody by J.P. Morgan, Roche's depositary bank. The Roche Group also trades on the SIX Swiss Exchange (symbols: ROG.SW for the non-voting equity security and RO.S for the voting share.) `QED Mark`
  References

1 2015 increase subject to approval, making this the 29th dividend increase in as many years.

2 Exchange rate used CHF/USD: 0.96 (2015)