When blood showed up in his urine, Peter Ehmer wasn't particularly worried.
Married and the father of a boy and a girl, Peter had too much to live for. He had few, if any, health issues over his 40 plus years. He didn't smoke. He stayed in good shape through hiking, biking, volleyball and swimming.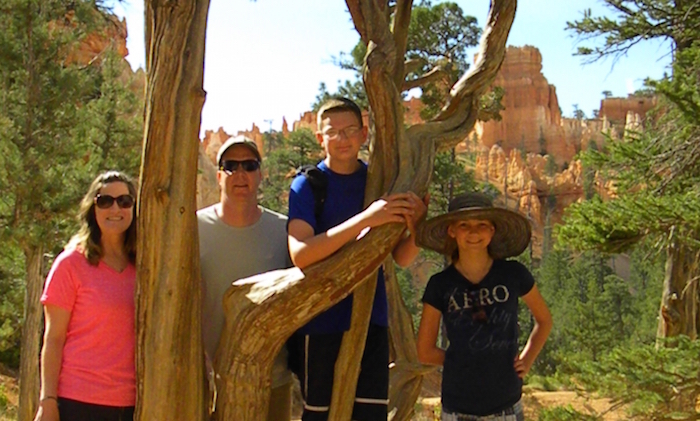 Peter lived with family in Wolcott, a small town nestled in the hills of central Connecticut. He loved to hike with his family, especially along the numerous trails that crisscrossed the area around his hometown – including the Mattatuck Trail, which feeds into the Appalachian Trail 35 miles to the northwest.
Peter's regular doctor referred him to an urologist, who suspected Peter had a urinary tract infection (UTI). He prescribed a course of antibiotics.
Peter took the antibiotics. But there was still blood in his urine.
It turned out that he didn't have a UTI.
In May of 2013, Peter went in for a round of tests, including a CAT scan and a biopsy. The diagnosis: Stage 3 bladder cancer. The urologist recommended that Peter have his bladder removed – as soon as possible.
"In the course of a week, I went from a UTI to advanced bladder cancer," Peter said. "When they said I should have my bladder removed – not just the tumor, but the entire bladder – I was in … shock."
Bladder cancer
Bladder cancer is the fifth most common cancer in the United States and three times more frequent in men than in women.1 Bladder cancer begins most often in the cells that line the inside of the bladder.2
Peter had a type of bladder cancer called metastatic urothelial carcinoma (mUC) the most common type of bladder cancer, accounting for about 90 percent of all cases. An estimated 17,000 U.S. people die each year from the disease.3
Peter didn't fit the profile of someone who would get bladder cancer. Typically, those who get bladder cancer are much older than Peter – usually between the ages of 65 and 84. Smoking is the most common risk factor, and is involved in about half of all cases. Evidence suggests that workplace exposures and genetics may also play a part in who gets it.4, 5
In the last three decades, there have been few advances in treating mUC, and outcomes have remained essentially the same over that time.6, 7 The standard chemotherapy treatment for mUC is too toxic for some people; of those who get it, some will respond, but eventually relapse.8
Although Peter was young and otherwise healthy, the overall odds did not look good. Stage 3 meant that his cancer had spread throughout the muscle wall to the fatty layer of tissue surrounding the bladder and may also have spread to his prostate, although not to his lymph nodes or other organs.9 Less than half (46 percent) of people diagnosed with stage 3 mUC survive five years.10 But Peter was not ready to let the odds dictate his choices.
Back to the Drawing Board
Before having his bladder removed, Peter met with his urologist, Dr. John Colberg, an associate professor of urology at Yale University in New Haven, Connecticut. Dr. Colberg recommended that Peter try chemotherapy first. Although chemotherapy is often too toxic for older or frail people, Peter was considered young and healthy enough to be able to tolerate it.
Peter met with oncologist Dr. Daniel Petrylak, a professor of medicine and urology at Yale and Clinical Research Program Leader for the Prostate and Urologic Cancers at Smilow Cancer Hospital at Yale-New Haven, to set up a three-month course of chemotherapy, beginning in July 2013. "The hope was that chemotherapy, as the first line of defense, would knock out the cancer then and there," Peter said.
But he knew the odds weren't favorable. Dr. Petrylak told him that out of three people, one will see the cancer disappear, one will see some improvement, and one will see no improvement at all.
During the chemotherapy, Peter had to take a leave of absence from his job testing nuclear radiation detectors at Canberra Industries in Meriden, Connecticut, where he'd worked for 22 years. Due to the fatigue and side effects of the drugs, Peter couldn't drive, much less work.
Chemotherapy often left him fatigued to the core. But on some days, he felt well enough to take a walk or even a short hike. On one particular hike, Peter was moved to say a prayer. Would it be answered?
After completing chemotherapy, Peter had a CAT scan to check its effect. His cancer showed no improvement.
Peter's bladder would have to come out.
Surgery was delayed until late October due to the strain chemotherapy had put on Peter's body. The operation removed his entire bladder, nearby lymph nodes and prostate.
As part of the operation, Dr. Colberg made a "neobladder," which is essentially a new bladder made from a piece of intestine.11 The neobladder was sewn to the urethra, restoring normal urination.
Shortly thereafter, Peter received more difficult news – one of the 10 lymph nodes removed during his bladder surgery tested positive for cancer.
The cancer had spread.
Peter had already decided that, no matter what, he would go back to work in January 2014. He had been out of work almost six months, and while his employers were very supportive, he worried that if he stayed away any longer he might lose his job.
Meanwhile, Dr. Petrylak recommended that Peter participate in a clinical trial for a new type of experimental treatment. In the spring of 2014, after a long, physically demanding process, a CAT scan revealed that a small tumor continued to grow.
The Call that Changed His Life
"Dr. Petrylak kept telling me, 'if this doesn't work, I have something else for you,' " Peter said.
Now it was time for that "something else."
His oncologist recommended a type of investigational medicine based in the field of cancer immunotherapy.
---
My oncologist kept telling me, 'if this doesn't work, I have something else for you.'
---
Cancer is smart, and it has evolved ways of using a sort of "cellular camouflage" to trick the immune system into seeing it as a normal cell. One of the goals of cancer immunotherapy is to strip away that camouflage, so that the immune system can effectively recognize, target and destroy the mutated cells.
Dr. Petrylak and several of his colleagues had already begun clinical trials to test an investigational immunotherapy in mUC. Although the first phase of the clinical trial had been recently completed, Dr. Pretrylak told Peter that he qualified to join a Phase II trial. He and his colleagues at Yale were testing the investigational medicine on people who, like Peter, had mUC that had not been reduced by chemotherapy. For most of them, it was their final option. In September 2014, Peter began a course of treatment with the experimental medicine.
In December 2014, on a Friday afternoon just a few weeks before Christmas, he left work to go to New Haven for a CAT scan. On the drive home, he got a call on his cell phone.
It was Dr. Pretrylak. Peter wondered why he would be calling since typically the results wouldn't be ready until Monday.
"I just wanted to let you know the news," Dr. Petrylak said. CAT scans showed that the treatment may be helping.
Peter had been through a physical pounding from the chemo, the surgery and the first clinical trial's course of treatments. He had been through a series of crushing disappointments. But with the help of his wife, Sandi, who was "his rock," he and his family had stayed strong throughout the ordeal. They had kept the faith.
At long last, it appeared their faith had been rewarded.
As he called Sandi with the wonderful news, he felt a flood of emotion overtake him.
"It all hit home" he said.
When he got home, Peter and his family hugged each other and cried together.
It would be a good Christmas.
Planning for the Future
Peter's hiking activities around Wolcott were curtailed this past summer. Not because of drugs or disease, but because of bear activity.
To one who has faced the risk of bladder cancer, the risk of bears doesn't seem too bad. But Peter is in no mood to tempt fate – instead he and his family have explored hiking trails in other parts of the country.
In an interview published in Breakthrough, the Year in Review for Yale Cancer Center and Smilow Cancer Hospital at Yale-New Haven, Dr. Petrylak said he hopes that for patients who can't tolerate chemotherapy, immunotherapy may become an option some day.
Dr. Petrylak plans to look for the best possible treatment options. That could mean trying immunotherapy before surgery in hopes that the treatment could make surgery unnecessary.
"It would be incredible if it worked," Peter said.
Peter is still on the investigational immunotherapy. He will stay on it through the end of the year, maybe longer. He gets a CAT scan every nine weeks, and so far, so good.
"For well over a year of my life, I was taking things one day at a time," Peter said. "Now I have hope that I can plan for the future."
  References

1SEER Stat Facts Sheets: Bladder Cancer. National Cancer Institute website. http://seer.cancer.gov/statfacts/html/urinb.html Updated May 12, 2014.

2Mayo Clinic. Bladder Cancer. Updated June 2015. http://www.mayoclinic.org/diseases-conditions/bladder-cancer/basics/definition/con-20027606

3Burger M, Catto JW, Dalbagni G, Grossman HB, Herr H, Karakiewicz P, Kassouf W, Kiemeney LA, La Vecchia C, Shariat S, Lotan Y. Epidemiology and risk factors of urothelial bladder cancer. Eur Urol (2013)63(2):234-41.

4Burger M, Catto JW, Dalbagni G, Grossman HB, Herr H, Karakiewicz P, Kassouf W, Kiemeney LA, La Vecchia C, Shariat S, Lotan Y. Epidemiology and risk factors of urothelial bladder cancer. Eur Urol (2013)63(2):234-41.

5American Cancer Society. What are the risk factors for bladder cancer? Last Medical Review: 02/26/2014. Last Revised: 02/25/2015 http://www.cancer.org/cancer/bladdercancer/detailedguide/bladder-cancer-risk-factors

6Powles T, Eder JP, Fine GD, Braiteh FS, Loriot Y, Cruz C, Bellmunt J, Burris HA, Petrylak DP, Teng S, Shen X, Boyd Z, Hegde PS, Chen DS, Vogelzang NJ. MPDL3280A (anti-PD-L1) treatment leads to clinical activity in metastatic bladder cancer. Nature (2014) 515: 558–562

7Powles T. Immunotherapy: The development of immunotherapy in urothelial bladder cancer. Nat Rev Clin Oncol (2015)12(4):193-4.

8M.D. Anderson. Clinical Trials http://www.mdanderson.org/education-and-research/research-at-md-anderson/early-detection-and-treatment/research-programs/spores/bladder-cancer-spore/clinical-trials/index.html

9Cancer.net. Bladder Cancer: Stages and Grades. Approved by the Cancer.Net Editorial Board, June 2015. http://www.cancer.net/cancer-types/bladder-cancer/stages-and-grades

10American Cancer Society. Survival rates for bladder cancer by stage. Last Medical Review: 02/26/2014. Last Revised: 02/25/2015 http://www.cancer.org/cancer/bladdercancer/detailedguide/bladder-cancer-survival-rates

11American Cancer Society. Surgery for bladder cancer. Last Medical Review: 02/26/2014. Last Revised: 02/25/2015. http://www.cancer.org/cancer/bladdercancer/detailedguide/bladder-cancer-treating-surgery