Teenagers often earn extra cash by leaning out a drive-through window or perching on a lifeguard's chair. Not Jorge Tavel. After a brief stint in fast food during high school, he landed a job in the Parasitology Training Unit at the Centers for Disease Control (CDC) and Prevention, in Atlanta. It was just clerical work, but for a teenager with an interest in science, it was exactly where Jorge wanted to be.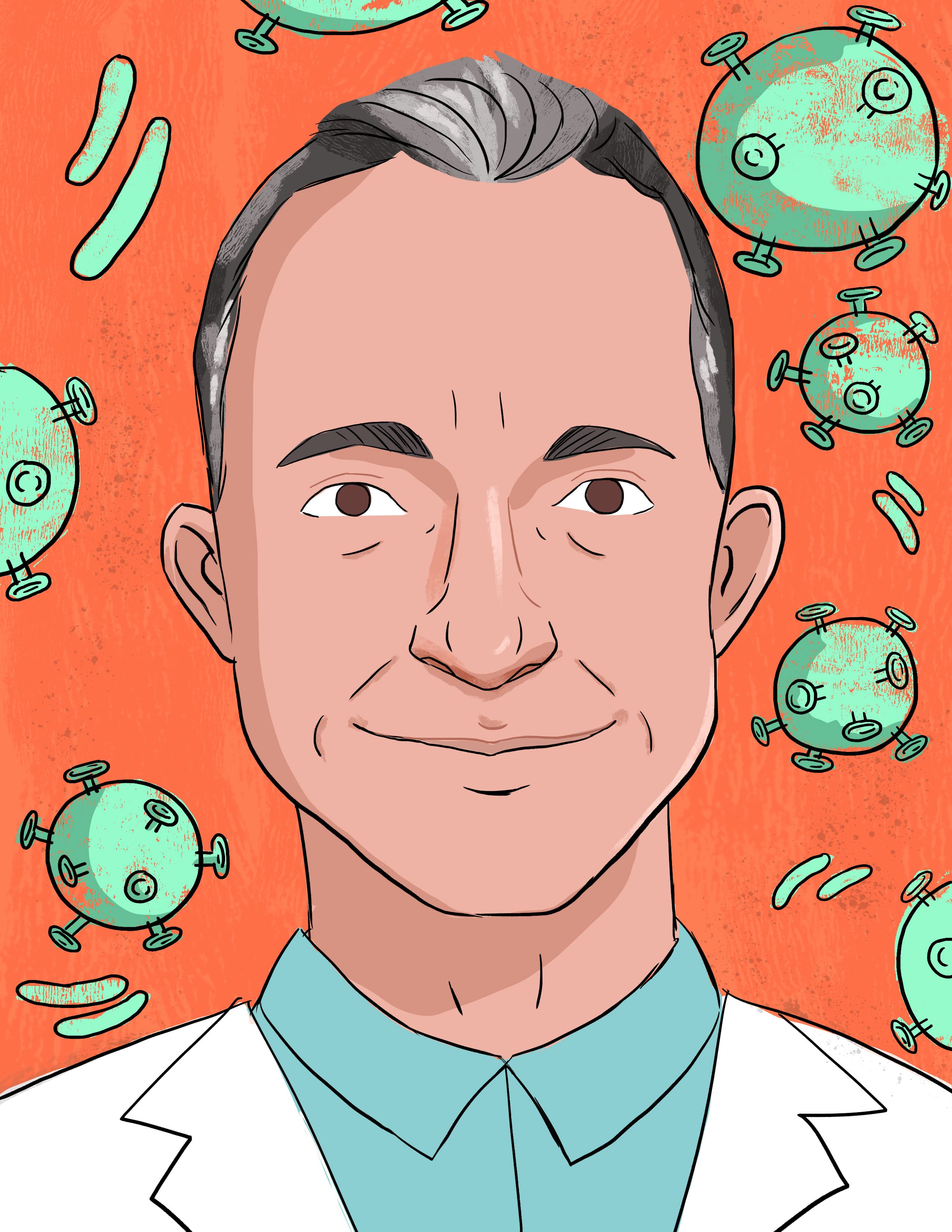 "From elementary school, I knew that I liked science. I don't know why exactly — I don't have any family members who are physicians or PhDs," Jorge says.
What he did have was a gift for research. As a high school science fair competitor, he isolated antibiotics from soil and won first prize in the state of Georgia for a project that produced biofuel from kudzu roots.
Jorge majored in biology at Emory University in Atlanta, and started helping with the training programs at the CDC parasitology unit. Between his job and science fair success, he had already decided on a career in infectious disease medicine. The subject appealed to him, because he liked the idea of having the power to cure people with medicines, like antibiotics.
A Learning Experience
A few years later, Jorge was accepted into medical school at Johns Hopkins University in Baltimore, where he worked on wards during the height of the AIDS epidemic.
"These were young 20-year-olds and 30-year-olds. There were people literally screaming, 'I don't want to die.' And I remember thinking, here was the complete opposite of what I had been drawn to. Here was something we couldn't treat."
Caring for patients with HIV/AIDS, he soon learned, drew on a broader swath of a physician's knowledge and skill than any other illness.
"It not only struck a chord on the human side, but also on the scientific side, because those patients suffered from every other type of infection, multiple other diseases. You truly had to know how to treat a gamut of illnesses if you were an HIV/AIDS expert."
After medical school and an internship and residency in internal medicine at Georgetown University in Washington, DC, Jorge completed a fellowship in infectious diseases at the National Institutes of Health (NIH) in Bethesda, Maryland. That turned into a staff position with the National Institute of Allergy and Infectious Diseases (NIAID), and soon an opportunity to follow his interest in HIV/AIDS to the other side of the world.
Just a year into his tenure at NIAID, Jorge packed up and moved to Sydney, Australia to coordinate NIH-sponsored clinical trials in Thailand, South Africa and Argentina to see how infectious disease superseded the vast cultural differences; in Bangkok and Capetown, Buenos Aires and Baltimore, he encountered the same desperate need.
Unfortunately, the treatment that the trials were evaluating was not found to provide any clinical benefit. Nevertheless, he feels that the study — one of the largest Phase III HIV/AIDS studies ever conducted — served a purpose.
"We're out to do the best trials, to ask the right question and get the right answer. And the right answer here was no, it didn't work, but we were confident that was the case because the trial was run well."
Public Service
After returning to Bethesda, Jorge became a principal investigator at the NIH Clinical Center, where he designed clinical trials and cared for volunteers participating in those studies. But that routine was disrupted by another unexpected opportunity: in the wake of the 9/11 attacks, NIAID director Anthony Fauci asked Jorge to serve as senior advisor to Vice President Dick Cheney on biological, chemical, nuclear and radiological threats. After receiving a top-secret security clearance, Jorge began briefing the vice president every other week on subjects like botulinum toxin, smallpox and radiological countermeasures.
After a year in the vice president's office, Jorge went back to NIH, where his global journey continued. In Mexico, he established an influenza trial network with the Mexican Ministry of Health and in South Africa, he initiated HIV/AIDS trials with the South African National Defense Force. He says he would have been very happy to spend the rest of his career at NIH. But before that could happen, a recruiter at Genentech called and asked him if he had ever considered doing anything else.
"When I came here on my interview, I couldn't believe the scientific rigor that I saw. It was putting into action all those principles that I had learned at the NIH, but on a larger scale. The idea of being able to do something that met high unmet needs in different areas of infectious diseases was incredibly exciting."
Ray of Hope
Jorge started his Genentech career working in the late-stage hepatitis C program. Since then he has moved into early development and expanded his horizons widely in infectious diseases and beyond. He rattles off a list of the projects that he has been involved with in his role as Group Medical Director and Infectious Diseases Therapeutic Area Lead: a monoclonal antibody vaccine for influenza, and a monoclonal antibody cocktail against cytomegalovirus; an antibiotic designed to kill the most resistant gram-negative bacteria; and an antibody-drug conjugate designed to attack Staphylococcus aureus bacteria hiding inside cells.
"This would be the most complex and sophisticated antibiotic ever," Jorge says of the antibody-drug conjugate. He's also involved in immunology projects, including an investigational medicine being developed for lupus and arthritis and another for inflammatory bowel disease.
The breadth and depth of the infectious disease work at Genentech is a ray of hope, Jorge says, in a world threatened by antibiotic resistance, emerging diseases and pandemic risk. The work he's involved in makes him optimistic about our capacity to address infectious disease.
"Is it all doom and gloom? It is if nobody works on it. But you know, through my career now I've seen two life-threatening diseases controlled or cured. That's HIV and hepatitis C, which completely transformed in my lifetime. So I do think that we really have the capacity to change the future of what medicine looks like."