A Revolutionary Partnership: The Story of PDUFA
---
On October 11th, 1988, more than a thousand AIDS activists from some 50 different national organizations amassed at the U.S. Food and Drug Administration (FDA) headquarters in Rockville, MD, in a desperate bid to force the federal regulatory agency to take action.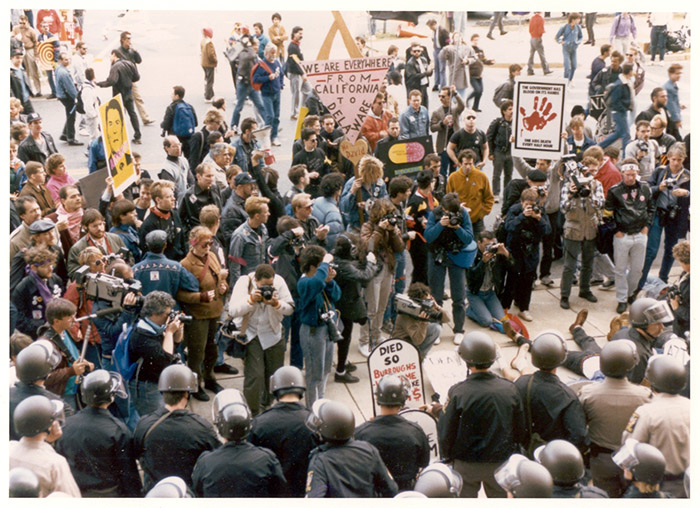 HIV/AIDS had reached epidemic proportions in the United States. For thousands, hope lay in access to the newest experimental medicines being developed by pharmaceutical companies but still awaiting approval by the FDA.
---
"Applications for new medicines often ran to hundreds of thousands of typewritten pages, and languished for 25 to 30 months awaiting review."

---
As regulators and industry representatives wrestled with the question of how to fix the federal agency, Americans with serious diseases like AIDS, cancer, and many others often waited years for lifesaving medicines to work their way through the backlogged approval process. Applications for new medicines often ran to hundreds of thousands of typewritten pages, and languished for 25 to 30 months awaiting review. From the patient perspective in the 1980's, this "drug lag" resulted in thousands of patient deaths each year.
But after the massive protest in Rockville, it was clear. The country could wait no longer.
THE FIRST PDUFA
The response was an unprecedented collaboration between regulators, industry and advocates. The "Prescription Drug User Fee Act" (PDUFA), signed into law on October 29, 1992, would revolutionize the FDA review process. For the first time, the federal agency would be capable of—and publicly accountable for—speeding patient access to new, potentially life-saving medicines.
Previously, the FDA worked underfunded, understaffed, and without a time limit for the piles of paperwork associated with new drug applications. PDUFA introduced ambitious new review deadlines, including an expedited "Priority Review" for promising new medicines addressing the most deadly diseases.
Balancing speed with safety would require the FDA to upgrade its capacity and hire hundreds of new staff. To support this, PDUFA laid out a system tying the review budget to application fees paid by the drug manufacturers themselves. These fees total hundreds of thousands of dollars a year, with all funds helping support the review process.
The legislation sped important new medicines through the pipeline to countless people. As one AIDS activist explained, "There still is not a cure, but because of some of the new drugs, a lot of us have been able to get back to work."
Impact of PDUFA
77%
increase in FDA
new drug review staff
50%
reduction in median review time
for drug applications
2 yrs
shaved off waiting time for
"Priority Medicines," from 30 to 6 months
The first version of PDUFA (PDUFA I) had helped clear the bottleneck, with 33% more medicines approved each year. But there was still room for improvement.
AN EVOLUTION
Technology and science do not sit still, and the needs of patients are always evolving.
To meet those changes, PDUFA was designed to change as well. Reassessment is required every five years, providing an opportunity for patient advocates, industry, and regulators to sit together and answer the question: "How can we make this process better?" Each new PDUFA is a fresh chance to experiment, innovate and improve with the goal of getting medicines to the people who need them.
One of the first innovations was the "Fast Track" program to speed development and review of medicines for serious or neglected diseases. The following years brought a renaissance for cancer treatments, including targeted therapies and personalized medicines, and PDUFA continued to evolve to keep pace.
Another opportunity for improvement came in 2012, for breakthrough medicines that demonstrate great promise in clinical trials. In order to allow sick patients to benefit from these potentially life-saving new medicines as quickly as possible, Congress approved the "Advancing Breakthrough Therapies for Patients Act" spearheaded by patient advocates like Ellen Sigal.
Sigal, a founder of Friends of Cancer Research (FoCR), hoped the new "Breakthrough Therapy Designation" provisions would give people faster access to the sort of cutting-edge medicines that had been unavailable to her late sister during her battle with breast cancer.
Breakthrough Therapy Designations
July 2012 through December 2015
384
requests received
by the FDA
40
expedited approvals of new medicines
for people with life-threatening diseases like cancer
For millions of Americans, this legislation has been truly life-changing. But where do we go from here?
THE FUTURE
Nearly 25 years since PDUFA was first conceived, the act has evolved into an essential mechanism for keeping the FDA nimble and effective.
That evolution will continue after the current PDUFA (PDUFA V) expires on September 30, 2017. This is the next opportunity for industry, regulators and patient advocates to meet the most pressing needs of patients with the latest scientific advances in medical research.
Many people work on the front lines, gathering regularly to hammer out the specific improvements that will mark PDUFA VI. Among the goals is to ensure that the FDA is equipped to assess the next wave of new medicines, such as cancer immunotherapies.
Our immediate task is to work toward a PDUFA to last through 2022. But this is also an opportunity to think even farther ahead, decades from now. Our combined efforts ensure that future generations can continue to improve upon the regulatory process, and take full advantage of medical advances that have yet to be.