As a kid growing up outside Philadelphia, Bruce Roth would venture into the cold, still air of a winter night to train his telescope on the constellations.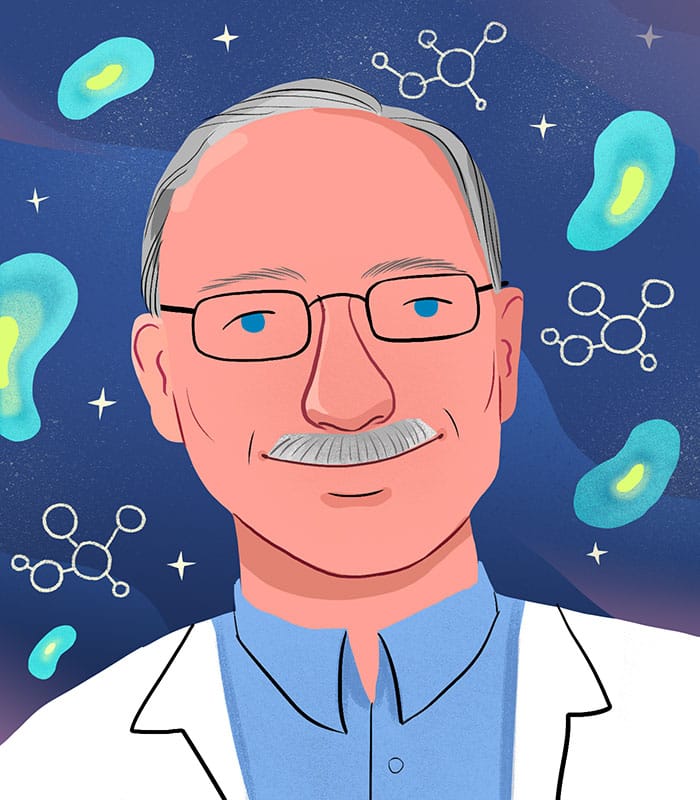 He loved the magnitude and scale of the night sky and he had a knack for picking out even the toughest-to-find stars. He knew he wanted to be an astronomer.
But in high school, Bruce's dream came up against a harsh realization.
"I found out there were only like three jobs in the whole world for astronomers! And I thought, 'Maybe I should think about something else,'" he says with a hearty laugh.
Still, Bruce knew he was meant for science. He soon found his calling in chemistry, replacing the infinite expansiveness of the universe for the infinitesimally small world of atoms and chemical bonds.
Fortunately, it turned out that Bruce had a knack for chemistry as well. His early decision has led to a distinguished career as a medicinal chemist that's included some seminal discoveries in the field.
Heading West
After high school Bruce attended Saint Joseph's University in Philadelphia, where he really started to understand what it meant to be a chemist.
"That's where I learned the art of organic synthesis," he says. "There was just something to the idea of being able to make things no one has ever made. I also realized that some people do it more elegantly than others. There really are true artists in organic chemistry."
Bruce's undergraduate professor nurtured his talents and eventually persuaded him to extend his organic chemistry training into graduate school.
"My mentor was from Minnesota and he told me, 'Go west.' I trusted him, so I began looking at schools in the Midwest and landed in the middle of a cornfield in Ames, Iowa," he says with another laugh.
Bruce spent his time at Iowa State University playing intramural softball and working hard in the lab to perfect his craft. He also learned during his Ph.D. training that a life in academia probably wasn't for him.
"For a chemist, part of the decision between academia and industry is about knowing what to do with the tools you've developed. For me it was about applying my knowledge, and I couldn't come up with a more noble way of using my talents than in the pharmaceutical industry."
Before he was 30, Bruce moved to Ann Arbor, Michigan for a scientist position at Warner-Lambert's Parke-Davis Pharmaceutical Research.
---
"There was just something to the idea of being able to make things no one has ever made … there really are true artists in organic chemistry."
---
An Artist at Work
At Parke-Davis Bruce began working in a group that studied atherosclerosis and cardiovascular disease. His team was interested in a class of molecules called statins, medicines that help lower cholesterol levels in the blood.
Bruce used his synthesis skills to create a new statin molecule, called atorvastatin (eventually marketed by Pfizer as Lipitor®**), which was promising enough to merit clinical development. By the early 2000's, that molecule had helped millions of people suffering from high cholesterol.
"I was fortunate that I was there during the real beginnings of the golden age of the pharmaceutical industry. It was growing, expanding and there were tremendous opportunities."
He continued at Warner-Lambert's Parke-Davis — acquired by Pfizer in 2000 — until 2007. But a phone call at a Detroit Red Wings hockey game would restart Bruce's slow westward march.
"I was walking up the stairs to my seat in Joe Louis Arena and the phone rang. I was invited to come out to Genentech to interview."
---
"Sometimes we don't know if something is going to pan out, but my feeling is it's good to have chaos at the early stages of research."
---
An Integrated Approach
Bruce joined Genentech as a Senior Director in 2007 and today, as Senior Vice President, Small Molecule Drug Discovery, he leads a team that works with biologists to provide tools and chemistry insight at very early stages of research. It's an integrated approach that's been instrumental to Genentech's drug discovery efforts.
"I want our chemistry teams to be working at the ground level with biologists – it's a cutting-edge approach in the industry. Sometimes we don't know if something is going to pan out, but my feeling is it's good to have some chaos at the early stages of research."
Genentech may be better known as a biotechnology company, but Bruce argues this might actually help drive better small-molecule discovery.
"We have great biologists, and I think it's one of the things that distinguishes Genentech from the rest of the pharmaceutical world, at least historically. It means when a target comes into small molecule discovery, we're confident that it's a biologically meaningful target."
Bruce has come a long way since his nights as an amateur stargazer outside Philly. But every once in a while he takes a drive up the winding road to Lick Observatory on the peak of Mount Hamilton, a few miles from his San Jose home, and trades the microcosmic realm of his day job for the immensity of the night sky.
"The sky's just beautiful up there. It's a lot of fun," he says, "because just like chemical synthesis, the better you know it, the better you are at finding something new."
**Lipitor is a registered trademark of Pfizer Inc. in the U.S.