From Compassion to Action
This year, honor Mental Illness Awareness Week by learning about schizophrenia and going beyond the stereotypes.

Maurício Silva de Lima, M.D., Ph.D.
Vice President, Medical Affairs, New Therapeutic Areas & Mature Products, Genentech
October 7, 2013 - How do you feel about people with mental illness? Sad? Disgusted? Scared? It turns out that for many people the answer is some combination of all of these. That is, if they think of mental illness at all.
That's why this Mental Illness Awareness Week, October 6-12, 2013 is so important.
More than 60 million people in the United States suffer from some form of mental illness. About 13.6 million are affected by a severe mental illness that significantly impairs their ability to carry out one or more major life activities. That's more than the total number of people alive in the U.S. who have or have ever had any type of invasive cancer.
But while we hear a lot about cancer in the news, we usually only hear about severe mental illness in association with a violent tragedy, if we hear about it at all. While the mentally ill are often overrepresented as the perpetrators of crime, they are actually four times more likely than others in the community to be victims of violence.
Schizophrenia is widely misunderstood
One of the most severe mental illnesses is schizophrenia. It affects about one out of every 100 Americans – that's more than three million people. It does not discriminate based on sex, ethnicity or socioeconomic background. Anyone can be affected.
The biggest misconception about schizophrenia is that the disorder involves only hallucinations and delusions. But these unsettling manifestations of the disease, known as "positive symptoms," are only part of the story.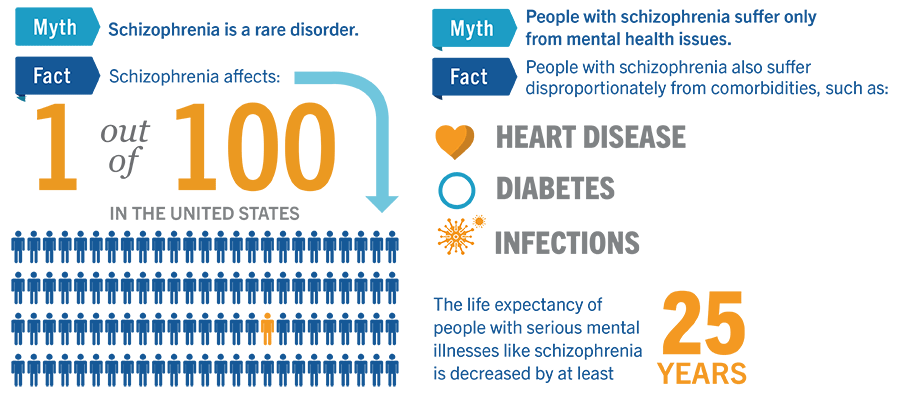 People with schizophrenia also suffer from "cognitive deficits" that impair their ability to think clearly. These include difficulties with memory, attention, planning and decision-making. And then there are the "negative symptoms" of schizophrenia, like social withdrawal, reduced speech, a lack of emotional and facial expression, a decreased ability to find pleasure in everyday life and an overall diminished ability to begin and sustain activities.
It is the last of these, the negative symptoms, that research suggests most contribute to a low quality of life for people with schizophrenia. Negative symptoms are also associated with poor personal hygiene, school and work performance, difficulty maintaining relationships, interacting within the community, and participating in social activities.
The problem is that negative symptoms receive very little attention. Instead, most treatment is focused on combating the more overt positive symptoms of the disorder. This is both because positive symptoms are the most outwardly disturbing, and that there are very few treatment options for negative symptoms.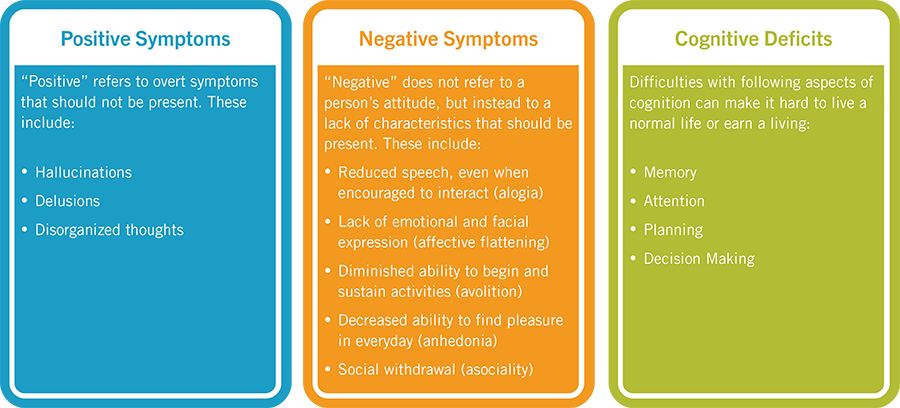 Change requires research, awareness and individual action
Inspired by the unmet needs in schizophrenia and other mental illnesses, Genentech is now applying scientific insight to neuroscience research. We have one of the strongest pipelines in this high-risk research area, with more than a dozen compounds under development. We are investigating potential medicines for schizophrenia, but also multiple sclerosis, Alzheimer's disease, depression, obsessive compulsive disorder, Fragile X and Down's syndrome. Just as we have in other disease areas, our goal is to translate deep biological understanding into potential treatments for a variety of neurological disorders.
Investing in research and raising awareness of the struggles faced by people with mental illness (as well as the hardships their families must contend with) through observances like Mental Illness Awareness Week are important. But there is so much more we can do. We must change the way we think and the way we act, so that ours can become a society in which all people, including those affected by mental illness, are able to live the full, meaningful lives we all deserve.
Learn more and get involved