Listen Up! The Patient Voice
This year at ASCO, we'll see data from hundreds of clinical trials on the most cutting-edge approaches to cancer treatment. But beyond the big numbers, how are patients actually feeling?
June 1st, 2013- Every year at ASCO, clinical trial data are presented showing that certain new medicines under investigation can slow cancer growth and, in some cases, extend lives. This year is no different – we'll look at hazard ratios, p-values and tables of adverse events. Each of us will begin to form opinions about which potential new treatments may or may not be good options for patients.
We collect a lot of data about patients when they are participating in clinical trials, but PROs are the only data collected directly from patients themselves, without interpretation by anyone else.
But something important is often missing from the typical study measures: how patients actually feel when they're taking a medicine. This concept, health-related quality of life or patient-reported outcomes (PROs), takes the form of questionnaires filled out by patients.
Robust health-related quality of life data on a medicine can help doctors and patients have a more meaningful conversation about one of the most important medical decisions a person could ever face. However, quality of life data can still be subjective and are not consistently included in medicines' prescribing information.
At Genentech, we want to help inform that conversation and address these challenges with PROs. So, we are working on ways to better listen to patients in trials and holistically capture quality of life in a more rigorous and reliable way.
"Living with cancer can be complex, and we need to ask patients the right questions to better understand their experience with the disease. More attention is needed to better explain how patients feel before, during and after treatment." - Brian Tomlinson, MPA, BSW, Chief Program Officer, Lymphoma Research Foundation
Scans Don't Tell Us Everything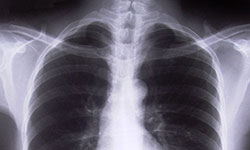 With today's technology, we can gather incredibly detailed data about how cancer medicines objectively impact the physical disease. But, we need to apply that same rigor to capture the whole patient experience. This means capturing the aspects of disease and treatment that can be most distressing to the patient: its impact on their activities of daily living, their ability to work, difficult side effects and bothersome disease symptoms.
Gathering this information requires us to design trials with PRO goals in mind and also account for the less obvious factors like the psychosocial impact of the medicine or the genetic, cultural and regional differences in how patients experience symptoms from the treatment or the cancer itself.
Spreading the Word
As an industry, we have made good progress in developing valuable PRO measures but PRO information is still not as widely used as it could be to help inform treatment decisions for patients. In order for one patient's experience with a medicine to provide valuable information that could potentially help other patients, this information needs to be included in the medicine's prescribing information or product label.
A recent analysis on PROs showed that:
less than half of the studies used to support the approval of medicines approved between 2006 and 2010 had PRO components in the clinical trials
less than a quarter of the 116 medicines that we analyzed had PRO data in the prescribing information (even though in many cases PRO data were collected)
none of these 116 medicines that had PRO data in the prescribing information were for cancer
From Words to Action
Although FDA has issued a guidance on how PROs should be assessed in order to be included in medicine labels, more collaboration is needed among industry, regulators, medical societies, advocacy groups, and patients themselves to put this guidance into practice. Manufacturers also need to develop new tools that meet the framework described in the guidance - especially in oncology.
Regulators should continue to recognize the value of PROs and make decisions about risk/benefit taking into account all types of data that reflect the patient experience.
We all need to take action together to get a more complete picture of how well our drugs work and how patients feel and function when taking them. For example, during my time as ASCO president, a major focus for me was the experience of survivorship, which begins at the time of a cancer diagnosis.
Leading the Way
At Genentech, we've established a dedicated team focused on innovating the way we approach PROs, and we co-chair a public-private partnership with FDA that is devoted to getting PRO data included in FDA labels for lung cancer medicines.
We also believe that new technologies will play an important role in delivering on the promise of PROs. The InVite Study, conducted in collaboration with 23andMe, asks people who have received a cancer medicine to answer a series of online surveys about their experiences. This trial uses social media and new technology to give patients a more efficient and easy way to report PROs.
The data we'll be seeing this year at ASCO are the result of our shared commitment to fighting cancer. Part of this effort includes giving people the whole picture about a medicine so they can choose whether it's right for them. I look forward to continuing to work with colleagues from industry, academia, FDA and advocacy groups to achieve this goal.
- Sandra
Sandra Horning is responsible for leading the medical and scientific strategies for the global clinical development portfolio in oncology and leading and managing the global team of oncology clinical scientists. Since Dr. Horning joined Genentech/Roche in late 2009, four cancer medicines have received marketing approvals and several medicines have received additional indications. Dr. Horning is an internationally recognized oncologist who has made significant contributions to the classification, understanding and treatment of lymphoma. She is a tenured Emeritus Professor of Medicine (Oncology) at Stanford University School of Medicine and joined Roche/Genentech after more than 25 years as a practicing oncologist, investigator and professor at Stanford University. Dr. Horning has also held many significant leadership roles within the oncology community, most notably as President of ASCO in 2005-2006.