Gary Dobbs – an upbeat man with a positive outlook on life – is enjoying the golden years of retirement with his wife of 45 years, Mary. They credit their long marriage with doing almost everything together. "There's not too many things we do alone," says Gary.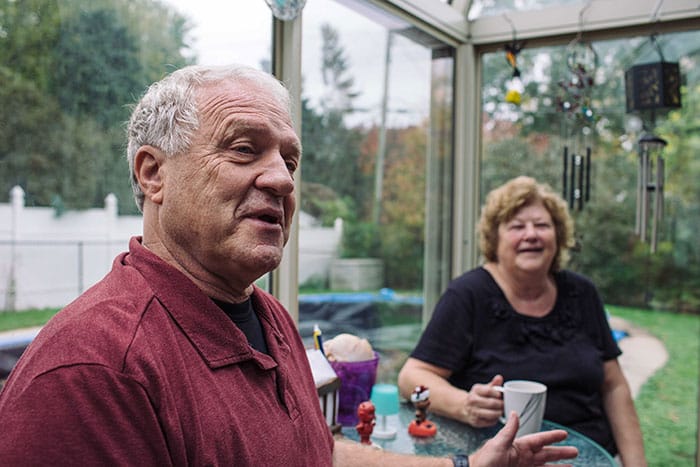 Most evenings, in summer and fall, you'll find them in their backyard pool. "We mostly go around in circles and talk to each other," Gary explains. After a swim, they'll go inside, turn on the TV and eat something. On Wednesdays, senior day, they go gambling at the casino. They also like to go to the movies, coach kids' basketball and soccer at the local YMCA, and spend time with their four children, three grandchildren and the dozen brothers and sisters between them.
In fact, Gary says he has a lot to be grateful for at age 68, a milestone he wasn't sure he would ever see. Gary is a cancer survivor, living with a slow-growing form of non-Hodgkin's lymphoma and credits Mary, "who seldom missed any appointments," and his children with always supporting him.
Non-Hodgkin's lymphoma, or NHL, represents more than 60 types of cancer of the white blood cells in the lymphatic system.1, 2 It is one of the most common blood cancers among adults in the U.S., and is most commonly diagnosed in people aged 60 or older.3, 4 NHL is grouped into two categories based on how the cancer grows: indolent (slow-growing) and aggressive (fast-growing) and each type is treated differently.1
The "Nasty Lump"
One day while Gary was doing sit ups at his local gym, he felt "a pretty nasty lump" the size of a ping pong ball on the inside of his upper right thigh: "It wasn't painful, but it was big, so that's what got me to the doctor." One of the most common symptoms of NHL is swollen lymph nodes, which feel like painless lumps under the skin and are often found in the neck, armpits or groin area.3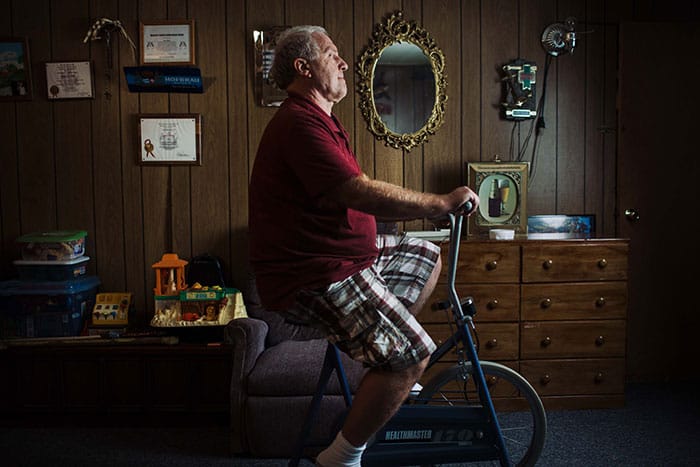 He was diagnosed with follicular lymphoma, the most common type of indolent NHL, which develops when the body makes an abnormal number of white blood cells (lymphocytes) that build up in lymph nodes and cause swelling.3, 5
Since indolent forms of NHL are considered incurable, the goal of treatment for most people is to control the disease, which is characterized by periods of relapse and remission.5, 6 With each relapse, the disease may become more resistant and harder to treat.5
Because of this, decisions made at the time of initial (or "first-line") treatment are important – and may affect the course of disease progression.5 Extending progression-free survival, or the amount of time until the disease worsens, early in treatment may have a significant impact on survivorship. There has been great progress made over the past decade, and research is ongoing to identify new options.
Back then, however, "survival rates weren't too good," Gary says. He was given five years to live. As they sat in the doctor's office, Gary got angry and Mary started crying. "I don't know if I didn't accept it, or it made me sad," he says. "I just thought: I'm still healthy. I'm going to go find something that can help me."
Getting To Know His Type
Gary became his own patient advocate, spending hours researching follicular lymphoma and calling around for information about treatment options. "I just went out there, and I had notes and files, and you name it. It was like doing a research paper for graduate school or something," Gary says. He spent $400 the first month on phone bills calling universities, doctors and hospitals in Texas, Illinois and California. He also packed up the car, with Mary and sometimes with friends who offered to split the long drive, and visited treatment centers in Houston and Chicago.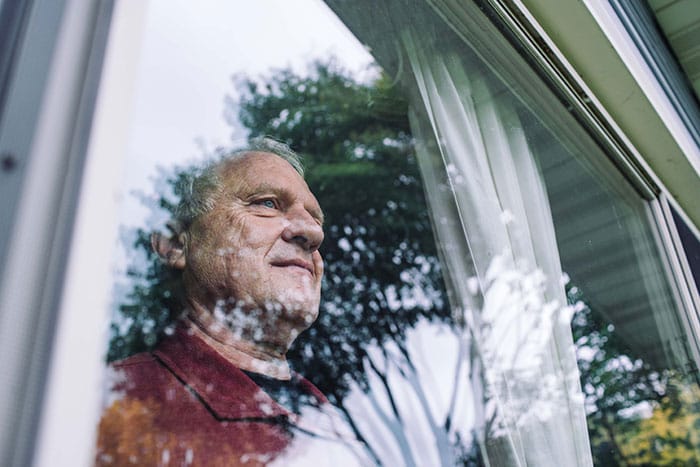 "I found there is a whole world out there," Gary says. "I was calling and visiting, it was like a regular job. I would spend hours every day online and one of the best things I found was a chat group for people like me with types of non-Hodgkin's lymphoma. That was kind of a life saver."
The experience of talking with hundreds of people with a similar illness provided emotional support for Gary and helped him gather key information about the cancer. "I want to tell my story because it can give hope to so many others," he adds. "These are the stories I was looking for back then but they were hard to find for patients with follicular lymphoma."
He learned about the variable nature of follicular lymphoma, how some people go into remission, and how the tumors can come back after treatment.5 Gary recalls, "the more places I went, you know, I found that [this disease] was unpredictable, and that gave me a little hope. At the same time, it made it very complicated."
Watching and Waiting
Gary switched to a lymphoma specialist, who recommended they start with "watchful waiting" (or "watch and wait"), a common approach used in slow-growing blood cancers to closely observe the disease until it progresses further.
Over the next few years, not knowing how much time he had left, Gary decided to retire from his government job to babysit his grandson, Korin, and later, his granddaughter, Mya. They remain close to this day. Every few months, Gary would get blood tests and less frequently, CT scans. His tumors, which were internal, in lymph nodes in his leg, chest, diaphragm, arm pits and groin area, would come and go. He and his doctor decided to continue waiting on treatment.
That is, until he burned his mouth on a piece of pizza, or so he thought. As it turned out, his dentist found the pain was being caused by a tumor. The lymphoma had spread to the roof of his mouth. Gary went back to his doctor, who determined it was time to start treatment. Together they decided to enroll him in a clinical trial at a cancer center in his hometown, Madison, Wisconsin.
Navigating Treatment, Together
While Gary was optimistic about the clinical trial, there was still some uncertainty about whether the disease would respond to this initial treatment. "You take your treatment, and then you have to wait for your test to come back, and then you hope everything is in order."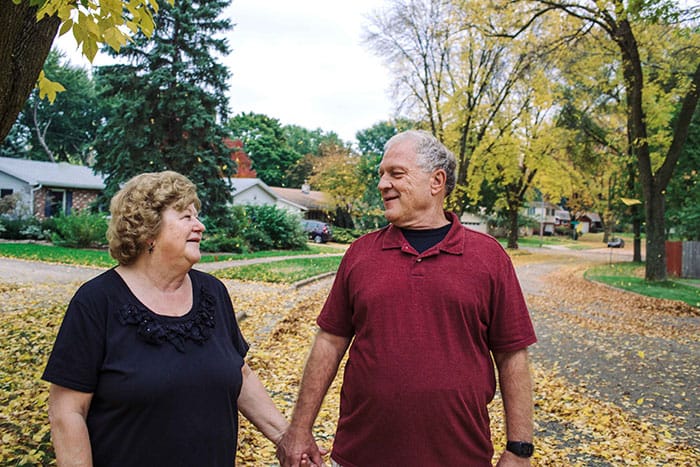 But he didn't do it alone. Mary was there, by his side, to meet with doctors, for tests, and when he received treatment – which could last up to five hours at a time. Gary says, "When you're facing cancer that you've been told may be terminal, you think about things that you wouldn't normally think about. And she's been there with me. And, we've made the best of it."
When Gary entered the study he knew he could have serious side effects as a result of his treatment. While his experience was manageable, everyone's experience is different. He didn't always let that on to Mary. "I like to joke I pretended to be tired so I wouldn't have to drive home or do work around the house. So, Mary babied me pretty good because she felt sorry for me."
In reality, though, Gary isn't looking for sympathy. After receiving treatment for several years, his internal tumors shrank. "It used to be very stressful and worrisome but I don't think about it that much right now."
Uncertainty and Hope Ahead
Years after that conversation with his first doctor, Gary is doing well and enjoying being with his family. As always, they are keeping a close eye on his lymphoma.
Gary hasn't yet experienced a relapse requiring additional treatment, but has felt anxiety about the scans he gets to monitor his cancer. "The test results are scary," he says. "It's like, you always have the cancer, but sometimes it will be worse than other times, and it is never totally gone."
He believes his cancer will most likely return but remains optimistic about the future, as doctors have options to address relapse and resistance, and are continuing to research new approaches to treating the disease.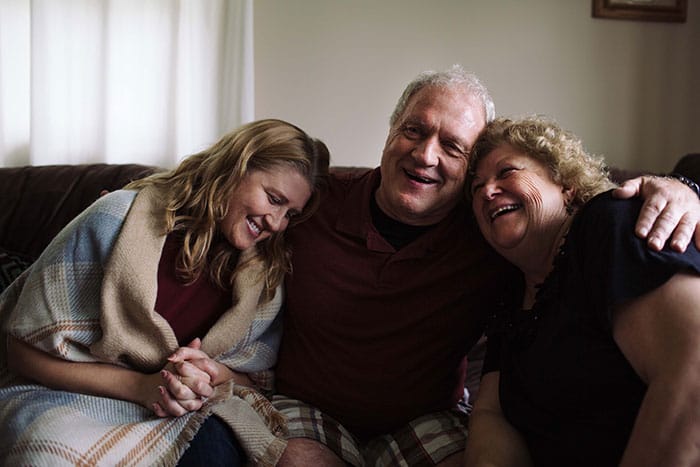 His oldest daughter just welcomed her first child – the Dobbs' third grandchild. Gary is looking forward to babysitting him, just as he did his other two grandchildren. If anything, he says, "that [time I took for family] was the silver lining in all of this."
Gary found support in talking with other people with lymphoma and learning more about his specific type – follicular lymphoma – online. One resource available for patients now is ARCH, where people can connect with trusted organizations to learn about the different types of lymphoma, explore treatment options, find information about specialists and connect with patient communities and counseling services.