Q&A: World Hemophilia Day
---
April 17 marks the 27th World Hemophilia Day, an important awareness milestone organized by the World Federation of Hemophilia each year. Hemophilia is an inherited, serious bleeding disorder where a person's blood does not clot properly, leading to uncontrolled bleeding which can occur spontaneously or after minor trauma. There are 20,000 people who have the bleeding disorder in the United States, and another 400,000 people worldwide.
Genentech is proud to join with the community to raise awareness and increase support for those living with hemophilia, their families and loved ones. To help get the word out, we spoke with Kimberly Haugstad, executive director of the Hemophilia Federation of America (HFA) whose son has hemophilia, and Val Bias, chief executive officer of the National Hemophilia Foundation (NHF) who was born with hemophilia.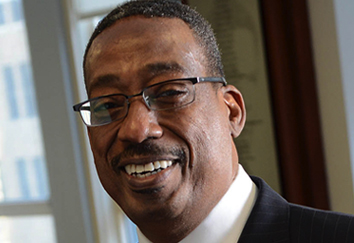 WHAT DO YOU WANT PEOPLE TO KNOW ABOUT HEMOPHILIA?
Kimberly Haugstad: Essentially you're missing a protein in your blood that causes you to not be able to clot properly. It doesn't mean that you're going to die of a paper cut or bleed out – you don't bleed faster, you bleed longer. Your body has an inability to complete the clotting process and heal that wound. The important issue is joint bleeding, deep muscle bleeding, bleeding in your brain, in your spine or your neck. Those are the serious internal bleedings that really are impactful and a problem within our community.
Val Bias: Hemophilia is a genetic disorder passed from mother to child on the X chromosome, affecting mostly – but not only – males. In about one third of people born with hemophilia, the disorder is caused by spontaneous genetic changes versus a family history with the disease. For these families, education and information is especially important. People in the United States and Europe have access to treatment but about two-thirds of the world goes undiagnosed or untreated, and their life expectancy can be quite low.
WHAT DOES WORLD HEMOPHILIA DAY MEAN TO THE HEMOPHILIA COMMUNITY?
Kimberly Haugstad: World Hemophilia Day to us in the community is about awareness. It is in recognition and in honor of the reality of those living, and those lost, within this community with this potentially life-threatening genetic disorder. In our country, we realize how lucky we are to have treatments available and we're certainly excited about new research happening to identify new treatments. The day encapsulates where we've been and where we're going.
Val Bias: It allows us to recognize each other. The many voices of hemophilia come together that day in a common voice for everybody within the worldwide bleeding disorders community.
WHAT DOES THIS YEAR'S THEME "TREATMENT FOR ALL, VISION OF ALL" MEAN FOR YOUR ORGANIZATION?
Kimberly Haugstad: The Hemophilia Federation of America's vision as an organization is really removing barriers to treatment and ensuring a better quality of life for all. So, the words "treatment for all" and "vision of all" has meaning for us in our own personal life.
Val Bias: It means we don't want to leave anybody behind. It's where we want to be. We want all patients to have access to some kind of treatment and the ability to be diagnosed as early as possible.
HOW HAS HEMOPHILIA PERSONALLY IMPACTED YOUR LIFE?
Kimberly Haugstad: I have a child with a bleeding disorder, so it is very personal. Hemophilia, in general, is really personal. Every time we infuse, I'm reminded of the fact that not everyone on this planet has that same opportunity. World Hemophilia Day is an opportunity to reflect on that again.
Val Bias: I was born with hemophilia. Throughout my childhood and early adult life, the only treatment available was whole blood. Later, my wife Katie contracted HIV from me as a result of my exposure to contaminated clotting factor products. Katie struggled with her diagnosis bravely until 1992. She was a special kind of hero. We've come a long way since those times in terms of advocating for people with hemophilia and in terms of treatment. We're not there completely but we are getting there rapidly, and I hope to push us even further down that road.
HOW DID YOU COME TO BE INVOLVED WITH HFA AND NHF?
Kimberly Haugstad: Thirteen years ago, I had a baby. We didn't have any family history, but he was born with severe hemophilia. One of the biggest and earliest impacts to me and my husband was when we attended a community picnic of a local hemophilia chapter. My son was four or five months old, and I was getting ready to go back to work. At the time, we had been working with two different daycare centers and then had to bring a nanny into the home because we had so many challenges with the daycare folks who didn't know anything about hemophilia. They were very uncomfortable with the thumbprint hematomas on his torso [when blood collects and pools under the skin] that a baby with severe hemophilia will have.
When we got to the picnic, a group of moms lit up and rushed over: "Is this a new baby? Does he have hemophilia? Oh, my gosh!" And over the next five minutes, they got right in his face and pulled up his onesie and looked at the bruises on his chest, and said, "Oh look, he's got the fingerprints!" We knew everything was going to be okay after that. He was normal – somewhere. It was transformational and I knew we needed to get more involved.
Val Bias: NHF started holding focus groups in the late 1980s. They invited men who were living with HIV to talk about what was happening to them and around them. I was one of those men. The NHF recruited me to be one of the steering committee members for the men's advocacy network, and that's how I really got my start as a volunteer for NHF. I went on to become involved with the organization's Blood Safety Agenda to secure the nation's blood supply but also the clotting factor products that we were all using. In 1992, the year my wife died, I was elected Chairman of the Board. Some years later, I was asked to participate in the selection process for the CEO, but I ended up getting the job.
WHAT ARE SOME UNIQUE CHALLENGES THE HEMOPHILIA COMMUNITY FACES GOING FORWARD?
Kimberly Haugstad: We're in a real time of hope and excitement in this community, and also some trepidation. When clotting factor treatments came out in the 1970s, that was phenomenal. Then in the 1980s, we saw our community devastated because the plasma therapies were contaminated with HIV. So looking at the ongoing clinical investigations, we're perhaps a little cynical, but we're also still thinking that this is really exciting because we see the potential to address what continues to be an unmet medical need in hemophilia.
WHAT IS THE GREATEST REMAINING UNMET NEED IN HEMOPHILIA TREATMENT?
Kimberly Haugstad: We have community members regularly trigger an inhibitor, which is an immune response where the current treatment is not successfully working. Living with an inhibitor, even when they try very aggressive treatments, they can have regular bleeding episodes that are ongoing and painful, and be in and out of the hospital.
Val Bias: Inhibitors. Anywhere between 6 to 25 percent of people will develop inhibitors. We're not sure why, the science is just not there yet, but it is clearly the most challenging part of hemophilia today.
WHAT CONCERNS DO YOU HAVE GOING FORWARD?
Val Bias: We can't forget that people are still affected at a psychosocial level living with a chronic illness. It causes a certain amount of stress in people's lives, not only for the individual living with the bleeding disorder, but their family members as well. We need to take care to provide the kind of social support that they might need.
WHAT MAKES YOU MOST HOPEFUL FOR THE FUTURE OF THIS COMMUNITY?
Val Bias: We have come a long way. As I mentioned, when I was born, there was only whole blood to treat people with hemophilia. Now I run into individuals with hemophilia, who have never experienced a bleeding episode because the products are so much better and treatment is part of their everyday lives. They're able to lead full lives, raise families, have jobs and contribute to the American fabric. That's what we want.