By all measures, Mary Shokes is independent for her age. The 89-year-old South Carolina native likes to spend time outside, go to church, and watch her favorite TV soaps. She lives in her own home with two tabby cats, Boomer and Pearly. But Mary, who has wet age-related macular degeneration (wAMD)—a leading cause of blindness in people age 60 and over—still needs help.
As with most older persons with eye disease, Mary relies on family members to be her primary caregivers. In many ways she's lucky: She has two sons who live nearby, who have time to help her. Mary's son Stephen, a retired police officer, assists his mom one to three times a week, taking her to appointments, running errands, and doing chores around the house. Her other son, John, helps out, mostly with yard work.
Mary first began having trouble with her vision in 2004. She was diagnosed with cataracts in both eyes, which were removed. Then, a few years later, wavy lines appeared in her line of vision. Assuming she was "seeing things," Mary didn't tell anyone for two weeks. At her next ophthalmologist visit, she was diagnosed with wet AMD.
Mary immediately sought treatment. What started in her right eye soon moved to the left, and eight weeks later, Mary was diagnosed with wet AMD in that eye, too.
"I have a good relationship with my sons," Mary says. "I don't like to bother them, but if I need them, I know they're there to help."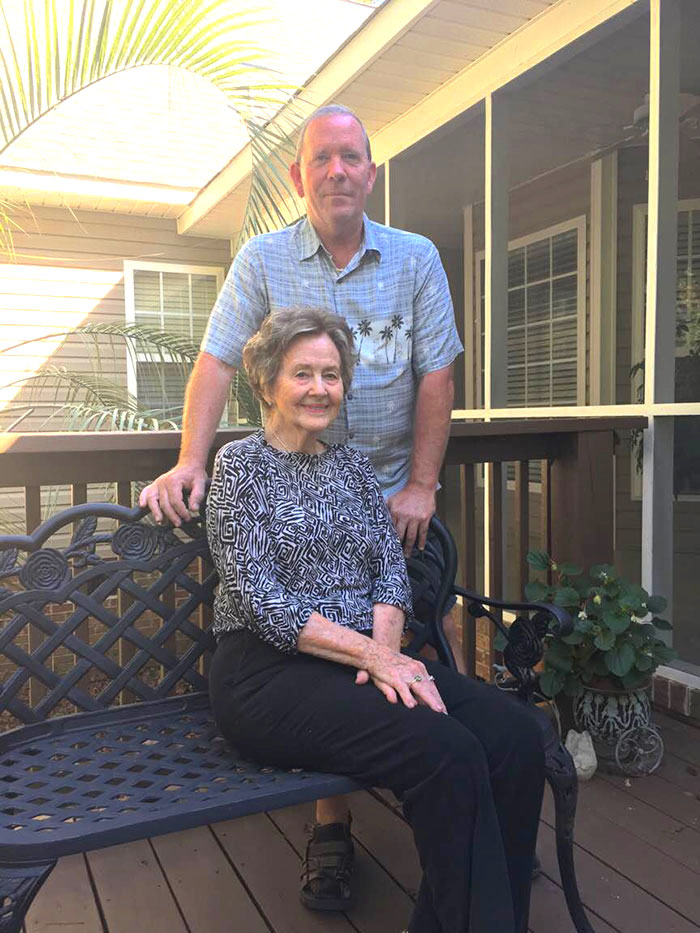 Stephen says he enjoys the time he spends taking care of his mom. "I'm only two and a half miles away, so it's not a strain at all," he says. "If it were two and a half hours, it might be a different story."
But most caretaking situations are not this easy. Many adult children or spouses find that caring for older people with eye disease can be a significant physical, emotional, time, and financial burden, and they often feel guilty for seeking any respite from their additional responsibilities. The more impaired the person's vision, the more challenging it can be to accomplish even simple daily tasks.
Caretakers sometimes get so involved in helping others that they forget to take care of themselves. A recent study shows caregivers often prioritize compassion, patience, and selflessness. They shoulder additional responsibilities while striving to maintain a positive, encouraging environment for their care recipient – sometimes at the expense of their own wellbeing.
Even in the best of circumstances, caretaking requires some strategies. In Stephen's case, it's humor. "I try to see the lighter side of things," he says. "If I didn't have a sense of humor, I'd be in the nuthouse." Fortunately, he got that sense of humor from his mother, so they're able to laugh at the inconveniences that go along with aging with an eye disease.
Other caretakers find themselves under significantly more emotional strain. There are several resources available to help caretakers care for themselves.
The right support can help more caregivers have experiences that are as positive as Stephen's. In the ideal situation, caregiving can bring the caregiver and recipient even closer together. Stephen says caretaking has never put a strain on his relationship with his mother. "No, this is the way of life. We haven't drifted apart since Day one, and that was 55 years ago."