James Sabry—now Senior Vice President and Global Head of Genentech Partnering — applied to medical school on a dare.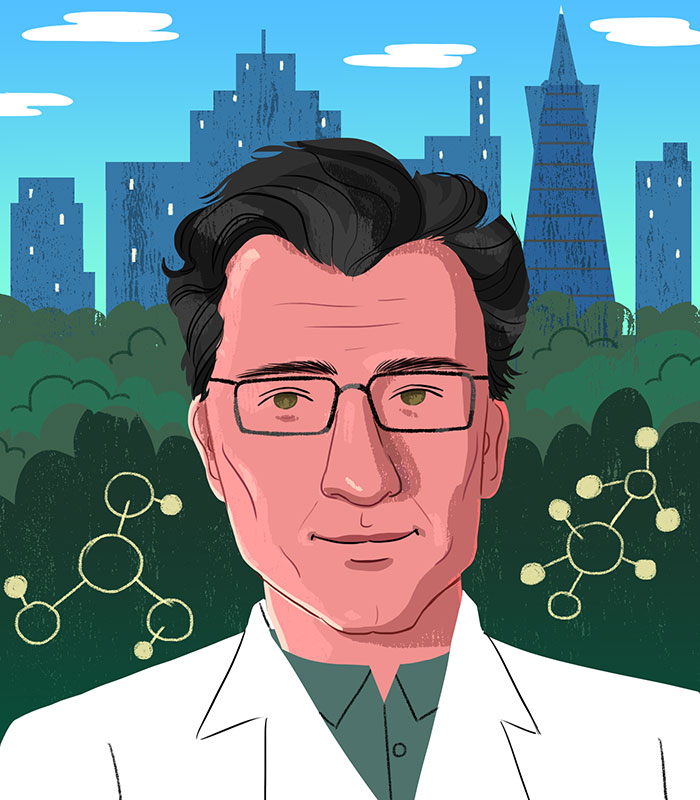 "In college I wanted to be a scientist – maybe a chemist. But I remember my chemistry professor throwing a med school catalog in front of me one day, and they had all of these classes for surgery and anesthesia. I remember thinking 'I can take all of these classes and be a doctor in four years?' He'd laid down a challenge and I just had to do it."
James applied and was accepted to Queens University Medical School in Kingston, Ontario, three hours from where he grew up in Toronto. At first, it wasn't quite what he'd expected. James was familiar with chemistry and physics – problem solving disciplines. But after getting a D on his first biochemistry exam, James begrudgingly realized he needed to work on his memorization skills as well.
"I didn't understand why I needed to memorize the amino acid sequence of human insulin! But I eventually smartened up, and it all really changed for me when I had a chance to actually see patients during my second year."
Talking to patients and learning their stories created an empathic bond, distinct from the minutiae of anatomy and physiology textbooks. He'd fallen in love with clinical medicine and was determined to be the best possible physician.
Force of Nature
James completed his residency in neurology at Harvard and then moved west to continue his clinical work. He'd mostly forgotten his aspirations of becoming a scientist, until one day he came across an issue of Nature magazine.
"I started flipping through the titles and thinking, 'I don't even understand what any of these titles mean, let alone the articles themselves!' It was ridiculous to me that I was an educated and accomplished physician but I didn't understand the basic science of what I was seeing in the clinic."
This time, James laid down the challenge himself: He vowed he would get a Ph.D. in the biochemistry department at the University of California San Francisco (UCSF). In a highly unusual turn, James became one of the first clinical faculty members at UCSF to be a graduate student in a different department.
"I was breaking just about all the rules of admission, but I was really passionate and was able to convince my graduate advisor to let me into his lab," he says. "We were looking at the fundamental nature of how neurons path-find as they set up brain circuitry. It was basic, basic science and I loved it."
Decision Time
James continued his work in basic science after grad school, completing a postdoc in the biochemistry department at Stanford University examining how motor proteins cause cells to divide effectively. At the same time, start-ups were popping up in the Bay Area to turn basic biology discoveries into medicines.
Toward the end of his postdoc, James had a crucial decision to make — to join a new start-up or return to Harvard's Brigham and Women's hospital as a faculty member and physician in the clinical neurology department.
James agonized over the choice at Boston's Logan Airport after completing a successful visit and interview at Brigham and Women's. He'd have his own lab investigating the fundamental mechanisms of neurobiology, his ideal research area. He'd even taken a tour of his future office and lab.
But the idea of doing a startup had led James to an epiphany. With Harvard on the table, he was too fascinated by the challenge and energy of this entirely new industry to let the opportunity pass him by.
Taking the Leap
As exciting as this new opportunity was, James had entered uncharted waters.
"I didn't even know what a business plan was. I had to go buy a book about it. I think back now, and I was so naïve."
But with the right books, and more importantly, the right people, James founded, funded and built Cytokinetics, a Bay Area biotech company specializing in motor proteins. He served as its CEO until 2007.
"I loved it. It was finally everything I'd dreamed of. I loved combining business, science and medicine. But I was still me, and after 12 years I needed to do something else," James says matter-of-factly.
In 2010, James joined Genentech to head up its partnering group. Today, as Senior Vice President, he oversees Genentech's business development and alliance management operations.
"The reason that I came to Genentech was that it still felt like a start-up. It's like a start-up with 500 projects. It just doesn't feel like a large company, and that still holds true to today. It's not calcified, and it still has that energy and scientific dynamism."
James also argues that what makes Genentech Partnering so unique in the industry is that it is housed within Genentech Research and Early Development.
"In most companies, business development would report to finance or to the commercial organization. Our system is wholly different. It means that we can have a fully integrated business development program that is literally an extension of research and development."
James has spent his entire career working towards a job that satisfies the broad range of his interests. As a physician and scientist interested in business, he can't think of another place he'd like to be.
"Why would you not want to be here? We're discovering and developing new transformative therapies for human disease. If you consider that to be your calling, then this is the place for you."