Amita Joshi has spent her life in pursuit of a different type of harmony. Though childhood music lessons went nowhere — wasted on a girl with boundless energy to burn — it was the molecular music of chemical equations that eventually captured her attention, leading her toward pharmacology and a career at Genentech.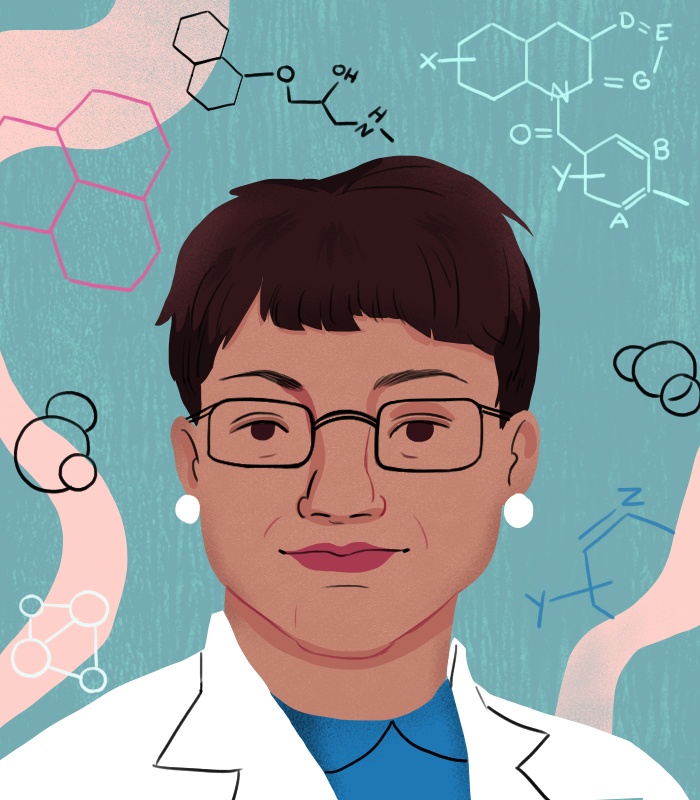 "We are responsible for finding the right dose for patients," she says of the team she leads as Vice President and Global Head of Clinical Pharmacology. "We try to understand how the molecule behaves in the body, its pharmacokinetics, and what dose to give to a patient in order to get the desired effect and to minimize side effects."
Her team's diverse work spans the life cycle of an investigational medicine. In the early stages of a clinical trial, it gathers information on the pharmacokinetics to understand how people respond to increasing doses of a new molecule. As clinical trials progress, the team begins to investigate more complex questions about dose effects that differ from person to person and works to understand the relationship between drug exposure in the body and its response to gender, weight, age, genetics and countless other factors.
"How frequently must we administer the drug? If it's an oral drug, can you give it with food or without? Will the drug be affected by other co-administered medicines? What if someone has a complicating condition, like kidney or liver impairment? These are just a few of the questions we have to ask and answer."
This work results in the essential dosage information that doctors follow when prescribing investigational medicines in clinical trials and approved medicines to patients in the clinic. It's an incredibly important and complex job that requires a deep understanding of pharmacology, and one that Amita has been preparing for seemingly since childhood.
The Music of Chemistry
At an early age, Amita remembers following her dad into work at a pharmaceutical company in Mumbai, India where he was an organic chemist.
"As soon as I knew what my dad did, I wanted to be a scientist or a doctor. I wanted to heal patients. I really admired him and looked up to him – he was my inspiration."
This passion followed Amita into high school, where she fell in love with chemistry. "It may sound kooky, but chemistry was like music to me. There was a genuine beauty in the chemical reactions, and how one chemical could so seamlessly transform into another. It was like poetry to me and I really enjoyed it," Amita says fondly. "That's what got me interested in how drugs work and how they behave in the body – it's what got me into the field of pharmacology and pharmacokinetics."
She attended pharmacy school in Mumbai, earning a Master's degree in clinical pharmacology. From there she went to the University of Texas at Austin, where she received a Ph.D. in pharmacokinetics.
Taking Charge
Following 10 years at DuPont Pharmaceuticals, Amita joined Genentech in the fall of 2000. She took on positions of increasing responsibility and has been the head of the Clinical Pharmacology department since March of 2009.
In addition to sharpening her expertise in drug development, Amita has learned what it means to lead at Genentech. On several occasions, she's had the opportunity to assume lead management and strategic responsibility for an investigational medicine as it progresses through clinical development, and if all goes well, the approval process. This has meant making one critical decision after another, including the ultimate one in the drug development process: whether or not to stop a clinical trial.
"A mentor at Genentech once told me, 'You are the CEO of this molecule.' And what that meant was I have to make the right decisions for the patient – I have to do the right thing and put the patient first."
It's been sound advice, and something that is at the forefront of Amita's thoughts as she and her team work to identify the right dose at the right time for the right person. Today, Amita puts her boundless energy towards making a new kind of molecular harmony, using innovative approaches and technologies to derive insights from data and leading the clinical pharmacology organization.
Genentech has given her the opportunity to expand her knowledge of pharmaceutical chemistry far beyond what she imagined as a student. But more important, Amita has developed an even deeper appreciation for a beautiful science that she has loved since childhood.