Futurelab+
Futurelab+ aims to increase the number and diversity of students receiving a quality high school biotech education by offering a free, equity-centered curriculum aligned to leading standards, providing teachers with classroom resources and professional development, and embedding industry engagement to demonstrate the real world applications of biotechnology.
Many U.S. schools don't offer biotech education as part of their curricula, limiting the potential for students – especially those from low-income schools and historically excluded populations – to gain the exposure, skills and experiences that could lead to high-wage careers in scientific and medical fields. In addition, high school science curricula often focus on lab research and don't cover the full product development life cycle, which limits students' ability to imagine the full breadth of the various biotech careers they might pursue.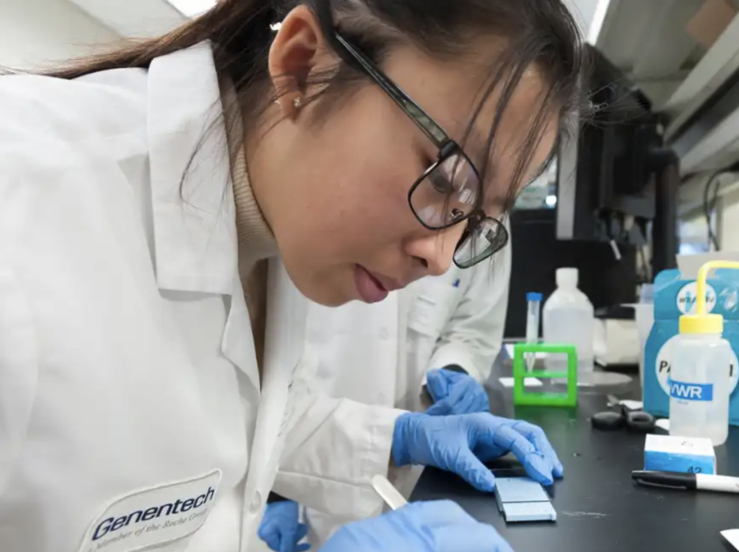 In 2022, we invested an additional $10 million to scale the impact of our successful Futurelab science education program to reach two million more high schoolers across the Bay Area, California and beyond by 2026. Through Futurelab+, we're offering a free, comprehensive online biotech curriculum for high school students that includes groundbreaking content addressing health equity and the importance of advancing inclusivity and representation in clinical research – both key focus areas for Genentech and critical issues to introduce to young people contemplating careers in science and medicine.
We partnered with teachers to design Futurelab+ and engage students from a diverse range of backgrounds and experiences with innovative resources and tools, including:
A brand new, industry-aligned high school biotech curriculum that covers two years of instruction, including hands-on labs, interactive resources and career exploration tools designed to engage all learners. The curriculum is free to teachers across the U.S. – an innovative open-source approach that can serve as a model for other education and industry initiatives to build on.
An educator community and teacher incubator that provide professional development, resources and ongoing support to high school science educators to help strengthen and scale biotech education more equitably across underserved schools. The educator community is open to all teachers, while the teacher incubator prioritizes those teaching in Title 1 schools and offers additional professional development, lab equipment, teacher stipends and opportunities to connect with industry professionals.
An employee volunteer network to support meaningful connections between biotech professionals at Genentech, educators and students. These employee engagement experiences are meant to enhance the Futurelab+ curriculum and the classroom experience by illustrating real-world applications of biotech concepts and exposing students to the range of career opportunities available to them in industry.
Our partnership with BABEC (Bay Area Bioscience Education Community) is ensuring that the program meets teachers and classrooms where they are – with the support and equipment needed to implement hands-on labs regardless of resources.
Jobs for the Future (JFF) is helping ensure that employee engagement programming reinforces our focus on honoring educators' and young people's lived experiences – enabling them to draw connections between identity, skills, interests and future career options. Read more about Futurelab+ on JFF's website.
Ignited Education is connecting select educators to employers to ensure their curricula is grounded in current industry practices. They will also manage continuous improvement and program iteration going forward.
Discovery Education's wide network of educators and experience with innovative curriculum design and cultural sensitivity reviews are helping to maximize the effectiveness of Futurelab+ in reaching students from all backgrounds.
The American Institutes for Research
The American Institutes for Research (AIR) is coordinating third-party evaluation of the Futurelab+ curriculum and educator professional development to provide feedback that reflects the needs and experiences of science educators.
California Academy of Sciences
California Academy of Sciences served as the founding professional development provider and program lead for the Teacher Incubator and Summer Institute. Their experienced staff of educators ensured that the professional learning experience offered through Futurelab+ made teachers feel supported and connected to other professionals and added valuable skills and knowledge gains in biotech.