While the effects of the COVID-19 crisis are being felt across the U.S., low-income households and communities of color are experiencing the greatest harm. The pandemic has exacerbated existing systemic challenges—housing and food insecurity, lack of insurance, financial instability, trauma—while also causing disproportionately high rates of infection, hospitalization and death among people of color. The statistics around these differing economic and health outcomes are stark and demand a response. We believe giving has a role to play.
Genentech and the Genentech Foundation have pledged $42 million in charitable funding for organizations and schools that serve our fellow residents of the San Francisco Bay Area and other U.S. sites where our company has facilities, as well as health systems and patient organizations across the country. Our approach to giving during this global health crisis has been guided by three principles: Embrace equity. Engage employees. Think long-term.
Embrace Equity
Diversity, equity and inclusion have become increasingly central to our day-to-day giving, and we are amplifying this focus in the midst of the pandemic. We are directing K-12 funding to underserved schools in Northern California that face even greater challenges in ensuring that vulnerable students aren't left behind. These resources will address heightened needs around safety, technology, teacher training and mental health services, and help schools prepare for the challenges of an uncertain future. We will also work with community colleges and universities to provide emergency financial assistance and learning support for low-income and underrepresented students, many of whom experienced food and housing insecurity long before the emergence of COVID-19.
Our funding will also help organizations that serve community clinics providing essential services like testing, triage and connection to acute care for the most disadvantaged communities. Future efforts will focus on the needs of frontline workers so they can support their own mental health and wellbeing while caring for others. And we are working with partners like the San Francisco Foundation, which has deep relationships with grassroots organizations that provide vital services to low-income households and communities of color across the Bay Area.
There is upside to a challenge of this magnitude. It has enabled us to strengthen existing relationships and create new partnerships that will transform lives in the years to come.
Engage Employees
Our employees have always been deeply invested in our community efforts. And while we've had to pause our typical in-person volunteer programs, their desire to help is greater than ever, powering our exploration of new ways of making an impact.
For example, we worked with South San Francisco schools to "rescue" plans for the culmination of research projects that are the capstone of three years of biotech coursework for Science Garage students. Instead of the usual on-campus finale featuring a live Genentech audience and expert panel, our volunteer-mentors helped students complete their projects at home and share them online. Employees across Genentech are now participating in virtual feedback sessions to celebrate these students' hard work, accomplishments and perseverance.
We're also giving employees more opportunities to contribute to the causes they care about through activities like our recent month-long matching campaign. Over 1,700 employees raised $3.3 million through donations and matches in April, benefiting more than 1,500 nonprofits across the country.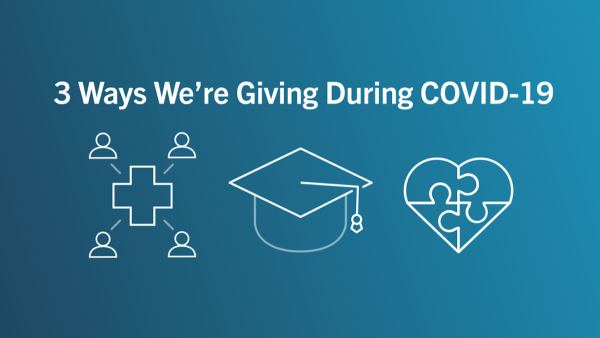 Genentech's COVID-19 giving strategy is focused on addressing areas of greatest immediate need as well as longer-term recovery efforts.
Think Long-Term
In the early days of a crisis, needs are clear. Recovery is harder, and this will be especially true here. The world we're moving toward will be profoundly different from the one we lived in before—more people will struggle to afford food and shelter, academic achievement gaps will widen, and healthcare may look different for a long time to come. The effects of COVID-19 will also impact care delivery for the foreseeable future, and the stress of living through a pandemic may result in lifelong health problems. None of these systemic issues can be alleviated by a few early rounds of grantmaking.
That's why we're thinking hard about the partnerships and approaches we will need to meet this moment. We plan to commit significant support to longer-term efforts, and we are taking a careful inventory of how all of our existing programs and investments may need to evolve to address future needs created by the crisis.
There's a hopeful note to all of this, in that the magnitude of this challenge has required Genentech and other corporate donors to adjust our short- and long-term approaches to giving. It has created greater shared urgency around supporting low-income households and communities of color. And, I believe, it has strengthened existing relationships and led to new partnerships that will help transform lives in the years to come.