This is how Keith Terry's mornings start. He walks into his lakeview kitchen, painted a serene pale green, and makes a power smoothie before taking his kids to school and beginning his work day. Into the bullet-shaped, silver blender goes fresh organic fruit, kale, spinach, flax seed, Greek yogurt – "for the probiotics" – and organic protein powder. "It's almost like an infusion of goodness that goes through your body – it's amazing," says Terry, 51, who was diagnosed with multiple sclerosis (MS) thirteen years ago.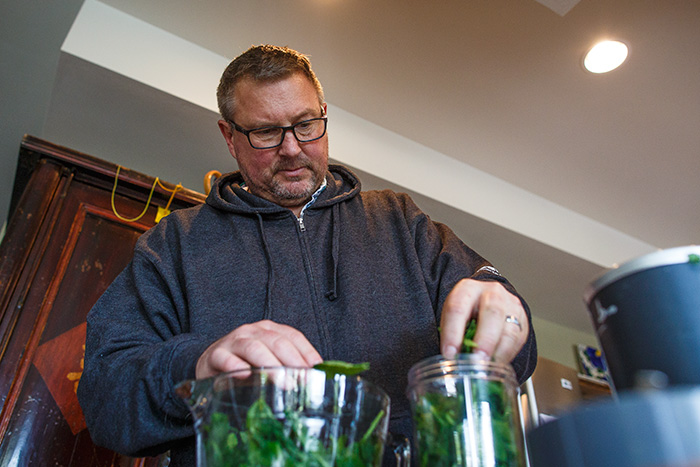 The married father of three began making the nutrient-dense drink because he believes it helps keep his brain healthy. "It's had a significant impact on my energy level and concentration," says Terry, whose symptoms include fatigue and short-term memory loss.
Fatigue, like Terry's, difficulty thinking and depression are three of the most common symptoms of MS. They're the result of the disease attacking and damaging cells of the brain, the body's most complex and important organ.1 That's why some experts advise following a healthy and active lifestyle, including a nutritious diet, to support the brain's capacity to rewire itself and compensate for injury to its cells.2
Building and maintaining life-long brain health is a high priority for everyone, but it's critical for people with MS. As MS progresses with damage to the brain cells, the brain shrinks. When the brain gets smaller in size, it becomes harder to process information, solve problems and learn – what's called cognitive decline.1 A healthy brain gives us the abilities to remember, learn, plan, concentrate and keep a clear, active mind. It also enables us to make decisions, form opinions and acquire wisdom and perspective.3
The only thing that stays the same about the brain is that it's always changing. Every time we learn a new fact or skill, the brain adapts because it's malleable, like putty. In fact, a healthy brain inside our bony skulls is able to subtly remodel itself throughout our life.3
Terry, a Bellingham, Washington-based talent consultant for Genentech, created his own approach to building life-long brain health. Mindful yoga keeps his body moving and his mind centered. His work offers strong intellectual engagement. Family and social networks are close. And he pays careful attention to the emotional needs of his mind.
A former athlete, Terry recalls how he ignored what he now knows were early symptoms of the disease before his diagnosis in 2003: "I just powered through everything back then." Over the years he's learned to take better care of himself. "You can't power through MS," he says.
When he feels tired, he'll lie down, focus on deep breathing and often meditate. He credits yoga with helping him feel better. "It's more about the release and centering than doing the poses yoga followers do," he says. "Believe me, I'm the last guy who'd ever do yoga." He attends a mindful yoga class his local MS association offers. If he's strongly fatigued, he will take a day or two off to recover. That kind of pacing is important, he says.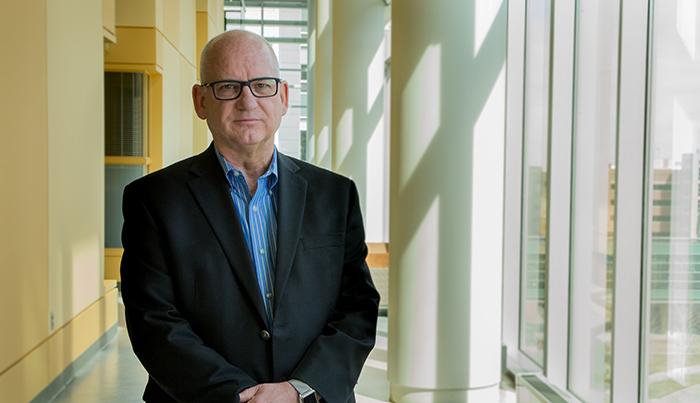 The most common symptoms of MS, including the fatigue Terry experienced before his diagnosis, are invisible to the eye and are not necessarily what a primary physician can see.4 "The patient complains about these symptoms, the doctor doesn't immediately think of MS, so doesn't do the right tests to find out," says leading MS specialist Dr. Timothy Vollmer, a neurologist at the University of Colorado, Denver, School of Medicine.
As a result, an early diagnosis is often delayed and the frequently unseen progression of MS creates a disconnect between the symptoms a person may, or may not, be experiencing and the actual state of the disease.1
Some scientists, including Dr. Vollmer believe there's a reason for that disconnect. Their theory, according to a recent report on brain health for people with MS, is that the brain potentially has a limited ability to compensate for damaged brain cells. It does this partly by rerouting signals from damaged areas of the brain to undamaged ones. This accounts for how MS-related brain damage may go undetected during the initial phase of the disease, says the report, "Brain Health: Time Matters in Multiple Sclerosis."1
For that reason, diagnosing MS in its early stages, and even treating the underlying disease, may help support brain health later on, the report says.1
"This concept explains why sometimes I recommend patients take drugs even when they are pretty functional and feel pretty well," says Dr. Vollmer, a co-author of the report.
Earlier and more frequent magnetic resonance imaging (MRI) scans are one tool that can help people with MS and their doctors understand their disease progression by showing a picture of what's actually happening with their brain and provide a better basis for treatment decisions than their symptoms alone. If monitoring reveals a poor response to treatment, the report recommends that medications be quickly changed.1
"Exercise, being intellectually active, volunteering, going to the theatre and being socially connected actually increases brain cell health," says Dr. Vollmer.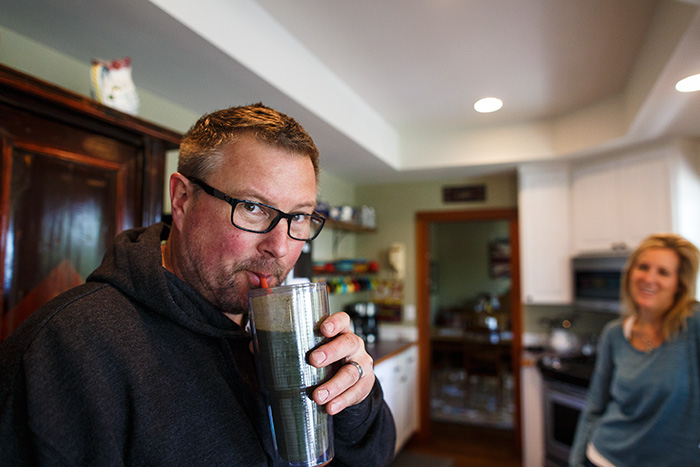 Terry agrees. He emphasizes the importance of keeping the mind engaged, as well as meditation and movement for people with MS not only to build brain health but to improve overall well-being. "There's such a connection between mind and body," he says. "My bliss is snow skiing – I love it."
The takeaway for a healthy brain for people with MS? The more you learn about ways to enrich the brain, monitor underlying disease progression and potentially treat earlier, the more you'll feel empowered to take positive action to build life-long brain health. Knowledge is power. Think brain power. So get moving. Stay connected. Eat right. Because you can make the difference.