Transportation Instructions for Suppliers
Logistic Management Shipping Procedures
The Logistics Management Department at Genentech has instituted an Inbound Routing Program as part of a comprehensive Supply Chain Management initiative. The objective is to provide suppliers with detailed instructions that will aid in streamlining the processes of receiving, stocking and consuming materials while reducing freight and handling costs.
---
Select a Topic:
---
Domestic Routing Procedure
Note: Failure to comply with this routing procedure may result in penalty charges billed to the supplier.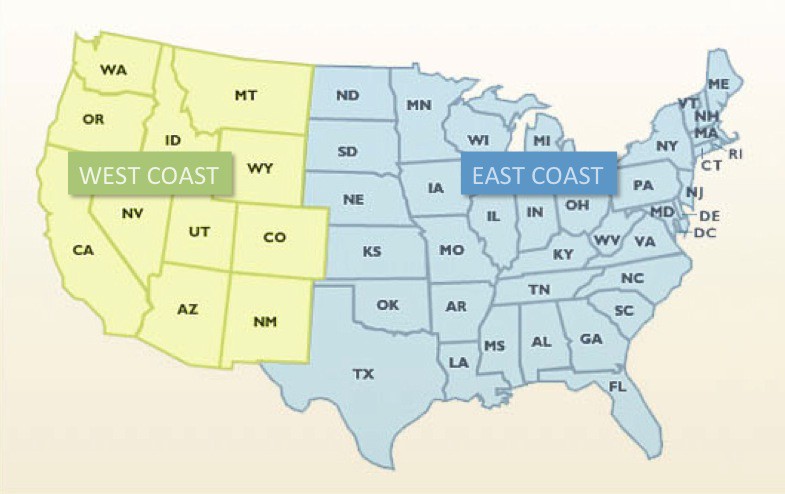 Origin/State

Shipment Size

Mode

Carrier Assignment

Bay Area/CA
1-150 lbs (Parcel)
Ground/Same Day
Inner City Express
Ph: (800) 560-0400
Bay Area/CA
150 lbs – 6000 lbs (LTL)
Ground
Cal-Rite
Ph: 415-468-2272
Bay Area/CA
>6000 lbs (FTL)
Ground/Temperature Controlled/Hazmat
Cal-Rite
Ph: 415-468-2272
West Coast (see map above)
>6000 lbs (FTL)
Ground/Non-Temperature Controlled
JB Hunt
Ph: 866-759-1127
West Coast (see map above)
>6000 lbs (FTL)
Ground/Temperature Controlled/Hazmat
Divine Enterprises
Ph: 650-455-7111
MO, PA, NC
>6000 lbs (FTL)
Ground/Temperature Controlled
FedEx Customs Critical
Ph:(877) 220-6297
All
1-150 lbs (Parcel)
Ground
Air Priority Overnight
Air Second Day
3 day Express Saver
Primary:
FedEx
Ph: 800-GO-FEDEX
www.fedex.com
Secondary:
UPS
Ph: 800-742-5877
www.ups.com
All
150 lbs – 6000 lbs (LTL)
Ground
Old Dominion
Ph: (336) 822-5279
All
150 lbs – 6000 lbs (LTL)
After Hours/ Expedited/ Deferred
Pilot Air Freight
Ph: 888-664-7450
All
>150 lbs (Heavy Weight)
Ground/Air
Primary:
FedEx
Ph: 800-GO-FEDEX
www.fedex.com
Secondary:
UPS
Ph: 800-742-5877
www.ups.com
All
Oversized Shipments (e.g. large equipment)
Ground
Logistics Management
Ph: 650-225-5410 or
Ph: 650-467-3777
---