Genentech Graduate Student Symposium in Chemical Research
Genentech is pleased to share an exciting opportunity for outstanding 4th year Ph.D. graduate students from U.S. universities in the fields of organic synthesis, chemical biology, and computational chemistry.
Our annual Graduate Student Symposium in Chemical Research recognizes promising young scientists while highlighting career opportunities in pharmaceutical research and development.
The two-day event, held each spring in South San Francisco, CA, is hosted jointly by the departments of Small Molecule Discovery and Process Chemistry.

Dr. Wendy Young, Senior Vice President, Small Molecule Drug Discovery; Dr. Dan Sutherlin, Vice President, Small Molecule Discovery Chemistry; Dr. Francis Gosselin, Director, Small Molecule Process Chemistry.
The program provides a valuable and rewarding experience for our distinguished guests, and includes:
Research award symposium, including talks from graduate award recipients
Keynote seminar from a leading university chemistry professor
Research talks from Genentech Discovery and Process Chemistry highlighting breakthrough research programs
Tour of the Genentech South San Francisco research and development laboratories
Networking opportunities to connect attendees with top Genentech researchers
Travel accommodations and honorarium for award recipients
Apply Today:
Interested 4th year graduate students from U.S. universities are encouraged to submit a CV and short (1-3 pages) research summary here.
Applications should be submitted as a single PDF document with identifying name and institution in the file description (example: "Surname-Firstname-Institution").
Applications for 2020 must be received by December 31, 2019 for consideration.
Finalists will be contacted in January and awardees will be notified in March for the spring symposium (end April/early May, 2020). For more information, please email [email protected] or download our 2020 general information flyer.
Congratulations to our 2019 symposium participants!
2019 Keynote Speaker
Prof. Andy McNally, Colorado State University
2019 Graduate Student Awardees
Tim Bumpus, Baskin Lab, Cornell University
Megan Emmanuel, Hyster Lab, Princeton University
Sean Feng, Reisman Lab, California Institute of Technology
Samantha Green, Shenvi Lab, The Scripps Research Institute
Zhen Liu, Engle Lab, The Scripps Research Institute
Lucas Hernandez, Sarlah Lab, University of Illinois at Urbana-Champaign
Rory McAtee, Stephenson Lab, University of Michigan
Brian Shao, Nelson Lab, University of California, Los Angeles
Congratulations to our 2018 Graduate Symposium student honorees!
2018 Keynote Speaker
Prof. Kami L. Hull, University of Illinois at Urbana-Champaign
2018 Graduate Student Awardees
Megan Mohadjer Beromi, Hazari Lab, Yale University
Matthew Condakes, University of California, Berkeley
Masha Elkin, Newhouse Lab, Yale University
Devin Ferguson, Sanford Lab, University of Michigan
Chi "Chip" Le, MacMillan Lab, Princeton University
Stephanie R. McCabe, Wipf Lab, University of Pittsburg
R. David Row, Prescher Lab, University of California, Irvine
Yumeng Xi, Hartwig Lab, University of California, Berkeley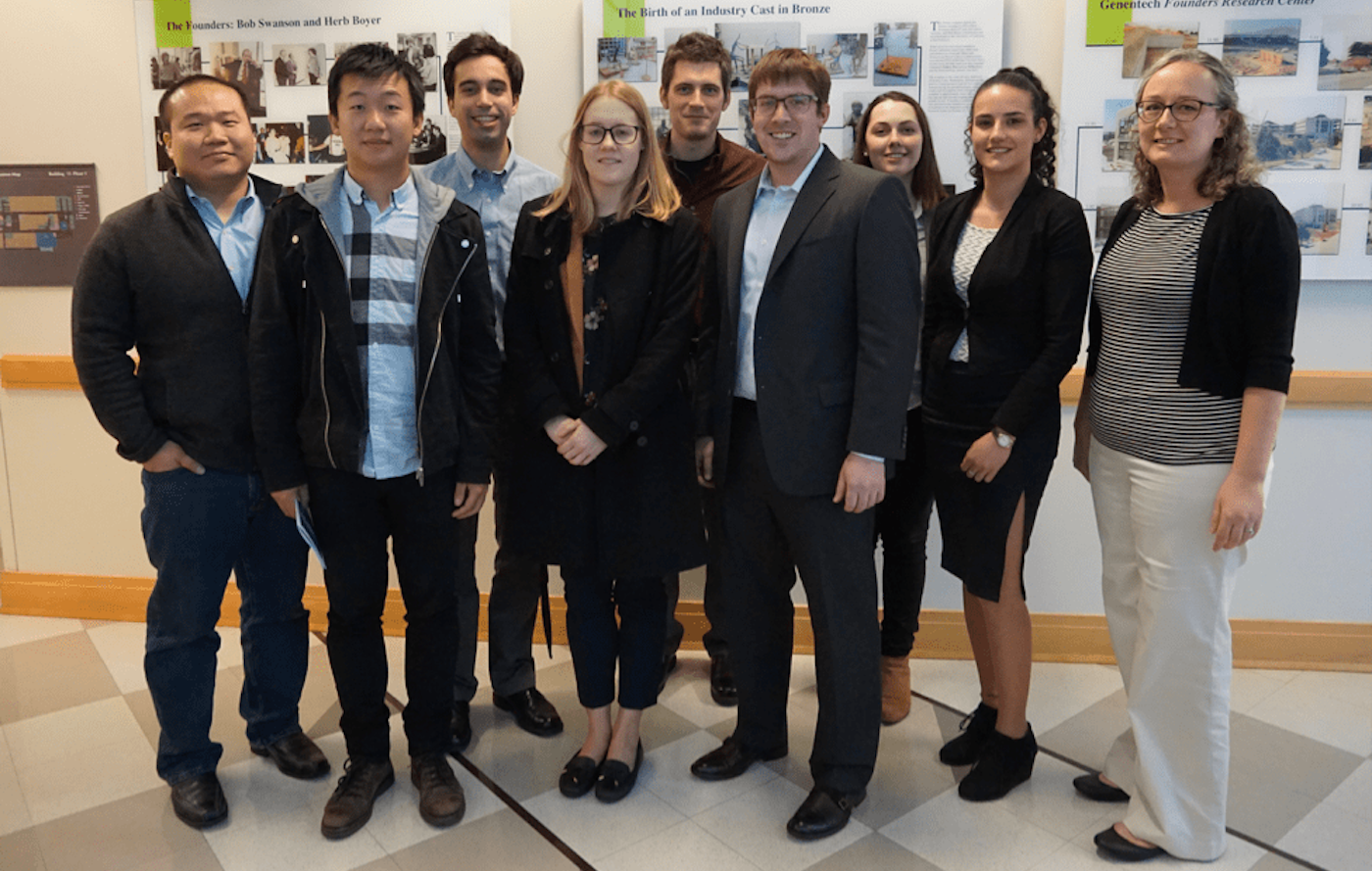 ---
Genentech thanks and congratulates the 2017 symposium participants:
2017 Keynote Speaker
Prof. Robert Knowles, Princeton University
2017 Graduate Student Awardees
Emma L. Baker-Tripp, University of California, Los Angeles
Faben A. Cruz, University of California, Irvine
Stephanie Hare, University of California, Davis
Graham A. Hudson, University of Illinois at Urbana-Champaign
Zachary A. Kasun, University of Texas at Austin
Matthew Landry, Stanford University
Samantha Shockley, California Institute of Technology
Yan Xu, University of Chicago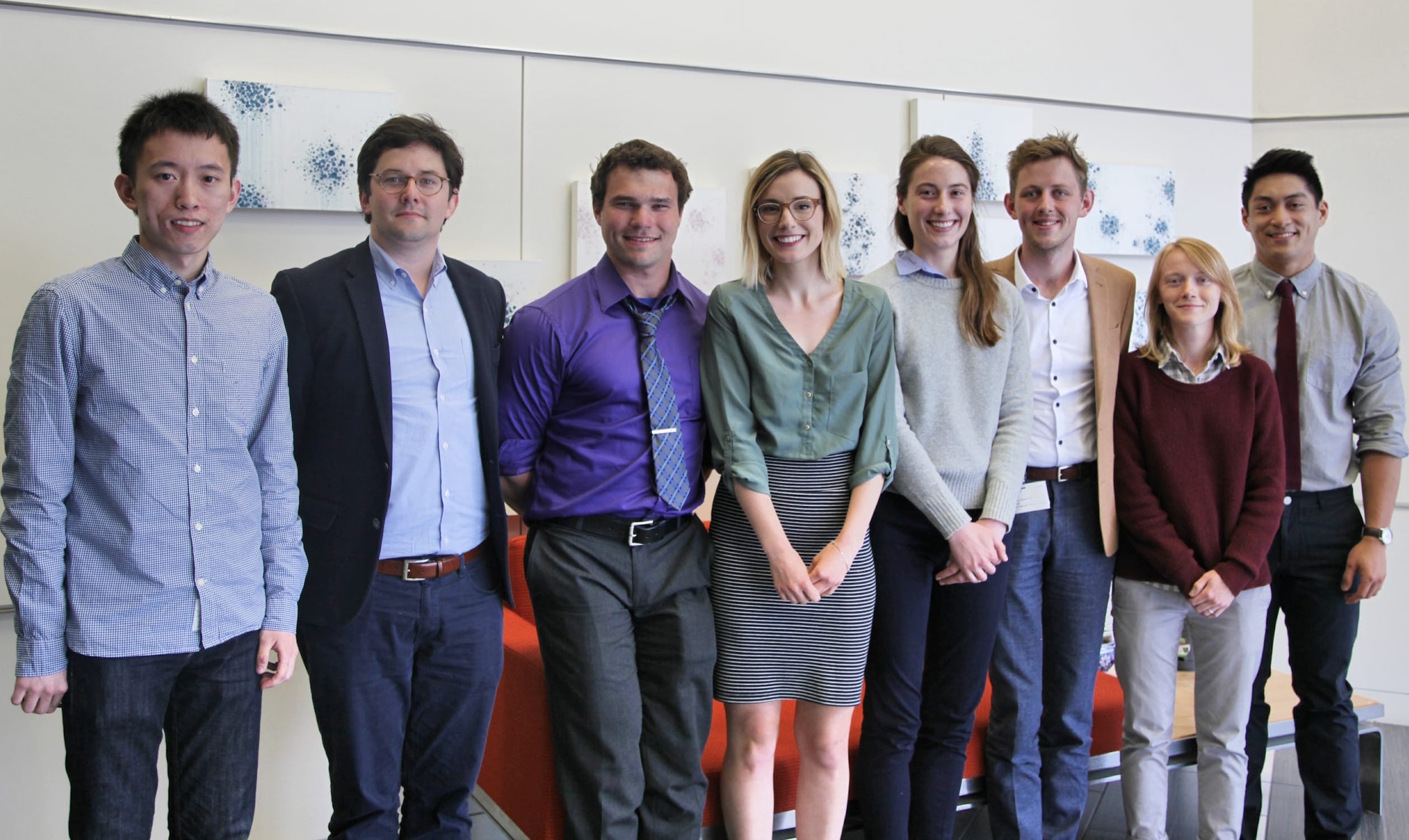 ---
---
Congratulations to our inaugural 2016 symposium participants:
2016 Keynote Speaker
Prof. Thomas Maimone, University of California, Berkeley
2016 Graduate Student Awardees
Thomas Brewer, University of California, Berkeley
Zachary Brill, University of California, Berkeley
Lauren Chapman, California Institute of Technology
Chen Cheng, University of California, Berkeley
Ling Chu, The Scripps Research Institute
David Primer, University of Pennsylvania
Mingshuo Zeng, Yale University
Chi Zhang, Massachusetts Institute of Technology